Sunday, The End
Gen Con Indy 2013 is over.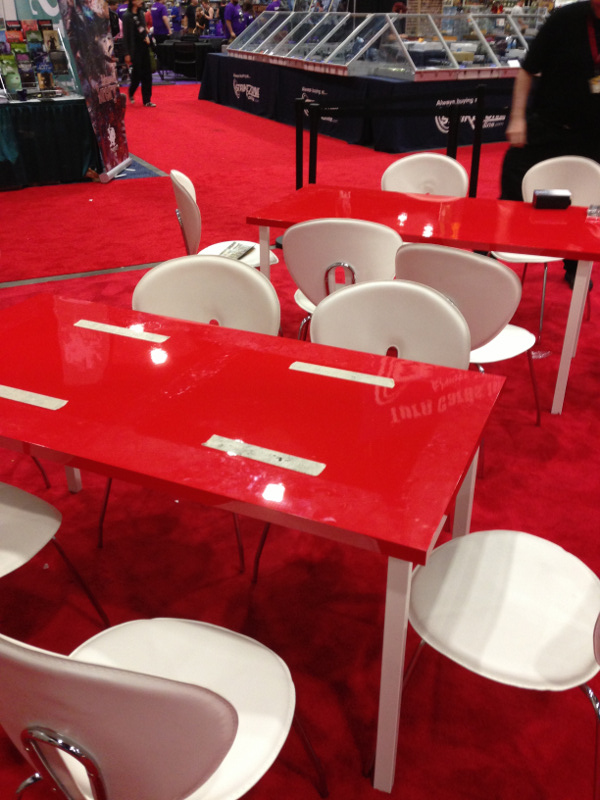 But it went out not with a whimper, but a bang.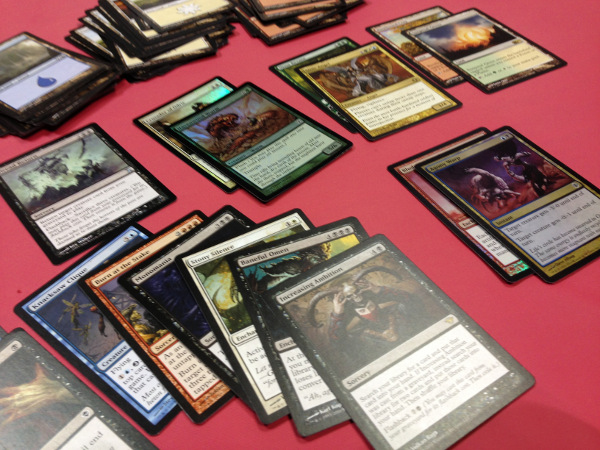 The last day is always bittersweet. Friends say farewell, the venue gets stripped down, and the world that is Gen Con comes to a close. And it's always an exciting stretch.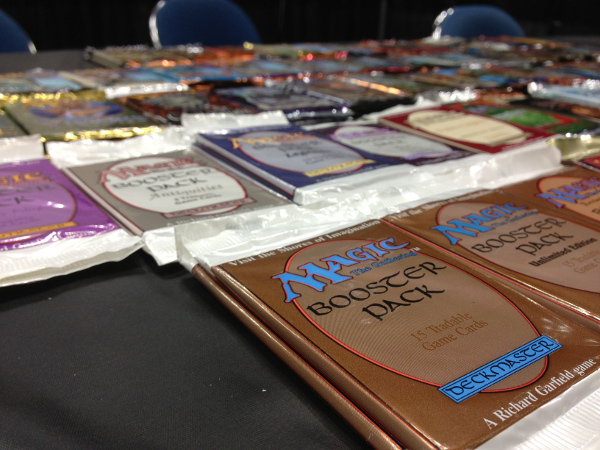 The 20th anniversary event for Magic was a combination of drafting some of the earliest sets, then Rochester drafting the rest.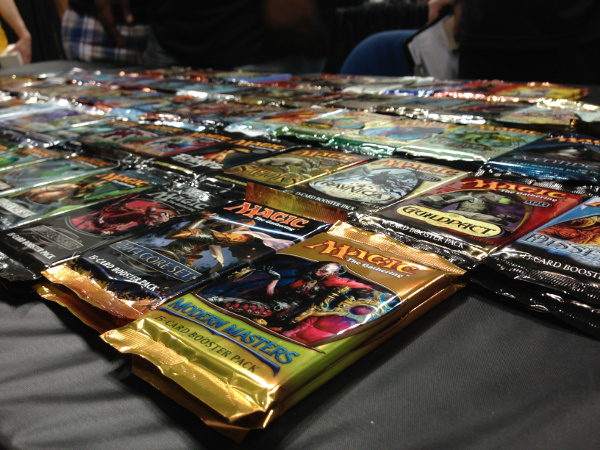 Just about everything, from Beta through Modern Masters and Magic 2014 was on hand.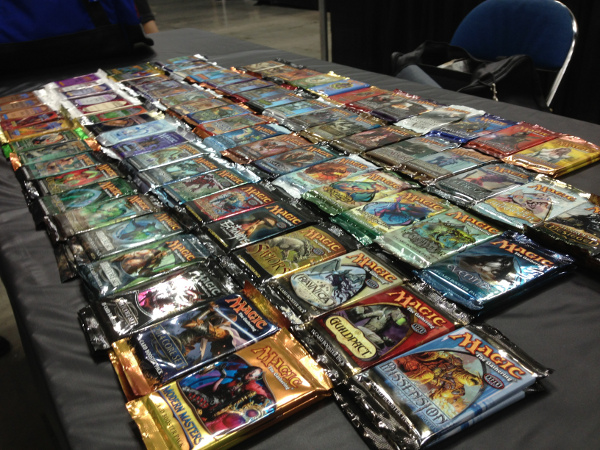 The packs, set side by side, covered about half the eight foot table.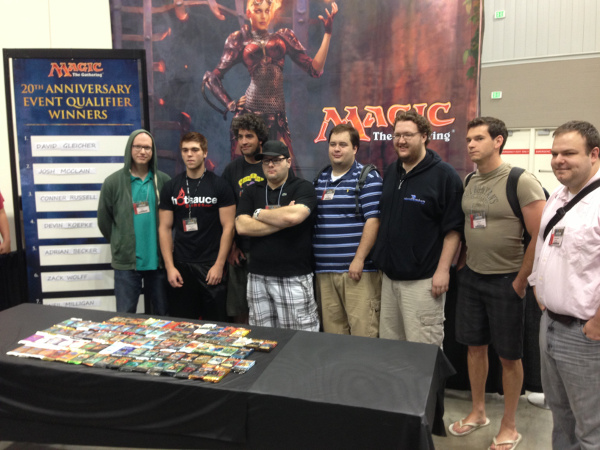 This is what a Top 8 filled with Beta drafters looks like.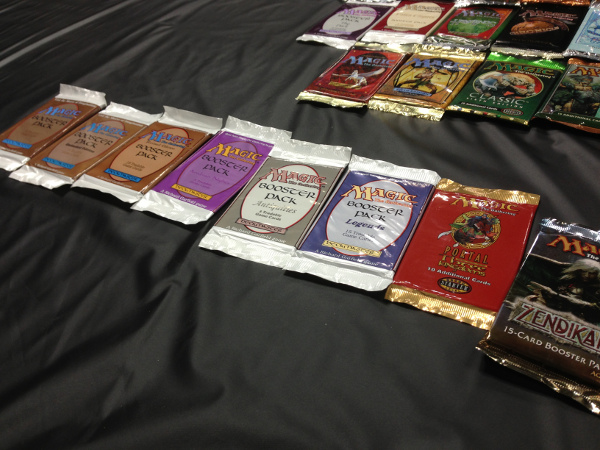 Beta, Unlimited, Revised, Arabian Nights, Antiquities, Legends, Portal: Three Kingdoms, and Zendikar.
You might think Zendikar was the booby prize of the first half of the draft. You would be wrong.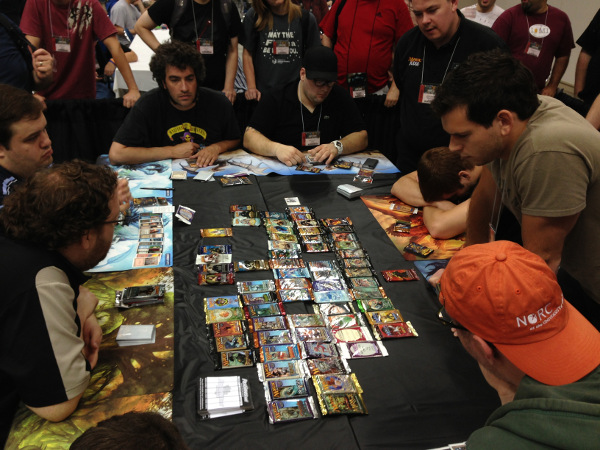 Rochester drafting the rest of Magic's expansions is hard.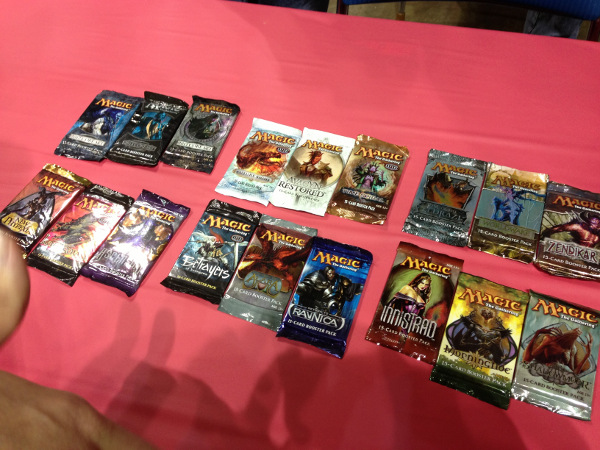 It wasn't 20 years, but a wacky draft courtesy of Sam Black was a nice way to round out the gaming.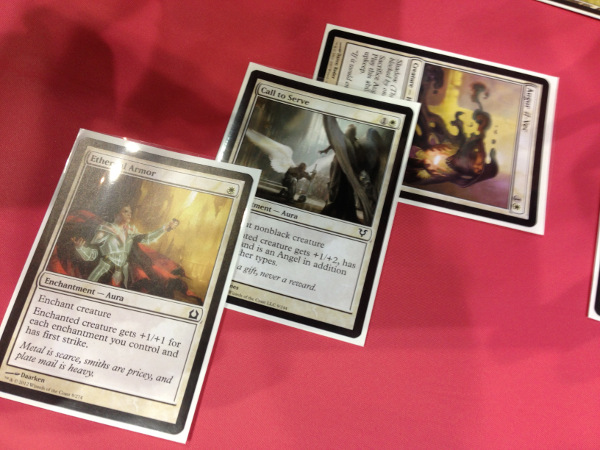 That's a 4/6, flying, first strike, shadow. Not mine. I still won that game. Somehow.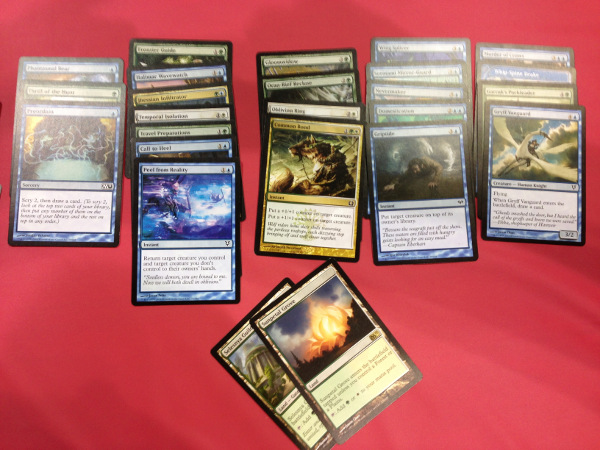 Sam's deck was ludicrous, as one might expect from his set of skills.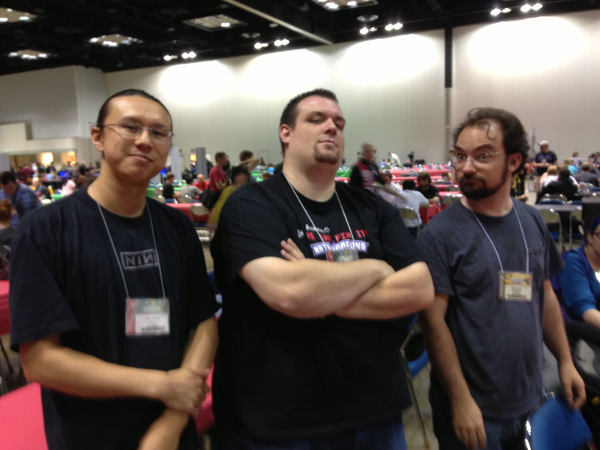 But thanks to the hard work of Adam Jansen and R&D's own Shawn Main, our team pulled through.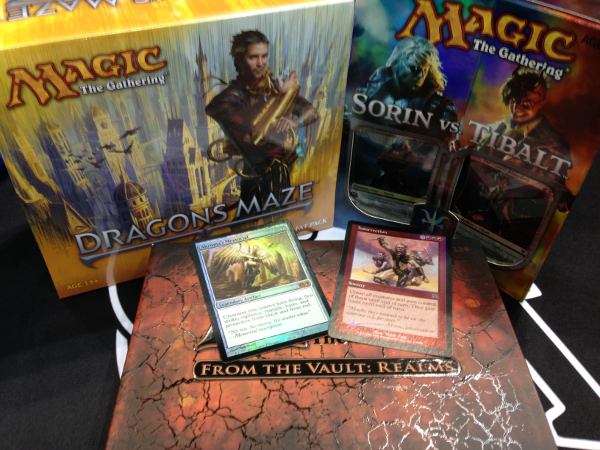 As the hall was closing there were deals to be had. I took the liberty to get in on the action.
It might have been the end of Gen Con Indy 2014, but there's one thing I'll never forget: the St. Elmo's shrimp cocktail.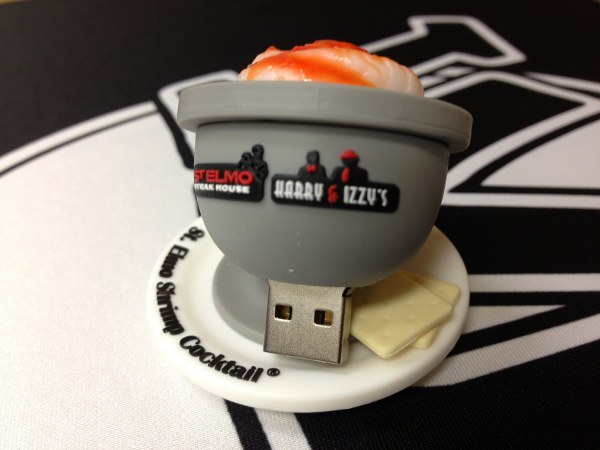 hope you can make it to Gen Con Indy in 2014. See you there!
Saturday, The Rush
Day 3 of Gen Con 2013 is all about the people. Everyone comes into town for Saturday. One day badges make the Saturday rush a thing to be feared.
But I was unafraid.
I was planning to meet more friends, jump into games, and finally unleash the inner Magic I had pent up. This is how I did it.
But Commander wasn't the only game I came to play. Kaijudo is a game that I finally decided to try.
Saturday is also the cosplay parade, where hundreds of attendees join in a procession of pageantry, celebrating their inner characters come to life.
It was a day filled with Magic and friends, a typical Saturday for Gen Con Indy.
Friday, the Rise of Cardhalla
Day 2 of Gen Con 2013 is in the books, and the halls are already overfilled with gamers. It'd be easy to queue continuously for events and live the dream of gaming for days straight.
But that's not what brings me back to Gen Con Indy every year.
One of the ways I really enjoy Magic is by looking at the art: Flavor, style, and beauty are just three of the ways art will leap out to me. It's personal, like every creative endeavor, but the passion and skill required to create art for the gaming industry is easy to underestimate.
Some artists have been coming to Gen Con for more than a decade, and have no plans to stop. Some artists are rebuilding the history of the games they'd done work for. Some are just here for the fans and chance to sell their art even further.
They all shared with a little bit of what they've done in the Magic world.
This is just scratching the surface of art at Gen Con: Whether you want to find the artists of other games, new artists looking to break into the industry, or just have a chance to create yourself you'll find what you're looking for every year at Gen Con.
Will you be planning a trip for something beyond gaming?
Thursday, So it Begins
Day 1 of Gen Con 2013 is wrapped up, and it's been a whirlwind of adventure already. Gen Con is unlike nearly any other gaming event. Every game you can imagine is here, and hundreds more you haven't seen. As big as Magic is, it's just a slice of the life in Indy right now. For many of us, the first day is just a sample - from every corner of the convention center we can find the tastes and treasures we'll return for day after day.
These are the tastes I found the best.
Be sure to follow along even more adventures this weekend on Twitter, Facebook, or Instagram. There's
plenty more that didn't make the cut here for you to check out.
And if you like cube drafts, cosplayers, and upcoming games, you're in for a treat as Gen Con presses on!
Wednesday, The Gathering Magic Party
It's the night before GenCon, but the party's already started. Adam organized a Gathering Magic party at Kilroy's Bar and Grill; food was had, Magic was played, custom tokens were given out, and good times were had by all. Check out just a few of the awesome goings-on at the Gathering Magic party at Gencon:
Check back every day for a new update from the previous day of Gencon and be sure to keep an eye on our Twitter and Facebook pages for updates throughout the day.