Emerging from the Maze, Sunday
A number of exciting things have happened this afternoon. We've crowned Josh Utter-Leyton as the Player of the Year, played out the quarter and semifinals of an incredible Top 8, and we've seen where the Pro Tour is headed for the 2013-2014 season. Before we get into the results of the finals, take a look at some of the exciting locations: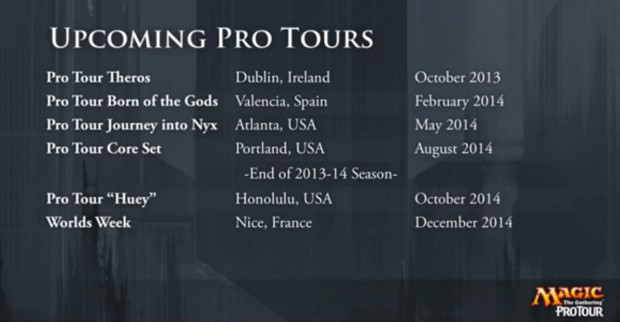 Craig Wescoe met with Dusty Ochoa in the finals of Pro Tour Dragon's Maze. Heading into it the matchup seemed quite favorable for Dusty and his Sphinx's Revelation control deck; however Craig managed to take game one after a mulligan to five when Ochoa started missing land drops. Dusty mulliganed to six heading into game two and was quickly overrun by Craig's Centaurs and Wurms. Craig took down game three in a blistering fashion to become the Champion of Pro Tour Dragon's Maze.
Congratulations to Craig Wescoe, Pro Tour Dragon's Maze Champion. He will be the 16th player headed to the Player's Championship later this year and has achieved Platinum status for the next Pro Tour Season. Thank you for checking in with Gathering Magic throughout the Pro Tour Weekend; we'll see you for the World Championship at the end of July.
And Then There Were Two, Sunday 5:36
The semifinals brought us Makihito Mihara matching up against Dusty Ochoa in an Esper control mirror and Craig Wescoe with Green-White midrange and Josh Utter-Leyton with Boros aggro. The Esper mirror match went to five games, each ground out with a combination of Jace, Architect of Thought and Sphinx's Revelation for card advantage and Sin Collector and Aetherling beatdown. On the other side of the feature match area, Josh Utter-Leyton did his very best to chain Burning-Tree Emissary into aggressive two-drops, but Craig Wesoe's larger creatures and Druid's Deliverance on critical turns to prevent lethal and get alpha strike.
We'll be back with another update after the final, which begins shortly. Until then keep an eye out for additional updates on Facebook and Youtube pages. If you can, join us for the finals on the official live stream coverage!
Into Elimination Rounds, Sunday, 3:45
After 16 rounds, we have an awesome group of players who are ready to enter the elimination rounds today. The Top 8 is Return to Ravnica Block Constructed, and features a variety of archetypes including various UWx Sphinx's Revelation Control decks and Red- or White-based aggressive decks. Who will come back after lunch to battle in the semifinals? Let's find out what's going on:
With these results in, it looks like our Semifinal matches will be: Josh-Utter Leyton vs Craig Wescoe and Makihito Mihara vs Dusty Ochoa. Official streaming coverage will be live in about an hour. Keep checking for our updates from GatheringMagic on Twitter, Youtube, and Facebook.
The Top 8, Saturday 11:20
As the players head into the last round, the Top 8 is all but locked. Even so, players are still battling it out for Pro Points and prizes, so there's still plenty of action. The players at 11-4 are hoping for an outside shot at the Top 8 a d there are a number of matches like Luis Scott-Vargas and Ari Lax who are battling for the right to Platinum status. Let's take a look at how things are going down:
That's game boys! twitter.com/Big_Z_MTG/stat… — Matej Zatlkaj (@Big_Z_MTG) May 19, 2013
#PTDGM twitter.com/wrapter/status… — Josh Utter-Leyton (@wrapter) May 19, 2013
@mulldrifting Wescoe and Nassif are playing — Glenn Jones (@SecludedGlenn) May 19, 2013
@lsv playing Ari Lax, both need to win to Platinum. Quite the stakes for a single match... #TeamCFB #PTDGM — ChannelFireball (@ChannelFireball) May 19, 2013
Lost to Luis playing for Platinum + top Dimir mage. Feel the same was as my last loss to him in Kyoto: excited for the next event.

— Ari Lax (@armlx) May 19, 2013
After one final tense 50 minutes, we're very excited to congratulate the Top 8 of Pro Tour Dragon's Maze:
Craig Wescoe

Rob Castellon

Makihito Mihara

Andrew Shrout

Josh Utter-Leyton

Matej Zatlkaj

Dusty Ochoa

Andrejs Prost
Additional congratulations are in order for Josh Utter-Leyton, for locking up the Player of the Year with his Top 8 berth, as well as Reid Duke who we believe has earned himself a slot at the Player's Championship later this year. We'll be back tomorrow afternoon with photo updates from the Top 8 of the event. Join us on our Twitter, Youtube, and Facebook Pages!
Into the Back Stretch, Saturday 9:57
There are two rounds to go and the competition for the Top 8 slots is getting heated. There are two players at the top of the standings, effectively locked in with 39 points: Rob Castellon and Craig Wescoe. The rest of the 33 and 30 point players are jockeying for position to see if they'll be able to draw in or setup a win-and-in scenario. Bob Maher and Uri Peleg have fallen away from the top, but titans like Brian Kibler, Makihito Mihara, and Josh Utter-Leyton have ground their way into a winning position. Let's take a look at Top 16 with two rounds to go:
Rob Castellon (39)

Craig Wescoe (39)

Makihito Mihara (33)

David Sharfman (33)

Andrew Shrout (33)

Matej Zatlkaj (33)

Dusty Ochoa (33)

Josh Utter-Leyton (33)

Michael Bernat (33)

Brian Kibler (33)

Andrejs Prost (33)

Gabriel Nassif (30)

Christian Fehr (30)

Nicolas Cuenca (30)

Denniz Rachid (30)

Chris Fennel (30)