You see what I did there? I cleverly combined the word "avatar" with the word "artist" because I sat here stumped for ten minutes trying to come up with a way to classify the group of artists I want to cover today. They don't really alter cards necessarily or work for Wizards doing original art used on actual printed cards either. These are artist who aren't really affiliated with Wizards of the Coast at all; yet, they're a part of our community, and all of you have seen their work, whether you were aware it was theirs or not. As I wracked my brain trying to classify these artists, it hit me that one unifying element of their disparate bodies of work is that all of them are perhaps most widely known for their avatar drawings—that is, their illustrations of real people in the community that those community members use as illustrated representations of themselves: avatars. That's not all they do, but when it occurred to me that all three had done that in some form or another, I knew what to title this installment.
But should I have bothered? Well, at the very least, I had to call this installment something, and this name was as good as any. But the great thing about art is that art just is, and the desire to put labels and classifications on things is born of a human desire to categorize to aid our own understanding. The best art defies our classifications and just simply exists unto itself. So, while referring to these artists' bodies of work is impossible to do in a simple word, I hope you'll just let the art speak for itself and enjoy. Here's a great group of artists you either know well or will soon realize you know better than you thought. I present to you Who to Follow – Avatartists.
Derfington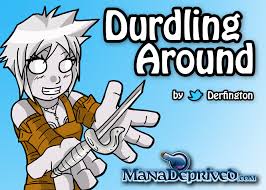 Where You Know Him From: Mana Deprived, "Derf" being a verb, now
Current Title: Artist, Durdle
Social Media:
Forum Thread with More Examples
You may not have had a chance to meet Dave Lee, a.k.a. Derfington, but you're probably familiar with his work. In addition to drawing Durdling Around, the Magic-flavored comic, he has done a lot of avatars for people in the community, many of which are used as the subjects' Twitter avatars. Jinxed Idols and The Eh Team are good examples of prominent groups he's illustrated, and it's likely you've seen his work somewhere.
Dave does good work, and when you finally find yourself having been derfed, you know you've made it. I mean, I assume.
Follow Dave on Twitter, follow him on Tumblr, follow him at an event until he asks security to keep an eye on you; just follow the man. Don't let his diminutive size fool you—Derf packs more artist per pound than anyone else in the community, and a loyal army of the derfed has his back. Make sure you take the time to fully peruse all of his work because Durdling Around is consistently funny, and even most of his non-avatar stuff is quite good. This is one follow you'll never regret if you like a little bit of fun in your life.
Inkwell Looter
Where You Know Him From: GatheringMagic most recently
Current Title: Cartoonist
Social Media:
What do you do when you want to make a name for yourself in the art community and one in every three artists has the same name as you? If you're this particular Josh Frankel, you create a persona that quickly becomes synonymous with your unique art style and watch the Magic community quickly embrace your work. Inkwell Looter recently joined GatheringMagic as a cartoonist, and we're delighted to have him. It's not all cartoons, and he wouldn't belong in our avatartists list if he didn't have a few contributions you've probably seen before but might not know were his work.
ChannelFireball fans were familiar at least with his work if not with the name. I love his unique art style, and I use the 1/1 Spirit tokens he made for our podcast for every creature type.
This small sampling of some of the avatar work he has done is by no means representative of the full range of his work—he spreads his contributions fairly evenly over the various social media he uses, so make sure you click all of those links and full immerse yourself in his work. There is something there for everyone, and I think you'll find a lot to like.
Remember to check out his comic strip here on GatheringMagic, and don't neglect his Twitter feed either. He is plugged into the game as he's ever been and involved in every aspect of this community.
I dunno, guys, whaddaya think? pic.twitter.com/4tldlSnktV

— Inkwell Looter (@inkwell_looter) July 5, 2013
My first reaction to new Chandra is cautious swoon. Seems like another "we found the sweet spot" 'walker.

— Inkwell Looter (@inkwell_looter) July 1, 2013
Give him a follow, and you won't regret it. He posts his work everywhere, so make sure you don't miss any of his contributions.
Polish Tamales
Where You Know Him From: Repeated Mentions by WotC's Legal Department
Current Title: Cartoonist, Graphic Designer, Storyboard Artist
Social Media:
There is no way you haven't seen some of Polish Tamales's art by now. Between providing a ton of avatars for LegitMTG.com and ManaDeprived.com, Polish Tamales's work is all over this community. Derfington isn't the only one who has made tokens of The Eh Team for example.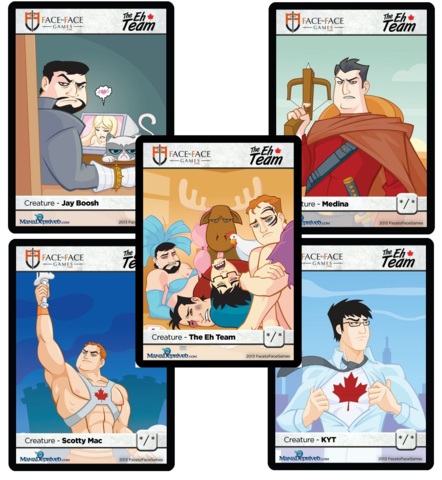 Have you noticed my own Twitter avatar isn't a picture of me anymore? That's because Polish Tamales came along and created a Voice of Resurgence token for the podcast that exceeded expectations.
Who wouldn't rather have that for an avatar? Next time you see me at an event, ask me for a few of these tokens (I have some of Inkwell Looter's Spirits left, too, but not many).
An enigmatic personality, few know Polish Tamales's real name, and that's by design. The only name that matters is the brand, and that brand has quickly become among the community's hottest unaffiliated properties. Despite the occasional legal entanglement, Polish Tamales continues to provide incredibly high-quality art for the community.
Do yourself a favor and click every one of the links I provided above. There is even quality artwork used to frame the other quality artwork. Check out the Twitter page!
This made me reevaluate whether I was happy with a plain border on my Twitter page. It also made me reevaluate whether it was really wrong for a man to be attracted to a cartoon (okay, not really. Jessica Rabbit already did that in like 1989). If you like "cheesecake" or "beefcake" or a combination of the two (I'm not sure what that's even called, but I'm sure it's the official pin-up material of the city of Philadelphia), there is something for you. If you're not looking to be titillated and just want to look at quality Magic: The Gathering art, there's something for you as well. And honestly, do I even need to link any tweets? Isn't that Twitter page itself enough of a reason to follow Polish Tamales on Twitter?
---
There you have it, readers—another roundup of quality artists to follow. Your responses to the poll indicated you wanted this manner of content, and I hope I've delivered. I have a few candidate ideas for next week's theme, but as always, if you have a request or a suggestion, you can hit me up on Twitter or Facebook or e-mail and let me know what you'd like to see represented here. Remember that the best way to get the most of installments like this that profile content creators is to really take your time clicking all of the links and really perusing the content. I know these weeks always take me longer than normal to write for the same reason, and this week is no exception. All three artists are very "approachable" online, and if you play your cards right, you could find yourself "derfed," "looted," or "tamaled" someday. Whether you're looking for a Twitter avatar, some premium tokens, or a decent comic strip to read, all three can provide whatever you need. Thank you for reading, and be sure to join me next week for another exciting installment. As always, I've been your guide Jason Alt, and this has been Who to Follow.
---