It's that time of the month again when we get to look back over the previous month's alteration accomplishments!
When polling those who matter to me, the December review had fairly mixed results. One thing everyone agrees on is that it was too short, missing too many amazing alters for the month. Seeing as I'm still in the nesting stage here at GM, I figure we should spend the next couple months perfecting the format.
For January, I plumbed the depths of the altered art thread for gems, as was old practice, but where I used to spend time contemplating all aspects of the pieces on display, I have now developed an effective shortcut. Essentially, I give every alter a five-second viewing. If it speaks to me, it's in. If it's one that I would have normally agonized over, it's out. This should keep my gathering time down and the number of alters up, resulting in more eye candy for you!
I'm also going to go back to the chronological method of displaying things, as that's one thing Eric liked, and we're all robot large (copyright @jayboosh) for Mr. Klug. Boiiiing.
January 1
The month started off with a little Power Ranger action, compliments of iplaythisgame. I don't recall seeing any of his alters in the past, so I was a little surprised by the number and quality of his gallery. Dude has skillz. I loved Power Rangers as a kid; they were a fairly decent replacement for my beloved Thundercats when that show disappeared. If you guys watched the Rangers, you'd most likely remember Kimberley, the pink ranger—right? I've been watching her on TV for the last few years as a swat team member on Flashpoint (the only Canadian-produced show worth watching). She's still dreamy.
January 2
It seems that Poxy has really carved himself a niche in the community. All I ever see him post these days are dual lands! Out of the ten or so he posted in January, this one is my favorite. There were a couple in his last batch that used the northern lights, and I just love how it plays across the snowy hill here. Earl, I need you to do a dual for me!
January 4
Next up is one of a series of six varying Aladdin (Disney) alters that Laura Van Wie did recently. A couple of others were probably better than this one, but I'm a sucker for quality clouds, and the tiny strokes that made up Aladdin in this one really lured me in. I implore you to visit her gallery and look at the rest of them if you're at all smitten by this one.
January 8
Everyone knows I love the basic extensions the most. The challenge matching the colors and blending them into the original artwork is sometimes immense, yet when complete, it yields a very simplistic and beautiful work. Of course, not as many folks out there appreciate an extension when compared to fan art, so I typically pass by them for the review. Not this time, folks. Toni Micol absolutely kills it for me with this Lake of the Dead alter. The original art is so memorable in the first place that replacing it would never have looked as good. Thanks for this one, Toni—it's among my favorites for the month.
January 10
It's another beauty from Demonium, this time on a Force of Will. As I've mentioned in every review I've done: You can always point out a Demonium piece. He's completely branded himself, really—the colors and styles are so unique that every alter collector would be pining for a Demo piece for his or her own collection. Keep doing what you do, man—we love it.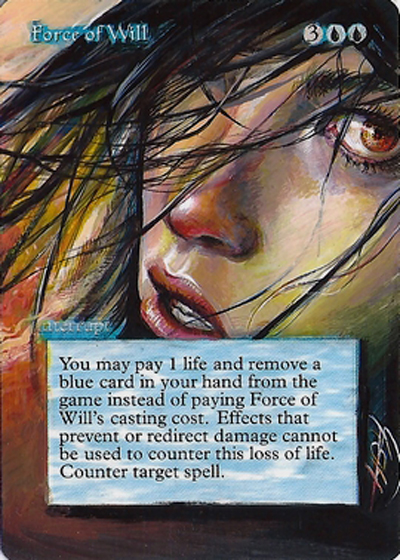 The second piece of the day from him shows spin-doctor Nevinyrral getting funky with some souls. Funny and crazy-good!
January 16
Sandreline produced this really cool Idyllic Tutor in January, and I'd love to see a few more alters that carry this picture-inside-a-picture style in the future. It's very serene . . . reminds me of the movie Mulan for some reason.
The 16th also landed us this sweet League of Legends alter of Ezreal, thanks to Ron over at BlackWingStudio. I've watched him come up from the beginning, and now he's producing top-notch alters on every post. It's fun watching the development of all the alterists out there now—the game has certainly changed a lot since I started painting!
January 18
The third of Demonium's contributions to my article is this amazing piece depicting Multani tutoring up a falcon—no doubt hoping to inflict some damage in the air. So good.
January 21
I think this is the first month that I've seen Aspasia's work show up in the forums, yet this artist can hang with some of the top end for sure. This Ghost Quarter was what I considered Aspasia's best piece this month, though scrolling through his recently-created blog may find you something else to fawn over. Hope to see more of you going forward!
January 22
Yurius fried us with this set of completely off-the-chain Lightning Bolts in the last week of the month. Each piece is individually worthy of making the list, but when they're all together, it's Street Fighter electricity! Great work on this set, Yurius!
January 23
We really start to get packed at the end of the month. BigUp makes an appearance in the final week with this sweet alter on a miscut Hymn to Tourach. So cool!
Blackwing pops another awesome piece out down the home stretch with this Game of Thrones–inspired Garruk. He told me he wasn't all that pleased with the piece, and I can relate to that feeling, but I really like it, and transform cards are still super-cool to me.
January 26
About time you get around to showing us some Klug!
I know, I know . . . but the guy is invading your internets from every angle, so I think we should give others some spotlight, too! Eric had a few other alters that were possibly better, but this makes it in easily due to the fact that my main League of Legends character is Lux. There's also a sweet Anivia he's done, so check out his blog!
January 27
Another newcomer for me is Dewil. He's been at it for a few months now, but my time away prevented me from seeing any of his previous work. The Devil's Play he put together in January is pretty sweet, though, and it's made me think about ways to do different border treatments on my cards—it looks so tight!
Demonium gets in here one last time with this incredible depiction of Aboshan countering a spell. This is so full of cephalidian goodness that I may just ink my robes!
January 28
With a total of five posts (at the time of writing) on the Salvation forums, Deadheaven makes the review. Yes, the paint is a little cakey, but if any of you have kids and/or have seen the Disney movie Up, you should absolutely adore this alter. I know I do. My girls saw me looking at this on the screen, and they flocked to the computer to ask me about it. Great job, Deadheaven—looking forward to seeing more!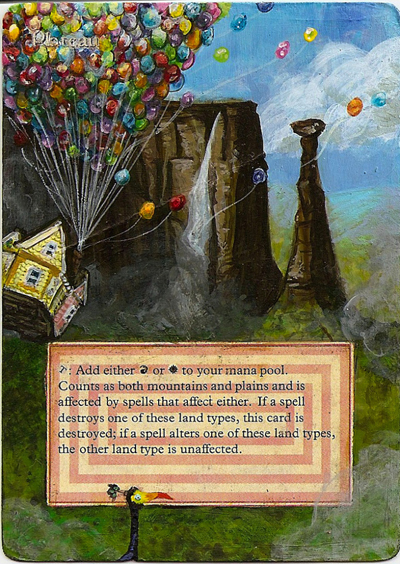 January 29
Last but not least is my pal Brandon Brown. I had the pleasure of working with him at an SCG event last year, and he's a super-cool guy, though I keep forgetting to pop him into one of these reviews. Right at the end of the month, he posted this really awesome replication of some crazy artwork done by Max Ernst, and I knew this was the one to go in. Cheers, Brandon!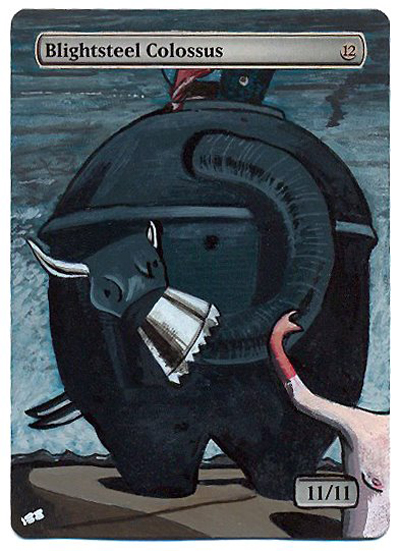 That will wrap up this episode of the monthly review; be sure to leave comments below with any suggestions for improvement . . . or just some back patting if you liked it this way.
Until next time: Keep fit, and have fun!
Jeremy Froggatt
jfroggatt at persona dot ca