I love walking into people's homes and immediately looking at the art on their walls. It gives a glimpse into their personality, as buying and especially framing at is an intensely personal and long process. The reason we don't wallpaper our walls is that we wish to put up art. If you have a painting on your wall, it may be partially because a group of painters, called the Hudson River Artists, had something to do with it. While they aren't as famous as many twentieth-century artists such as Andy Warhol, but what made their contribution unique was that they instilled wonder and a love of art, and they made it more accessible.
If you've ever been to Mount Vernon or Monticello, homes of US presidents, you'll see that American painters of the 1800s were popular only if they could only attract the notice of a wealthy family, city, or church who could afford to have portraits painted. Artists who didn't paint portraits did exist and could be commissioned to recreate famous historical or biblical scenes like "The Great Day of His Wrath" by David Martin.
"The Great Day of His Wrath." John Martin, 1851-1853, Oil on canvas, 78 in × 119 in
You can also see commissioned works like the utterly stellar five-series painting "The Course of Empire" by Thomas Cole. I like the Destruction piece the most. It would make for a helluva good Magic play mat: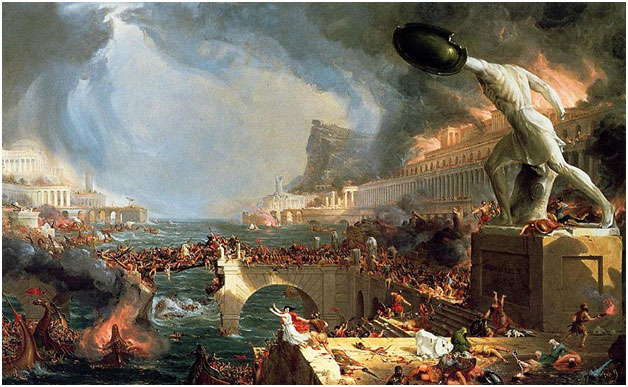 "Destruction." Thomas Cole, Oil on canvas, 1836, 39.5 × 63 .5 in.
This time in American history, you must realize, that wealth patrons weren't exactly commonplace, and with the advancement of photography, really daguerreotypes, portrait painting didn't make sense when you could get a photo. So, something new had to be done. An art union and art museums themselves created a change in the commoners' interactions with art in an incredibly rapid manner. You'll notice a lot of major metropolitan museums, especially the institutes, all look to have been created in the mid-1800s and have white pillars.
Via Minneapolis Institute of Arts
A new American school of landscape painting was about to emerge, coinciding with a movement west to "wilderness" along with a new form of public entertainment, the art museum. Largely, the reason for the change was leisure was now attainable for the middle class from mechanical time savings from the industrial revolution. This class of emerging and literate people was very interested in science and art that they couldn't take an interest in before-they didn't have the time. Even middle-class businessmen had surplus because those they worked with also had more disposable income. They also wanted to surround themselves with social activities that were more common with wealthier counterparts. This still exists today with art museum galas and fundraisers. Artists responded to this by making art for the middle class, and guess what-the middle class didn't want another picture of Rome, a king, or some faraway place.
When you walk into your grandparents' home, do you ever see a painting above the fireplace or a biblical scene like breaking bread in the kitchen? This began with the American Art-Union in the early 1800s (1839) that had a subscription service to raise money for artist salaries. It started with a few hundred members and had roughly twenty thousand members near the end of the union's service. It then had tens of thousands of dollars in payments to artists. From the American Art-Union entry on Wikipedia:
For five dollars a year, the members of the AAU would receive a copy of the minutes from the annual meeting, free admission to the gallery, and at least one original engraving published by the Union from an original piece of art by a contemporary American artist. And in
New York City
, the members also received a ticket in a lottery to win an original piece of art from within the collection.
So, for about $120 a year in today's money, you received an artwork, a newsletter, and an annual lottery ticket to win a free oil original painting. It wasn't a tiny sum of money, but if you could afford it, it was a heckuva deal. Granted, the wealth disparity was a lot different, but if you were a businessman, it was stupid not to do it living in New York.
One of the artists who benefitted greatly from the union was Thomas Cole. Cole had no training, he had no apprenticeship, and he was self-taught. He was utterly terrible at drawing figures and horses, but unlike his peers who only painted people, he painted landscapes. (To be fair, everyone is terrible at drawing horses at first.) He was the John Avon of the landscape world and founded the Hudson River School. He knew how to paint trees-really happy ones-that looked incredibly real. What Cole and the Hudson River School did was use nature as the spirit of America.
As America was building its identity of wildness, waterfalls, and mountains, he was creating the basis for American visual culture. This was a bold idea, to show more than a sublime depiction of a biblical scene, but rather a local pastoral landscape of "America" being the ideal, the perfect wilderness or tamed, cultivated land. This was a unifying theme, and searching through the Hudson River School's members, Google can show the incredible landscapes by artists such as Asher Brown Durand, Fitzhugh (Fitz) Henry Lane, Frederick Edwin Church, and Albert Bierstadt, among others.
"Kindred Spirits." Asher Brown Durand, Oil on canvas, 1849, 44 × 36 in.
"Among the Sierra Nevada Mountains, California." Albert Bierstadt, Oil on Canvas, 1868, 72 × 120 in.
The depiction shown above is not New York. These Hudson River School artists tried to express a love of art and nature that wasn't just the Hudson River valley. In essence, they were a tourism effort, to create a love of American culture, shown through art, to be a safe haven for all people, not just the wealthy. As people read their newsletter, readers could imagine attending these sites of wild nature, unlike the Middle East or Rome. It made art real, and people wanted remembrance tokens from traveling or places to aspire to visit-and then actually do so. I have heard even some preservation efforts of wilderness reserves even came from their efforts.
Obviously, Europeans were quite confused that these Americans broke with tradition to paint realistic depictions of local landscapes. There was majesty and an awesomeness in the American wilderness that has endured today with the rustic West. America gained international respect as breaking from tradition. The efforts of this small group of artists, along with replication devices, allowed art to be widely copied and displayed in public spaces and even homes.
And that brings us to Magic-that is, why I even write my column. The artist George Inness was a Hudson River School artist, and nature predominates in many of his paintings. He was influenced by old masters, and Inness is influencing one of Magic's current artists today: Adam Paquette.
"Lake Albano." George Inness, 1869, Oil on canvas, 30 3/8 × 45 3/8 in.
"Twilight." George Inness, 1875, Oil on canvas, 20 × 30 in.
Magic art is better than it's ever been. Ant and I will be discussing why it's stronger art than ever before with art director Jeremy Jarvis and Creative Team head Colin Kawakami on the podcast soon. Until then, look at Adam's work mixed with Hudson River School masterworks. We're in a good place, whether it's digital or traditional.
Until then, enjoy that art.
-Mike
MPS Island. Adam Paquette, 2012, Digital
Worldknit. Adam Paquette. Digital
"Rocky Mountain Landscape." Albert Bierstadt, 1870, Oil on canvas, 36.6 × 54.8 in.
MPS Plains. Adam Paquette, 2012, Digital.
"The Course of Empire: The Savage State." Thomas Cole, 1834, Oil on canvas, 39.5 × 63.5 in.
Forest. Adam Paquette, Digital.
"A Rest on the Ride." Albert BIerstadt, Oil on canvas, 1863, 30 × 50 in.
Plains, Avacyn Restored. Adam Paquette, Digital.
P.S. Nominate the best community person you know here. We're looking for the best eight of Magic of 2014.