Our Magic weekend began Friday night, when I took one for the team and stayed home with the sleeping toddler while my husband went to Spirit of 77, meeting up with Inkwell Looter and some of the Wizards coverage team guys.
From left to right, Marshall Sutcliffe, Steve Sadin and Rusty Kubis from the Wizards event coverage team shoot Pop-A-Shot between rounds.
Day 1: You voted, and Orzhov won the most real estate on my person for the day.
Not wanting to offend the other guilds, I managed to incorporate their sigils into my outfit.
@Hackworth had planned to play a land destruction brew, but upon review, we found we left the necessary fetches at home! Silly parents. Thus, it was a last-minute switch to my burn deck.
#GPPort version of an Abbey Road album cover: Players run across Holladay Street toward the Oregon Convention Center at 10:00 A.M. Can't miss that player meeting!
I hadn't attended a Grand Prix before and was surprised by the sheer size of the event. Here, a proud parent takes a photo of his son holding up his GP: Portland play mat featuring Progenitor Mimic by Daarken.
I was super-excited to finally meet artist and fellow Schmazzgordios Guild member Inkwell Looter, a.k.a. Josh Frankel, in person! Here he is, wearing a t-shirt of his own design. Josh played W/B tokens and was honestly one of the nicest people I've ever met. You can't see it, but the Schmazzgordios plaid is there . . .
Here are tournament organizer Tim Shields (khaki pants) and Head Judge Chris Richter (maroon shirt) holding court.
Scapeshift player @AvatarofBro rocked the Boros hoodie.
The kosher hot dog island in the middle of the event really amused me.
Magic artist RK Post doing what he does and living the dream!
ChannelFireball had their booth right next to the men's restroom. Smart business if you ask me.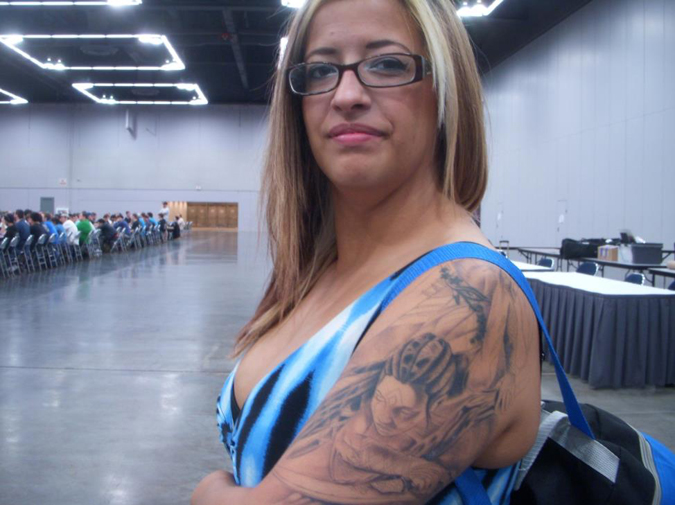 Local player Celeste wasn't competing, but she was showing off her sick Guul Draz Vampire tat and picking up some art prints.
Despite feeling ill, Magic artist Anson Maddocks made his appearance and soldiered through.
Local players Jamie Lynne (right) and his buddy Phil showed Portlandia-style swagger.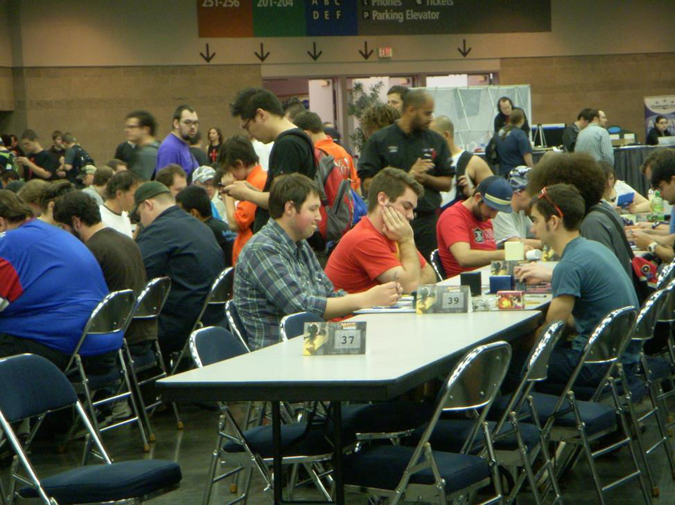 The hubby battles against Living End during Round 1.
For some reason, I had an image of Daarken as a circa-1980s Eastern European hair band member. Nope, he was this soft-spoken guy with lightly Elven features. Here, he signs cards for two lady MTGers.
There were a few bronies at the event, but this Rainbow Dash came out on top.
Wizards R&D member and Dragon's Maze lead designer Alexis Janson rocked a sweet tee.
Magic artist Chuck Lukacs carefully hangs his original paintings that are available for purchase.
Snow beast hat, zombie shirt, and Crown Royal dice bag. Done.
This young lady was at the GP to support her mother, who was competing. She added a spot of hippie brightness to the room throughout the day. In the background (left), Steve Argyle signs.
Chase from Portland game shop Time Vault Games helps a customer and a nattily-attired friend.
Obligatory empty women's bathroom pic.
Def the coolest hat of the day! Goblin Arsonist makes an appearance.
Round 3, @Hackworth faced the guy with the best hair of the event.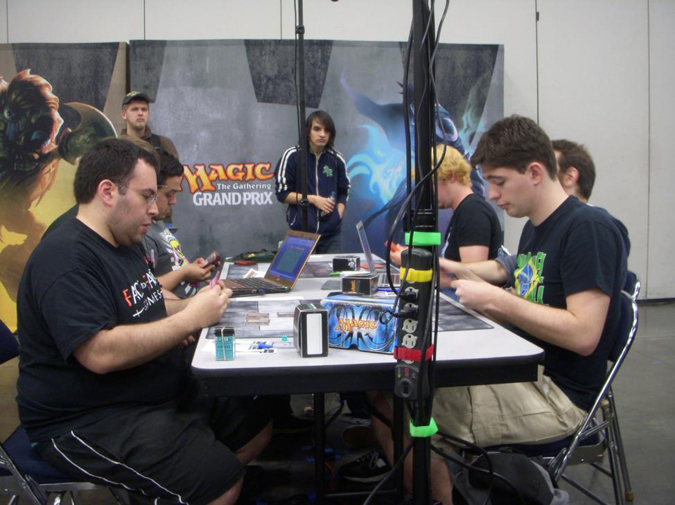 Nothing wrong with killing time watching these guys play! Paulo played Valakut—I mean Scapeshift. GP: Atlantic City winner Jon Stern played four-color Jundk.
Gerry "Flaming Cherub Hairdo" Thompson battles Carlos Pal while Steve "Pop-a-Shot" Sadin writes up the play-by-play.
Things didn't go quite the way Paulo wanted them to, but more importantly, note Sadin's sideburns.
This guy is part of the team that runs npccast.com—he was a one-man neon signboard for his site.
Yes, there was one wizard at the event, and I found him. He paired red crushed velvet with Adidas.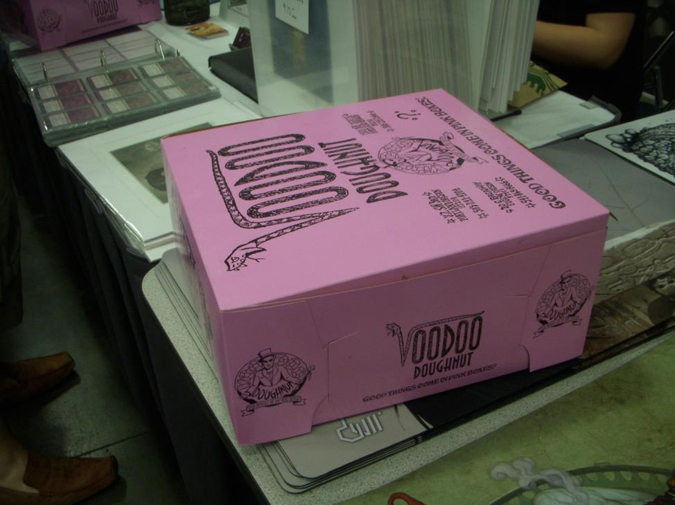 RK Post received this delivery of afternoon delights.
Back at the hotel, I shared some Burgerville deep-fried asparagus with Ral before playing some Cube with the hubby and going out for a nice French dinner.
This is how you kick back after spending all day on your feet at a Grand Prix: a plate of charcuterie and a pilsner at local restaurant St. Jack.
Day 2 breakfast: Sassy Chandra, swank cheese-plate-to-go from Restaurant St. Jack, a loaf of Campagnolo from Grand Central Bakery, and boosters.
Yep, this is where the Magic happens.
Nothing like Cubing in the morning. Did a little Sealed action—is the deck I put together.
Decided to match my outfit to my deck. A Dimir kind of day.
Agent MJ ready for her next assignment . . .
My next assignment involved being kicked out of this aisle while trying to take a picture of Melissa DeTora and the Stuffy Doll watching over her table. Not very slick, MJ!
Local artist @mtgalteredbeast was on his way to a Timbers match.
Paulo checks out the Round 12 feature matches. I loved the hand-knit orange beanie Casey wore.
Here's Craig Wescoe versus Martin Juza at the text feature match table. Day 2 was all about me being star-struck.
FYI: Steve Argyle has guns for days.
I earned back my Dimir cred by secretly snapping this shot of Gavin Verhey's um, messenger bag. Super ninja-style, baby!
Hall of Famer Zvi Mowshowitz, Sam Black, and who's that other guy in the fur-lined hoodie . . .
A feel-good pic with Travis Woo was a great way to finish out the weekend. If you could earn byes for positivity and panache—and for making those around you better—Travis would deserve a lot.
Tired and satiated for the moment—but wanting more?
---
The last three times I've been at events, I was perfectly content to stand along the sidelines, chat with artists and friends, and observe. It felt nice simply to be part of the event, to contribute to the energy in the room. This time, while I thoroughly enjoyed my role as a supporter and journalist, I also noticed a new stirring in my soul. I felt twitchy and awkward—I wanted to compete.
Until next time, may Magic be your evolving self.
-MJ