Earlier today Redditors were able to snag a glimpse at an article scheduled to go live during Fate Reforged spoiler season. An image was quickly copied and the community is now able to take a Valorous Stance: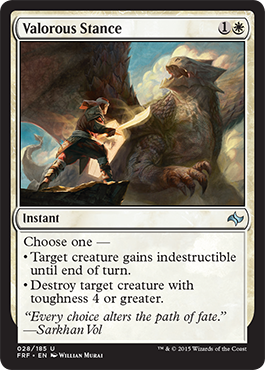 Valorous Stance repeats the "choose one" mechanic previously seen on Charms, Commands, and Crux of Fate. Considering that Fate Reforged is the pivot set in a block about time travel, it could follow that a theme in this release is making a choice and suffering the consequences.
Keep checking Gathering Magic for the latest Fate Reforged news and keep an eye on our text spoiler for new cards.
---