The usual contenders are still perched atop the metagame, but Naya Aggro's share of the StarCityGames Open: Baltimore Top 16 has catapulted it into the mix.
Here are the Top 16 decks from SCG Open: Baltimore.
Naya Aggro was a successful choice in Baltimore with five pilots in the Top 16 and three in the Top 8. Jund Midrange also took its requisite chunk.
Decks worth Noting
Brad Nelson's tournament-winning Junk Varolz deck plays Cartel Aristocrat to sacrifice creatures, Blood Artist to provide reach from those sacrifices, and Varolz, the Scar-Striped to scavenge their remains. Doomed Traveler and Young Wolf provide extra value when sacrificed. This deck has been doing well on Magic Online the last couple of weeks. You can really see the evolution of this archetype on MTGO that led to Nelson's success from some of the different versions:
The BR Zombies deck in third place contains zero Dragons, six sacrifice outlets, three Blood Artists, and two Hellriders. Also, Blood Scrivener is there for top-deck mode.
The BUG Control list in fifth place includes nine planeswalkers, Aetherling, Progenitor Mimic, and Far // Away.
The Naya Humans deck in fourteenth place is all creatures (thirty-nine) and lands (twenty-one). This, too, has been a growing trend on Magic Online. Often, the deck will include one or two copies of Domri Rade, such as this one.

Here's a look at the most-played cards in the Top 16 decks of SCG: Baltimore.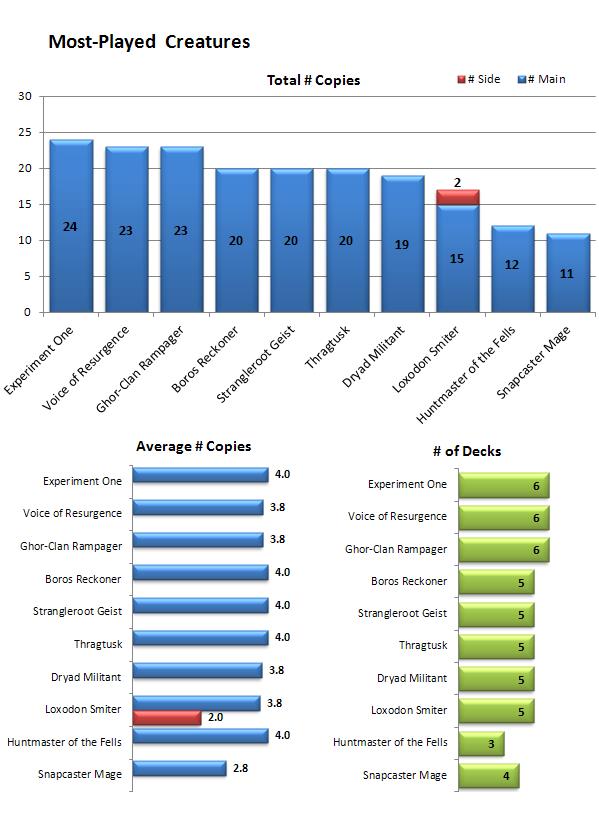 It took a very aggressive week to knock the normal king and queen of creatures, Thragtusk and Restoration Angel, off the top of this list. Most of these creatures were main-decked stalwarts in Naya decks this week. Snapcaster Mage was in four different archetypes. Here is a breakdown by archetype:
It was a black and red week for removal, with Searing Spear and Pillar of Flame seeing the most copies played. Both were ubiquitous, with Spear played in five different archetypes and Pillar in six. Mizzium Mortars found a home in ten out of the top sixteen decks. Let's check out the breakdown of removal by archetype:
| Card | Archetype | Average | Avg Main | Avg Side |
| --- | --- | --- | --- | --- |
| Searing Spear | BR Zombies | 2.0 | 2.0 | 0.0 |
| Pillar of Flame | BR Zombies | 2.0 | 0.0 | 2.0 |
| Mizzium Mortars | Jund Midrange | 2.0 | 2.0 | 0.0 |
| Tragic Slip | BR Zombies | 3.0 | 3.0 | 0.0 |
| Bonfire of the Damned | BR Zombies | 2.0 | 1.0 | 1.0 |
| Liliana of the Veil | BR Zombies | 2.0 | 2.0 | 0.0 |
| Abrupt Decay | BUG Control | 3.0 | 3.0 | 0.0 |
| Azorius Charm | Esper Control | 4.0 | 4.0 | 0.0 |
| Ray of Revelation | Naya Aggro | 2.0 | 0.0 | 2.0 |
| Pacifism | Naya Aggro | 2.3 | 0.0 | 2.3 |
| Supreme Verdict | Esper Control | 4.0 | 4.0 | 0.0 |
New Arrivals
In this section, I shine the light on cards that were included in a Top 16 deck last weekend but have seen little to no play in Standard Top 16 decks prior to then.
Magic Online
Magic Online also serves as a proving ground for new cards and strategies. Here are some ideas that have found digital success and are worth consideration.
Is red the new green in Aura decks? UWR Auras has been popping up on Magic Online. It surrenders green and Rancor for red in order to include Madcap Skills and Boros Charm. Slayers' Stronghold adds a nice repeatable boost to the deck and works quite well with Geist of Saint Traft. Losing green, however, leaves this variant with no turn-one mana accelerator and no chance for a turn-two Geist of Saint Traft. It does gain access to Boros Reckoner and Izzet Staticaster in the sideboard.
Some reanimation decks have been trending toward red over green as well, with a few WBR decks doing well in Magic Online events. The deck supports a strong midrange game plan with Boros Reckoner, Olivia Voldaren, and Obzedat, Ghost Council. Faithless Looting and Unburial Rites help recycle threats or play an early Aurelia, the Warleader or Angel of Serenity. It has a few other interesting inclusions, such as Assemble the Legion. This deck includes Tibalt, the Fiend-Blooded and Gisela, Blade of Goldnight.
Dragon's Maze has made aggressive Bant decks much more appealing. Advent of the Wurm is an insta-beating and pairs well with Snapcaster Mage. Voice of Resurgence helps against other aggressive decks as well as control opponents. Loxodon Smiter is an easy inclusion with all of the Jund decks hellbent on forcing you to discard. Experiment One has proven itself in Standard and works well with all the flash and instant-speed tokens. Here are some recent examples of Bant Aggro decks:
Pro Tour: Dragon's Maze set the stage for the Return to Ravnica Block Constructed season. Block often provides a glimpse into the future of Standard. Here are cards played in at least 20% of the Block Constructed decks with 18 or more points.
Many of these cards look familiar from the current Standard metagame. Let's instead look at the Block Constructed cards played in the most decks that have not seen play in a Standard Top 16 deck.
Varolz, the Scar-Striped (10%) was on the list until Baltimore, and Scion of Vitu-Ghazi will probably fall off before long as well. Merciless Eviction and Nightveil Specter may see their turns after rotation in October.
That's it for this week's article on SCG Open: Baltimore. Join me next week as I continue tracking the metagame and highlighting the cards and decks played in Standard. I want to give a special thanks to James Arnold (@thatguyjames) for the new section heading art you see above. Thanks for reading!
Nick Vigabool
---