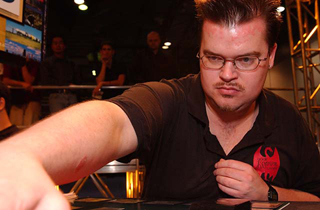 Welcome to The Magic Studio. This episode is an interview with Magic: The Gathering Pro Tour Hall of Fame member Darwin Kastle.
[audio:http://s3.gatheringmagic.com.s3.amazonaws.com/uploads/2013/01/22/The-Magic-Studio-Ep1-Darwin-Kastle.mp3]
You can subscribe to the show via the RSS feed for The Magic Studio or on iTunes!
0:00 - 0:15 – Intro
0:15 - 2:03 – What drew you get into Magic?
2:03 - 4:08 – Why did the players in NE part of USA have an advantage over the rest of magic community when it first started?
4:08 - 6:21 – What were the challenges of making a living while playing magic?
6:21 - 7:46 – How difficult was it qualify for the pro tour by dialing into it?
7:46 - 10:12 – He was the last person to play in all the pro tours from 1996 to 2004 the difficulty in doing that?
10:12 - 14:24 – Your success has been in limited do you consider yourself a limited specialist?
14:24 - 19:32 – Do the players today have an advantage of being successful in limited because of Moto?
19:32 - 21:23 – What did you do to understand the metagame back then?
21:23 - 23:30 – How special was it to have one of the 11 limited card made after winning the invitational?
23:30 - 24:40 – When I say Darwin Kastle Hall of Famer what does that mean to you?
24:40 - 26:06 – How difficult was it to play in "Wild West" era of magic?
26:06 - 27:55 – Who was your biggest rival?
27:55 - 28:44 – Was the amount of time you played on the Pro Tour the reason why you got elected into the Hall of Fame?
28:44 to End – Do you feel that people hold that against you for being a Hall of Famer?
---
You can reach the show at TheMagicStudio1@gmail.com or on Twitter as @TheMagicStudio.
The show will be available exclusively through Gatheringmagic.com and iTunes.