After fighting through a tight blue-white-red near-mirror match against Ben Stark in the semifinals, Shahar Shenhar entered the finals as an underdog to Reid Duke's dominant green-white Hexproof deck. After falling to an 0-2 start in the match, Shenhar rallied hard to become the second World Champion from Israel, and among the youngest ever.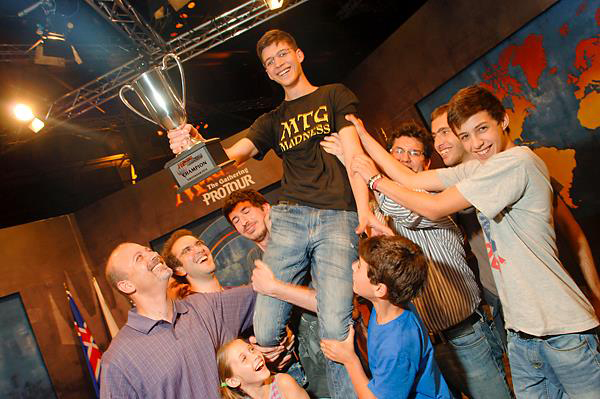 How did Shahar Shenhar pull off the upset apparent? Building up a critical mass of burn spells, such as Lightning Helix and Lightning Bolt, and "haste" creatures like Snapcaster Mage and Vendilion Clique let him fight to stay alive long enough to overrun whatever Duke had left. After pushing things to a fifth game, Duke's luck ran out and Shenhar used his sideboarded Engineered Explosives to seal the 2013 Magic World Championship.
You can check out the decks of the Top 4 playoff below, or head over to the official coverage on DailyMTG.com for more decks and stories from the event.
Red-White-Blue Flash - Modern | Shahar Shenhar, Winner 2013 World Championship
Hexproof - Modern | Reid Duke, Runner-Up 2013 World Championship
Red-White-Blue Flash - Modern | Ben Stark, Top 4 2013 World Championship
The Rock - Modern | Jost Utter-Leyton, Top 4 2013 World Championship