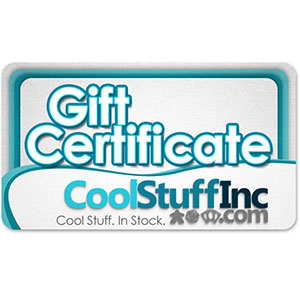 Get 99¢ shipping on singles!
Gift Certificate
Description:
CoolStuffInc.com Gift Certificates are great for any occasion!
Make sure they get exactly the items they want, send a Cool Stuff Inc Gift Certificate today!
You might also be interested in these products

You qualify for free shipping for your entire purchase providing your cart has at least $100. Valid for contiguous US addresses only. Gift certificates excluded.

Your entire order will qualify for $0.99 shipping providing your cart contains only items with $0.99 shipping or free shipping. All card (CCG) and minis singles qualify. As stated above, orders over $100 will ship free even if items are marked as having $0.99 shipping. Valid for contiguous US addresses only.