One of the cool things about covering Magic is that, from time to time, Wizard's media relations firm sends you something cool. Sometimes it's an awesome collectible tin filled with booster packs from the upcoming set. Other times it's a sweet t-shirt exclusively available to those who receive it.
Today, I received just such a card package. It contained just the latest in the Duel Deck series: Venser vs. Koth! While I'll be taking this for a spin and sharing some initial thoughts soon, I thought I could clear the air on what, exactly, is inside!
(You can see a full size image here.)
Obviously there are two decks, but aside from the namesakes Venser, the Sojourner and Koth of the Hammer five other cards feature new art: Plated Geopede, Anger, Chartooth Cougar, Path to Exile, and Preordain. You also find emblems for both of their ultimate abilities!
(You can see the full size image here.)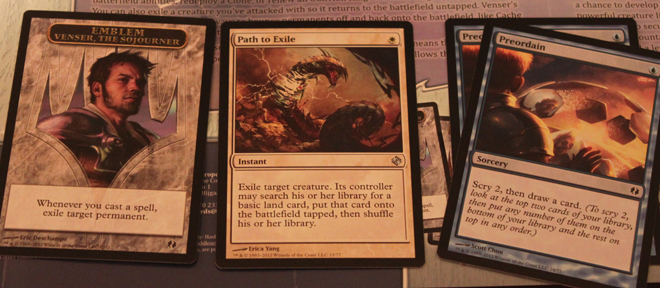 (You can see the full size image here.)
The complete deck lists follow! And if you're ready to dive in, our friends at CoolStuffInc.com have them available for you to preorder!
"Evade and Shimmer - Venser's Deck
"Erupt and Overwhelm - Koth's Deck"