I'm back to a more stable column; the Innistrad art review took its toll. As of right now, we aren't planning on running similar reviews. We will do something, but we're discussing internally how to make the process more efficient and to deliver Vorthosian value to the community.
Our goal is always to write on unconventional wisdom. Why? Because conventional wisdom has already been, by definition, widely disseminated. Our last review did its job. We had some fun, laughs were shared, knowledge was dropped, and the block got hot. We'll be demanding more from Dark Ascension. It's not just because we strive for greater things, but also because I worked on Dark Ascension. Consider this an arcane preview of sorts.
---
This week's article . . . what to write on . . . hmmm . . . 
NBC calling it in on Grimm?
Full review of the viral Innistrad story via Josh Brauer?
Instead of forcing a pass this week—ahem, Michael Vick, ahem—I'll give you an introduction to what I've been so feverishly working on. Before I get there, we need to look back at how accountable I've been for Vorthos articles I created polls about:
0/12 = 0%
Oh, biscuits. Better get on that.
Each article will take considerable research prep, so let's introduce the long-form article and go from there.

Alas, I can't simply give addresses to where all the art is along with snapshots of the owners' house numbers. What I can do is create something of value for the community. When I worked at the Weisman Art Museum in Minneapolis, I had the privilege of working on two catalogues raisonnés (cat-a-log res-o-nay). A catalogue raisonné covers every known work an individual artist has made, up to the year of the catalogue's publication.
Catalogue Raisonnés
No matter what the subject, it's simply a list, despite the fancy-sounding name.
To qualify for the monograph, each selection will include the art's provenance, size, and current condition, and will include literary publications in which the piece is include and photographs and/or scans of the artwork. Each piece usually (but not always) receives two pages.
Scholars are encouraged to produce new catalogues raisonnés, because our knowledge on any niche art is increasing and subject to corrections. Despite the discussion about what is included in normal catalogues raisonnés, no opinions or personality can be added from the editor/compiler. It is all about the art . . . period.
The reason there is so much discussion—anger even—is that humans can make errors. Fakes have been included in these catalogues raisonnés, and money is dependent on them. If you have a Georgia O'Keeffe painting in a catalogue raisonné, it's worth considerably more than a minor work, or worse, a fake, that wasn't included. By being included, it adds to the provenance of the piece. This is very, very important.
Exhibition Catalogues
An exhibition catalogue is a guide that corresponds to a temporary art exhibition.
Exhibition catalogues not only contain images and descriptions of the artworks on display in a museum or gallery, but also curator essays, professorial notes, and other professional additions to the theme of the exhibition's topic. This information puts the theme in its proper context. Museums need these guides if they wish to recreate an exhibition, document where an artwork has been displayed, or provide scholarship in a recent field.
For example, if an art exhibition is on sustainability, it needs strong parameters, shaped by a curator. This guide won't simply be about soda bottles made into an installation piece. It will notify why an exhibition on a small niche of sustainability is needed, who began the study, and what it means to the greater community. Student art exhibitions really falter without these guides, because students' works don't have a greater contextual purpose.
There are some notes and bibliographic information in exhibition catalogues, but that information tends to be limited. Due to the temporary nature of the show and the printing of the book, these guides are invaluable to curators. They're rare—as compared to a catalogue raisonné, which is comparable in rarity to a foil foreign Big Jace at the height of his popularity.
The issue trying to create an exhibition catalogue of Magic art is that an art exhibition hasn't happened. You can't fabricate a show, and if I'm going to do this properly, a catalogue raisonné is what is needed.
Facts about the Project
Number of paintings: 302
Number of artists: 25
Number of living artists: 25
Goal: Scholarship
Mission: Create a publication, online or in print, about the art and the stories behind the pieces.
Partners: Dozens, recruited to collect knowledge; hundreds needed.
Timeline: Ideally, by the twentieth anniversary of Alpha/Beta in 2013. Or until it's finished.
Vision: Curators will be able to exhibit Alpha/Beta and later-set art shows.
A Few Small Anecdotes
Terror was originally a vertical piece. The art director changed it and Photoshopped in a signature.
-Wizards of the Coast has a few of the originals. We'll see if we can get a walking video tour of them at some point.
There used to be a fantasy-art gallery in the Seattle area that had many of the originals. It is now closed. Shenanigans have ensued.
---
With the project now laid out, I have to ask something from my readers. When you see, hear, smell, or taste an original artwork from Alpha or Beta, e-mail or Tweet at me @mikelinnemann). Many pieces have been lost to time or, worse, destroyed. I rarely unplug, and I always want to hear more about the art.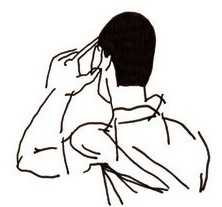 If you want to stay anonymous, that's okay, too. E-mail me!