Get it? Because 1512 is 75% of 2016. We have fun around here.
Commander 2016 is fully revealed via combination of everyone but me spoiling most of the set and me previewing Ishai, Ojutai Dragonspeaker last week, and I'm very happy with this set! Most of the reprints made sense from a deck construction and financial standpoint and nearly all of the new cards weren't gigantic mistakes. It's a solid set, and the wealth appears evenly distributed among all of the decks. They seem to have learned a lot since the "What if we print a $50 Legacy card and put it in one of the decks? Would people buy it then? No, no, you're right. We better put a Baleful Strix in there, too. Good thinking" debacle of 2013. It's obvious to everyone that there are powerful and exciting cards in Commander 2016 but what might not be clear is which of them are going to be good inclusions in 75% decks. What makes cards that go in 75% decks different from cards that are just good and should always go in the decks built around a given commander? Here are a few things I look at.
Does the card help us accomplish our goal to tailor our power level to that of the table through scaling? There are lots of ways to scale power level but the most obvious is by borrowing their stuff. Any time we can use a threat that's exactly as powerful as their deck, we can be sure they can handle it, and I'd rather let my spikey opponents pay $20 for Consecrated Sphinx and just swipe it. Identifying cards that help us scale the power level of our deck to that of theirs are great 75% inclusions.
Does this card influence the way players play as much or more than it influences the board? Cards that encourage someone to attack someone, leave someone alone, or otherwise change the way the game is playing out can be used to keep the best player from getting too far ahead. If you find your 75% deck is a little weaker than the best player's deck, you can use the table against them. If a few decks at the table are struggling to keep up, give them a boost. Use other players and their boards as a resource when you build 75%.
Does the card help end the game quickly? I am generally in favor of playing a lot of quicker games than playing one long game that takes a million years. I have a lot of decks and I want to play more than one of them. This isn't about killing everyone on turn three and making everyone roll their eyes, but if there is a big, congested boardstate, maybe Insurrection is what the doctor ordered. Just because we aim to win 1/x games where x is the number of players doesn't mean we don't want to win.
Does this card punish our opponents for doing things rather than prevent them from doing them? This point always needs a little clarification. Propaganda is fine — it punishes them for having more creatures than they can afford to attack with and for using their mana for other things. Armageddon prevents them from doing anything at all. Constant Mists does not. We're not looking to stax lock people and make them rue the day they sat down across from us, we're looking to make attacking us and executing their strategy less appealing and try to bring the player doing the best in line with the group. Staxageddon effects hit the player who's behind disproportionately. We aren't categorically avoiding any effects that stop our opponents from killing us, but we are saying given the choice between Scepter Chant and Painful Quandary, we're going to want to play Quandary in a 75% deck.
I think there are a lot of both new and reprinted cards in Commander 2016 that are great 75% deck inclusions and with all of that out of the way, let's talk about them. There are going to be some good cards that I don't talk about. That's not because I can't identify a good card, it's because nothing about it seems specific to 75% decks. You all know Cathars' Crusade is a good card, for example, so I won't waste your time pointing out the obvious.
Duelist's Heritage
This is a pretty good card in 75% decks, which are almost never combo decks and are therefore pretty reliant on swinging. It's never worse than Battle Mastery, which is a solid card, especially in Voltron decks. This gets extra utility in decks where you have a lot of creatures and you want the best one to have double strike without getting 2-for-1'd by removal. I especially like this in decks like Daxos of Meletis where double strike means double triggers.
Orzhov Advokist
75% decks revel in the politics of the game. Any time you can gently convince someone there's something in it for them if they attack someone else instead of you, you've won. Grow that creature all you want and kill my opponents with it, "friend" because as soon as you start coming for me, I'm playing Thief of Blood. This card is very cool.
Selfless Squire
This is one of the best fogs ever. Whenever your fog is also a card that can be a formidable creature to swing back in combat, it's worth taking a look at. This can also be a second Stonehorn Dignitary, but one that lets them attack other people once you establish that you can blink it instead of having to skip their combat phase entirely. That's solid in my book.
Sublime Exhalation
I didn't like this at first because this is better when you play with too many players in your pod, but someone pointed out to me than single White mana in a Day of Judgment is nothing to sneeze at in a world where decks are four or five colors. Wrath effects are a great way to punish overextension, bring a player who raced ahead back in line with everyone else and make sure you win. Play wraths in 75% decks.
Blazing Archon
I know this card prevents our opponents from doing something rather than punishing them at first glance, but this doesn't violate the spirit of that guideline. It doesn't prevent them from doing anything at all — they're free to attack someone else. It only prevents attacking at all when it's just you and them. This is a great 75% card and it's a fixture in several of my 75% decks.
Blind Obedience
This is my favorite Kismet because not only does it slow them down, it helps you grind out some value. 1 gained life is more significant in a 20 life format than a 40 life format, but when you remember all of the things Orzhov can do in response to a gained life trigger, you'll see the appeal of this card.
Brave the Sands
This is a card I was a big fan of during the Khans of Tarkir 75% set review. Some might not think these two effects warrant a deck slot, but I think decks like Doran, the Siege Tower can make great use of a card like this. Making your defensive creatures better at both offense and defense is nothing to sneeze at.
Citadel Siege
This is pretty underrated as far as the Sieges go, in my opinion. If you have Doubling Season or Hardened Scales, the first mode is formidable, and keeping their best creature out of combat can save your life. 75% decks might want to Evangelize that Blightsteel Colossus later, so keeping it from killing you in the mean time seems wise.
Hushwing Griff
The only card on my Pucatrade want list is Torpor Orb. I want every Torpor Orb, so getting it with a power and toughness appeals to me. What's more 75% than letting your opponents play creatures but not letting them get those EB triggers that they're relying on?
Oblation
This has fallen out of favor a bit now that you can just jam an Oblated commander back into the command zone, but I think this still has political applications and can draw you cards in a pinch. I've even used this to get a stolen commander back from an opponent.
Phyrexian Rebirth
A poor man's Descend Upon the Sinful is still worth playing.
Reverse the Sands
Part of 75% political play is bringing the player who is farthest ahead back in line with the group. Not many cards do that better than this one.
Deepglow Skate
Printing this card was probably a mistake, but until they ban it (and I doubt they'll ban it ever, it's good but fair) I'm going to jam this in many, many decks. Superfriends, Vorel, Ishai — there are a ton of possibilities. 75% doesn't mean "terrible" so don't feel like you can't pair this with a Deadeye Navigator just because you built 75%.
Faerie Artisans
You mean I get to steal their triggers? They invented a card where I can steal triggers? Oh man, what is more 75% than that?
Grip of Phyresis
There are scenarios where playing this at instant speed is better than Confiscate or Volition Reins, and you should be open to that in your deck-building.
Chain of Vapor
This card is a great political card. Unlike something like Chain of Acid where you're almost always going to get hit as much as they are, you can have 0 creatures and watch your opponents try and cut each other's throats with this, or you can have them not target you because you have a board full of Deepglow Skates, Cloudblazers and Reveilarks every game.
Minds Aglow
I like group hug cards in 75% decks, especially when you're set up to benefit way more than they are, ESPECIALLY when they don't see it coming. This is obvious in Nekusar, the Mindrazer but other times it's less obvious that you're going to do something really nasty with it. Kydele, anyone?
Spelltwine
If you've never played with this card, start playing with this card. It's a great 75% spell and being able to copy it and steal even more spells is a lot of fun. This does WORK in Riku of Two Reflections.
Cruel Entertainment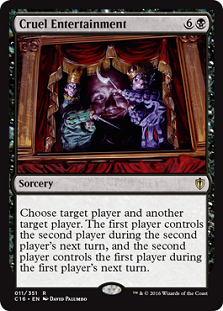 This is another good way to bring the best player back in line with the group, or harm players that are trying to be too Swiss. I think this probably convinces the two players to form a truce and both attack you some of the time, but other times this will be as entertaining as it is cruel. Great design here.
Curse of Vengeance
This can just as easily make people leave a player alone as it can benefit you. This is a great political card as a result. Protecting a struggling player is very 75%.
Ghastly Conscription
"Conscript" is a word that makes my ears perk up. This is not quite Rise of the Dark Realms, but it's pretty good and introduces an element of chance because you might not always be able to flip every card you manifest. In general, though, this is a great scaling spell.
Charging Cinderhorn
Between cards like this and the Monarch mechanic, there has been a bit of a push to design cards for EDH that make players who aren't being aggressive regret it. This punishes players for playing passively and we like cards that punish people in 75% decks.
Frenzied Fugue
This is one of the coolest Threaten effects they've ever printed. I really love this card. The fact that they get it back incentivizes the owner to try and keep it from being destroyed if they can and lets the best permanent on the table do double duty by getting use on two turns in the cycle. This is a fun card and it's a great 75% inclusion, especially in Red which doesn't get a lot of even semi-permanent scaling effects.
Goblin Spymaster
You want people to be aggressive? Make them. If you can protect yourself, forcing them to use each other as the outlets for their aggression, even better; pair this with Blazing Archon for example.
Grab the Reins
This is another one of my favorite Threaten effects. This gives you three different options for how to play it and that versatility helps it make the case for a spot in your 99. Give this a try — you will like how well it plays.
Humble Defector
This is a very strong political card and can be used a lot of different ways. Use it as a group hug card, combo with Mind over Matter or just draw some extra cards and then kill it. This is a very 75% card.
Benefator's Draught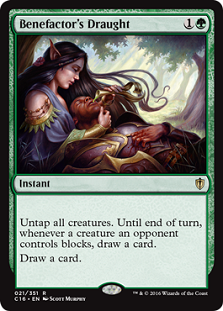 Yep. This is going to draw a ton of cards, all right. You can use this to deter blocking, draw a ton of cards or just untap all of your mana dorks and get a cantrip out of it. This card is something they will play around if they know you have it, so use it to your advantage.
Lurking Predators
Talk about punishing our opponents for doing things. Why would we want to prevent them from playing spells when this happens when they do it? This is a solid 75% card and it's one of the first cards I ever realized the commander impact of after ignoring it when it was legal in Standard. This card made me a commander convert and I hope you see the appeal, too.
Oath of Druids
A spell that helps everyone but the player doing the best? There's real 75% appeal there. Bonus points if you not only knew this wasn't banned in commander but also wasn't on the Reserved List (Oath of Ghouls is the only Oath on the Reserved List because, of course it is).
Rites of Flourishing
If you're going to play symmetrical effects, make them asymmetrical by taking advantage of them better than your opponents do.
Solidarity of Heroes
I don't know if this is strictly 75% per se, but I wanted to mention it because this card is bonkers and every time I play it, everyone has to read it.
Saskia the Unyielding
Most of the new commanders are just good and 75% decks can and will be built around them, but this one seems particularly 75% to me. You can either take someone out at double time or poke someone who has a nice pillow fort. You can also let the table decide who feels the burn, making this a nice political tool. I like this card a lot.
Silas Renn, Seeker Adept
Scaling all day! You can use this as your commander, pair it with something else so your deck can include cards like Daxos of Meletis and have a really good time swiping their cards. I'm a big fan of this card and the 75% deck I'm going to build around it. Time to order some more copies of Thada Adel, Acquisitor.
Thrasios, Triton Hero
This isn't necessarily a 75% commander but I wanted to use this article as a venue to express my opinion that this card is better than people think it is.
Glint-Eye Nephilim
I predicted they would reprint either 0 nephilim or 5. I couldn't have predicted they would reprint only the worst one.
Gwafa Hazid, Profiteer
This may be a little on the weak side for a 75% commander since it's so easy to kill Gwafa and make the counters useless on the turn they kill you, but I love this effect and if you can use this as part of a web of prevention he can be formidable. I see lots of people building this deck and I might take a crack at it someday.
Progenitor Mimic
Copying a Consecrated Sphinx once is cool. Doing it every turn? Now that's 75% cool. Wait, that makes it sound like it's less cool.
Spitting Image
See "Progenitor Mimic"
Boompile
I can't decide if a ridiculous card like this is inherently 75% or not. I do know this card is hilarious. It's at worst a poor man's Oblivion Stone.
Conqueror's Flail
I love cards like this if only because they let me clarify the "It's better to punish them for doing things than prevent them from doing things." This doesn't prevent them from doing anything other than doing things to you. They can play all the spells they want on your other opponents' turns. That's how you win games.
Prismatic Geoscope
This is pretty amazing. I like the idea of a Gilded Lotus that taps for 5 because I run a lot of basics in my 75% decks.
Akroan Horse
This card does not discriminate, it just helps everyone out. I like that.
Assault Suit
This busts one of my specs but that's OK since what this does is get more copies of a great 75% card into people's hands. This card is amazing.
There are a lot of really good cards in Commander 2016 that aren't mentioned here and, again, that's because while they're good and I can't wait to play with them, they're not really 75%-specific.
Is there something I missed? Make the case for something you think is a good 75% card, either a new one or a reprint, by commenting below. While you're down there, tell me which cards you're excited to play with and which commanders you're going to build around first. Buying all 5 decks? I am! Tell me which one is your favorite. As always, you're a great group of readers and I've really enjoyed writing this series for you. Until next week!
---