We just finished up a design skeleton, and while Life's mechanics may not be completely nailed down, it's time we got to actually making some cards. Debating the pros and cons of a mechanic proposal is certainly useful, but at the end of the day, it's impossible to account for everything, so the only way to really know what's going on with your set is to play with it.
Last week, I asked you for card design submissions, and while we had a lot of great discussion going on about the big picture, very few of you actually submitted commons. After much consideration, I suspect the issue lies with my representation of design. I love to wax philosophical about the underpinnings of Magic, but at the end of the day, we're all trying to learn. I wasn't half the designer I am today before embarking on Jay Treat's Magic 2013 project on Goblin Artisans; I've grown through practice, and most of all, through feedback. So while it may be frightening to put yourself out there, I'd encourage everyone who takes an interest in the subject matter to throw his or her hat into the ring.
Bone White
As for this week's topic, let's talk white commons. We left off with the following skeleton:
CW01 – creature, small, team pump
CW02 – creature, small, flying, enchantment removal
CW03 – creature, medium, flying
CW04 – creature, small, first strike
CW05 – creature, small, vigilance
CW06 – creature, small, flying
CW07 – creature, medium, lifelink
CW08 – creature, medium
CW09 – creature, small, flash
CW10 – creature, small, flying, trawl
CW11 – creature, small
CW12 – sorcery, token making, cascade
CW13 – instant, tapping
CW14 – instant, protection granting, trawl
CW15 – sorcery, enchantment removal
CW16 – instant, life-gain
CW17 – sorcery, pump, flying granting
CW18 – enchantment, Aura, creature removal
CW19 – enchantment, Aura, boon
Though I doubt we'll end up sticking with this mechanical scheme, I think a playtest will offer insight more quickly than residing wholly in the realm of theory, so I'll use it for the moment and I hope I'll get to play this week.
But before we get started, I should clarify that I screwed up the trawl wording last week. I ended up with a completely different ability that functioned from the battlefield, but here's a wording that captures the originally intended gameplay that I'll use for now: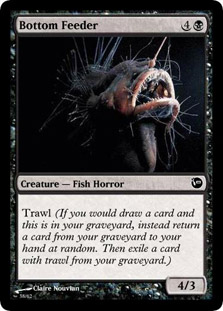 The final clause may prove unnecessary, but I'm hoping to avoid the repetitive gameplay that dredge and retrace invite by keeping players from trawling every turn. Onto the cards!
CW01 – creature, small, team pump
I know, I know, no realistic names, artwork, or flavor text. You're getting the same thing you would in a design meeting at Wizards, and for the same reason: There simply isn't time for more. As for the actual card, Glorious Anthem certainly doesn't show up at common, but this is actually much more of a Glorious Charge since the small body will promptly die in combat. I'll note that it wasn't until long after I designed this card that I noticed its similarity to Accorder Paladin, but I think white ought to encourage aggression most of the time. Otherwise, it just ends up overshadowing blue in Limited with comparable flyers and Turtles alongside superior removal and tricks.
CW02 – creature, small, flying, enchantment removal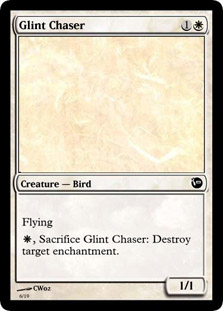 Pretty much any 2-power creature with a reasonable cost will find its place in Limited decks, but those with 1 power tend to be too weak on their own. Therefore, it's important to find spots for reasonably strong 1-power creatures from time to time so that Limited environments don't stagnate, always involving the same trades in combat.
CW03 – creature, medium, flying
It's entirely possible that this slot would be better served by something closer to Assault Griffin, but never having developed a full-fledged Draft format before, I don't have a good feeling for when that sort of clock is appropriate. Regardless of that, the bigger issue here is one of design: Can the second ability appear at common? I certainly don't think the actual gameplay will be a problem, but it's awfully hard to parse. Were I in the Pit, I'd go talk to templating about this early, but without the luxury, I'll open the wording up to your suggestions.
CW04 – creature, small, first strike
Tundra Wolves isn't exactly exciting, but I wanted this first strike creature to have 1 power after I decided to make a white a boon Aura that might give a blocker a big boost. Too much defensive first strike is impossible to attack into and thus dominates the board, and the combination is much more likely to happen with a creature like Youthful Knight that will always make the maindeck.
CW05 – creature, small, vigilance
Having another French vanilla may prove to be overkill, but I'm smitten with the ability of a small vigilant creature to encourage aggression without dominating the board. This could easily have another ability tacked onto it later in the process in order to make it a better reward for white-heavy decks.
CW06 – creature, small, flying
Looking over the skeleton I decided that we had a little bit more flying than we needed, so I took the opportunity to try out another simple implementation of crewing a ship. I also wonder if this sort of ability should have reminder text stating the irrelevance of summoning sickness. I've found a lot of new players confused by its distinction from the tap symbol, but Wizards has decided against such text, so I'm following suit.
CW07 – creature, medium, lifelink
I originally intended to have a 2/3 French vanilla here, but in last week's comments, apex suggested an attack trigger as a means of weakening a 3-power lifelinker enough to make it printable at common. I'm certainly game to try it!
CW08 – creature, medium
This would only be white's second 4-power common, and I think Whales make more sense in green, but thinking ahead to flavoring the set, I thought we might want a Moby Dick reference. Even so, that could live at uncommon, so this may turn into more of a Siege Mastodon soon.
CW09 – creature, small, flash
While white has two block mechanics in our current model, it doesn't really have a plan, so I semi-arbitrarily decided to try making white focus on attacking with a swarm of creatures. What does a seemingly dedicated blocker have to do with that? First strike will keep The Mach One Man from being double-blocked by a 2/1 and a 2/2, but the effect may be too minimal to justify what is otherwise an irrelevant ability on something with this much toughness.
CW10 – creature, small, flying, trawl
In this incarnation, trawl affects the card it's on unintuitively. You don't have a very good chance of getting Plummeting Prow back when it's killed unless you have other trawl cards, but it will increase the quality of your next draw. I'm leaning toward this implementation rather than an optional version that doesn't exile the cards because it can be tough to decide whether it's worth trawling if given the option. I'd rather players didn't have to make that choice, so I certainly don't want to force it on them every turn.
CW11 – creature, small
Paralyzing Preserve further reinforces the goal I laid out in CW02 – Glint Chaser's explication. In the past, we've only seen the size of a tapper matter when it's large (like Loxodon Mystic), but with this Jellyfish, you'll often have to take a turn off tapping to play a spell. With a particularly full grip, it may be worth looking for a Goblin Piker to block; or at least that's the theory.
CW12 – sorcery, token making, cascade
One cascade card in and already we've run across the mechanic's biggest hurdle: Balanced cascade spells look weak. I mean Gather the Townsfolk gave us the rest of this spell for 2 mana, with upside! That said, Tide of Minnows will most often yield two 1/1s and a 2/X, making it comparably powerful. I'll also note here that having two mechanics as wordy as cascade and trawl appear side by side is somewhat less than ideal.
CW13 – instant, tapping
After Brad Rose pointed out the absence of whaling in my initial plan, I moved tapping to CW11 – Paralyzing Preserve and put our requisite Reprisal variant here. It may have trouble finding enough targets without the smorgasbord of transform cards that Smite the Monstrous has had to prey upon, but at least it should be a good sideboard card against green decks if such a thing is needed.
CW14 – instant, protection granting, trawl
Because this version of trawl doesn't give you a very good chance of recurring the card it's on, I thought it would be interesting to put it on cards that are weaker if your opponent knows about them—like combat tricks. That instinct is ill-founded since only game designers are likely to notice and appreciate the subtlety, and we aren't our own target audience.
CW15 – sorcery, enchantment removal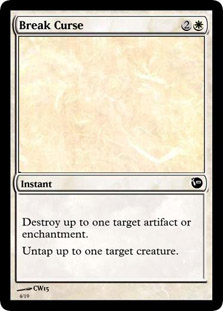 I started this as a sorcery that effectively granted vigilance, but then I decided to make it a trick, at which point I arrived at this strange double-"up to" wording. There was supposed to be a flavor connection in breaking free of a curse and untapping, but at this point, I suspect that's lost on the person who picks this up, and the abilities don't have enough interesting overlap to justify their proximity without said flavorful connection.
CW16 – instant, life-gain
Here's another tool for a white deck that's looking to race. I made it count tapped creatures to raise its power level, but changing it to "attacking" would be a good way to tone it down while removing the feel-bad interaction with vigilance.
CW17 – sorcery, pump, flying granting
There's probably too much overlap between this card and CW06 – Ballast Chucker to justify having both at common, no matter how good an incentive to attack Angelic Blessing may be. The replacement will probably be a real combat trick, though the whole Mighty Leap/Moment of Heroism/Skillful Lunge mirroring has nearly run its course.
CW18 – enchantment, Aura, creature removal
Is the distinction between this text and Arrest's worthwhile just for the interaction with abilities like CW06 – Ballast Chucker's? The answer to that question depends on how prevalent those abilities are, but it reads easily enough that I don't think we need too many to warrant its inclusion.
CW19 – enchantment, Aura, boon
And there's the big finale! This Aura is intended to be a build-around-me for the swarm archetype, but I could envision leaving it in the file if we go with Wobbles's idea of using 0/1 Deckhand tokens and ships, though in that case, it might fit more comfortably at uncommon.
On the Horizon
I'm not sure whether I'll be able to get any playtesting done before I need to write next week's article, but we might as well hedge our bets and start looking at ideas for blue commons. Here's that section of the skeleton as it stands:
CU01 – creature, small
CU02 – creature, small, mills
CU03 – creature, medium, flying
CU04 – creature, large
CU05 – creature, small, hexproof
CU06 – creature, small, flying, loots
CU07 – creature, small, bounces
CU08 – creature, medium, grants flying
CU09 – creature, small
CU10 – sorcery, card-drawing
CU11 – instant, bounce
CU12 – instant, counterspell (hard)
CU13 – instant, counterspell (soft)
CU14 – sorcery, mill
CU15 – sorcery, card drawing (Sift style)
CU16 – instant, −X/−0
CU17 – sorcery, reorder top cards
CU18 – enchantment, Aura, creature removal
CU19 – enchantment, Aura, boon
Once again, feel free to share your designs in the comments, over Twitter, or in an e-mail (julesdrobins at gmail dot com). Really, all of those mediums are open to you on pretty much any subject; I'd love to hear your thoughts on other aspects of this design or something else entirely. But before you go, what did you think of the approach I took to this week's installment? Did you like the card-by-card explanation?
[poll id="152"]