My mission here at Gathering Magic is simple; it's to highlight art.
It is to encourage people to explore what art can mean and how it exists in a microcosm, a game, as it relates to your life. I love art and I am striving to accomplish that by sharing art that inspires imagination, stimulates thought, and transforms the mundane physical representation of a mechanic into an experience. Art is fun and seeing it up close stirs emotion.
As we soon celebrate Magic's 25th anniversary, part of my exploration into art includes bringing the art past the 2x3" barrier, past a computer screen, and in front of you, inches away from your face. What's next in our experience with art, is my organizing a crew and bringing the Magic Art Show to you:
"If I had asked people what they wanted, they would have said faster horses." - Henry Ford
Better GP Experience = Faster Horse
While having a cheaper main event would be nice, I'm fairly certain players can easily grasp the idea that adding more to the Grand Prix experience is one way to make it better.
An art show is the tip of the iceberg of what is possible. It moves a Grand Prix into convention territory.
Being the art guy, here I am, trying to bring a good idea to reality. I can't offer gold to players, but I can add a ton of value to their experience.
Syndic of Tithes by Steve Prescott
Instead of waiting for a partner and another Vorthos to propose to me how this show would become more than a pet project, I decided to form a team.
I enlisted Rico, Josh, and Brian to help me cover the areas where I needed aid, including funding, associated products and logistics. Even after weeks of Google document creation, Skype calls, emails and planning sessions, the art show had to be more concise and it had to be crowdfunded to work. I gathered the best kickstarter community member, the best product creator and a master in exhibition and layout design. With the help of a few known associates like Marcel White, we now have a plan.
If the community wants to see art, it will be brought via a kickstarter funding model.
If the community does not, that also informs us.
Either way, we have 30 days to find out if people want to see art up close, like Render Silent here: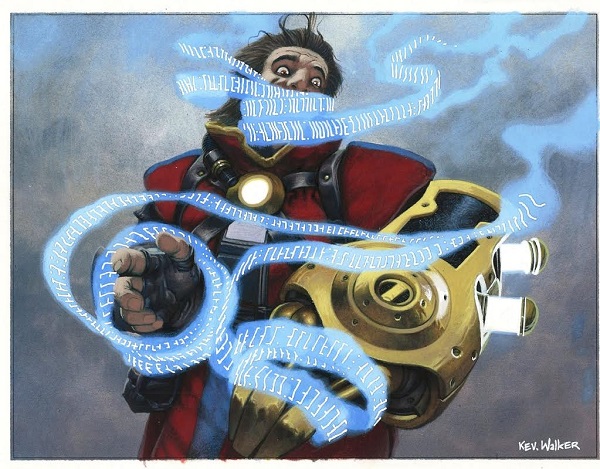 Render Silent by Kev Walker
Currently, in order to see a Chris Rahn or a Matt Stewart up close, you have to head to a Grand Prix and you will see the pieces that don't sell on eBay within the first week. These are generally the leftovers. While Chris Rahn enjoys selling on eBay minutes after his art is released, many others bring the art to two major art shows, Spectrum Live and more often, Illuxcon. These major art focused conventions are not in major cities and consist predominantly of artists and high end collectors. Magic players aren't really there.
Spectrum Live is in Kansas City:
Illuxcon is in Reading, Pennsylvania:
While you can head to GenCon in Indianapolis and see art too, both GenCon and Spectrum Live charge you to even see the art. These are accessibility issues. Also, did you know that Reading is over an hour from Philadelphia? That's a bit far for a taxi ride. The location of an art show is a barrier.
https://twitter.com/VorthosMike/status/790216478926770178
This Magic Art Show in Las Vegas demolishes that barrier for art. Unless you head to those shows, or know a major art collector personally, you will not see Magic's art. You won't know that many paintings are still being made. Not all art is digital these days. Far from it!
I don't expect a casual Magic player to visit these art conventions randomly. Instead, I'm going to buy walls with some known associates, build a process and bring art shows to Las Vegas and more cities after that, keeping the art shows free to players. We need the community to pitch in to support the initial crowdfunding campaign. We'll figure out how to sponsor it after that. That isn't the hard part.
The hardest part of this entire endeavor is getting casual to pro fans to see art up close, inches from their face, comparing a card to the art and back again. if the experience won't be enough for you, then perhaps gaining the knowledge of how art differs in paint vs. the image you see on the card, like Invoke the Firemind below, might interest you:
What's in the show
For the first Magic Art Show, works from oil paintings on board to canvas to acrylic and all manner in between are being included. There are only traditionally painted works where one can see brushstrokes.
The list of larger-than-life artworks include works by Donato Giancola, Mark Zug, Zoltan Boros, Gabor Szikszai, Matt Stewart, Jim Nelson, Mark Brill, David Palumbo, Raoul Vitale, Tim Hildebrandt, Christopher Rush, Christopher Moeller, Kev Walker, Chris Rahn, Greg Staples, Volkan Baga, Ryan Pancoast, Steve Prescott, Wayne Reynolds, Steven Belledin, Randy Gallegos, Rob Alexander, Matt Cavotta, Alex Horley-Orlandelli, Justin Sweet, Luca Zontini, Martina Pilcerova, Jeff Miracola, Lars Grant-West, Charles Urbach, and Terese Nielsen, and I'm still working on getting more.
Even with this massive list, I'm still trying to make it the best ever. As much as I would like Dark Confidant in the show, getting Bob Maher to loan it for a week is no small feat. I have reached out to him, he knows I'd like it and I will be in Madison, WI the weekend before the show visiting my wife's family. It's possible but it's a long shot.
Dark Confidant by Ron Spears
How you can bring art to your local GP
I want to bring art shows to three locations a year at the very least. If a Magic art show were to exist on the left coast in California or the Pacific Northwest, somewhere on the east coast from Boston to Atlanta and one in the middle of the USA from Minneapolis to Austin, I think that would be a gold standard of a new normal. I have already been approached about gathering art collectors in Japan and England. Logistics are harder but it's really just being able to have time to plan, not having a limited amount of art.
I want to bring the art to you. I just need it at Las Vegas first.
Do you like what I'm organizing? Do you want to get involved? Here's how:
Magic: The Gathering's art is what informs each game. It is the visual shorthand that informs choices in split second situations. Hopefully, this rather modest art show poses questions about the nature of art, games, and visual representation.
Support the Magic Art Show and help me bring the art to you.
—Mike
---