It finally came: The Meadery hosting the Minneapolis, now annual, charity tournament for Upper Midwest National Multiple Sclerosis Society. M.S. is frickin' terrible, and after hearing that a family member of The Meadery has the disease—in addition to Magic artist Titus Lunter's mother—I had to do something. The summer tourney's benefactor was chosen, and, well, see for yourself how it went:
With this, we began the weekend:
We tried to get a special guest, and Ryan (Rypie) was happy to be altering all day on site, and he even donated three alterations for the silent auction. Needless to say, they did well.
Every person playing in the event received a Titus Lunter play mat. Yes, a few will be available on eBay in the coming days through The Meadery. They are awesome, oh biscuits.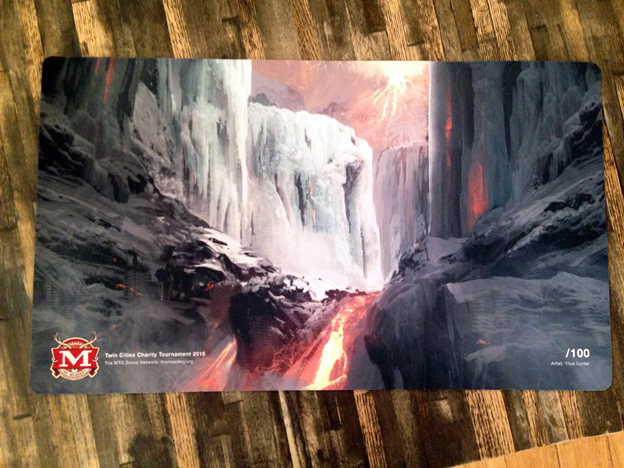 Saturday had a full table worth of prize drawings and silent auction items:
We gave away door prizes, and smiles were had:
It's fun to win for something good—I agree:
From the Top 8 to temporary tattoos, beads and flyers were everywhere to keep players aware of the reason we were there.
The items for Sunday? There were a varied group of randomness, making players coming in study the table. That was half the fun.
We gave out door prizes, from a full, signed token pack from RK Post to some fine-art tokens. People. Loved. Them.
We had epic moments when a Garruk axe appeared on Sunday and Cary Barkett's masterworked Ajani axe was given out to rather excited fans. (He makes props and items for cosplayers; I'd hit him up on Twitter.)
Nine packs of Alliances were opened on Saturday, with a Storm Crow being the best card. The final one on Sunday created this masterpiece. How often do people cheer for you when you're opening a pack? This was a highlight for me of the entire weekend.
I had to teach a friend about splitting for packs. I don't do that. I play like the USA: to win.
This is America. I don't do ties. (Gave him a pack anyway after the fact-he drew all the lands. All of em.)

July 26, 2015
I didn't leave with a ton of card monetary value, but I got some weird . . . 
 . . . and then some swag.
We had a helluva lot of fun, raising over $3000 for the Upper Midwest National Multiple Sclerosis Society. I can't change players, but Minneapolis is starting from the ground up to mesh philanthropy and Magic. I think we're getting there, as people had a ton of fun. There's nothing worse than crappy fundraising events—they just sink any chance of a repeat.
I have to say a giant thanks to Ian and Eric of The Meadery; they were so supportive all the way through the process. They understand Magic, sure, but most importantly, they've built a brand and listen to what their players and consumers want. That was invaluable in this event's success.
To Nathan Weber, Matt Awde, and Thomas Quinlan, the small working committee, you were ever so helpful to keep me hustling and always coming up with cool stuff to find, incredibly generous people willing to help the cause, and personally committing to donating items. This event would've failed if I were alone working on it.
I think, for next summer, we'll have a giant venue with perhaps a few stores—maybe a Magic artist from Chicago or Winona Nelson if she is home visiting family. Our community loves charity mixing with Magic, and I hope copycats emerge. I'm happy to share all information with anyone interesting from my career in fundraising and two years of events.
---