Red promotional piece, 1994, Pete Venters
The artist hustle isn't easy. Back in the day (way back), infamous goblin renderer Pete Venters produced some amazing MTG images for use on promotional products. Unfortunately, the gig never fully materialized, and he wasn't paid, but the images are, luckily, here for us to enjoy. Venters is publishing these paintings for the first time to celebrate Magic's twenty-year anniversary. For purchasing availability information, see the end of this article.
Artifacts promotional piece, 1994, Pete Venters
Each painting represents a planeswalker wielding one of the colors of mana—or artifacts (which is the sixth color, according to Venters). Various cards are represented within each of these paintings, and if you're into Easter-egg hunts, man of puzzles Venters has you covered and challenges you to identify the icons.
"My favorite [image in this series] is Black. Black has always been my joint favorite color, with Red, and the picture is one of the strongest in the series," says Venters. Make sure to follow his blog to see the postings of the rest of the series in upcoming weeks.
Five Color Wizard binder cover, 1994, Pete Venters
This painting did see print, on the first-ever official MTG binder. Says Venters:
The piece is a fun bit of history for me but it also shows I was still trying to find my feet with painting. Take a look at the wizard's hands and arms to see the iffy attempt at blending, let alone whatever's going on with the Serra Angel's forehead!
For those of you who may not have heard, The Gathering – Reuniting Pioneering Artists of Magic: The Gathering, published by Full Steam Press, is coming out this fall. Venters spearheaded the Kickstarter for the project, and the book will feature new art from thirty-five of Magic's early artists. If you missed the Kickstarter, though, you have to contact Full Steam directly to try and get your hands on one: fullsteaminquiry at gmail dot com.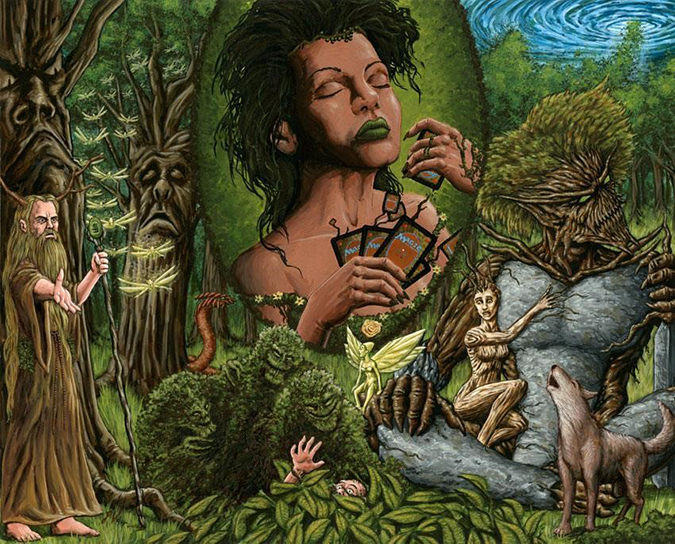 Green promotional piece, 1994, Pete Venters
These promotional pieces are the first instances of Pete Venters painting goblins for MTG. Sometimes, good stuff ends up in the graveyard—fact of life as an artist. It's a perilous existence. I'll leave you with a goblin image that never saw print—Fake ID—originally slated for Unglued 2. Simply fabulous.
Fake ID for then Unglued 2 (eventually Unhinged), 1999, Pete Venters
Collectors, Venters is selling pieces featured in this article. Fake ID is $800, and the promotional flyer paintings will be sold as a set in the several-thousand-dollar range. Venters will be taking offers on the set after all the pieces have been posted on his blog.
Till next time, may Magic be your seat in the Udder Club VIP room.
-MJ
---