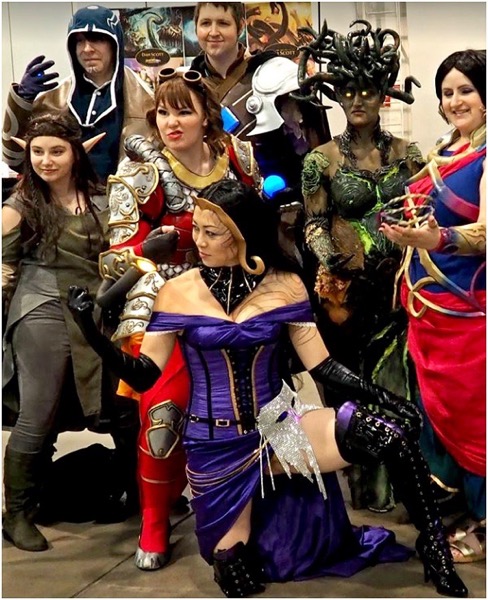 What happens in Naktamun, slays in Naktamun . . .  Photo by Eron the Relentless
Nearly one year after the original Planeswalker Summit at GP Portland 2016, some of Magic: The Gathering's most iconic characters once again traversed the Blind Eternities to make an appearance at MTG's most infamous party: Grand Prix Las Vegas.
While the costumes were just as (if not more) impressive this year, the vibe was decidedly different: an air of chaos persisted throughout 120 hours of shenanigans. From the time the 'walkers crossed the Hekma Barrier into Sin City until the time they disappeared into the Aether once again, GP Vegas was a nexus of making Magical memories.
The class photo I always wished I had. Photo by Eron the Relentless
Eighteen cosplayers RSVPd for the Planeswalker Summit meetup with many of them working as featured Magic Art Show cosplayers. Unfortunately some were called away by judge or booth duties and couldn't be in the group photo, but they were there in spirit! Additionally, the roster of Channel Fireball-sponsored cosplayers boasted Christine Sprankle, Ashlen Rose, and Nadine Grendelmeier. Add to that the many independents that came out in costume just for the hell of it — and you have a lot of cosplay over GP Vegas weekend!
Purple majesty. Photo courtesy AE Marling
To make things simple and minimize captions, I'm organizing this article by day, and including a list of cosplayers — a Cosplayer Guide — right here at the beginning so you know who did what and where to find these amazing artists out in the Multiverse. Please always credit/tag cosplayers when sharing photos out in the wild! It really means a lot and helps keep trolls at bay by suppressing their desire to dehumanize and/or objectify us. I had 100% good interactions with fans at Vegas — your support just means the world to us and helps us do more, better, to entertain!
GP Vegas Cosplayer Guide
Alphabetical by first name, Twitter or FB, cosplays listed in order worn.
Alyssa Parrish — Liliana
Angel Johnson, @AiAmethyst — Elspeth, Vraska
Arielle Lien, @AirBubbles — Chandra, Torch of Defiance, Custom Amonkhet Chandra
Ashlen Rose, @AshlenRose — Nahiri, Genderbent Tasigur, Nissa
Audrey Utz, @Oridesu — Liliana, Heretical Healer, Tamiyo, Gisa
Carolyn Arnold, @thatgalcarolyn — Disney Chandra
Carolyn Hazen, @carolyncosplay — Saheeli
Chaz Whitsell — Jace
Christine Sprankle, @cspranklerun — Oketra, Oona, Queen of the Fae, Sugar Skull Liliana, Freyalise, Xira
Danielle Phillips, Rhealdrien Cosplay — D&D Druid
Elliot Scott, @hackworth — Venser, Zombie Venser
Erin Adams, @ErinsArtStuff — Emmara, Arlinn, Nissa, Custom Amonkhet Nissa
Gaby Spartz, @GabySpartz — Nissa
Gail Senatore, @Gailpowder_Mage — Armored Human Bolas, Nahiri
Gin Santora, @scratchkitty — Nissa, Vastwood Seer
Justin DeLima, @SabrelKun — Steampunk Jace
Justin Rix, @gatorpharm03 — Sorin, Bontu
Katrina, @PurpleRoseKat — Steampunk Liliana
Kensadi Starr, @Kensadi — Liliana OTV, Olivia, Mobilized for War, Avacyn
Matt Wardle, @ScrapperFerret — Jace, Unraveler of Secrets, Jace AOT, Ajani
Megan Linscott, @squirtle_blue — Arlinn
Melissa Li, @smelissali — Genderbent Gideon of the Trials
Nadine Grendelmeier, @NissaCosplay — Ajani, Bolas, Nissa, Liliana
Olivia Gobert-Hicks, @goberthicks— Liliana Vess
Paul Eveslage, @EoT_Impulse — Dack Fayden, Sorin, Tireless Tracker
Ronnie Head, @Kensadi — Garruk Wildspeaker, Sorin
Sydney Stafl, @TappyToeClaws — Nahiri, Jace, Unraveler of Secrets
Thalia, @taitai_gamer — Thalia of Thraben, Liliana
Tony Houst, @@HoustofCards — Tibalt
A Special Case: Eron the Relentless
Throughout this article you'll see Eron the Relentless (E.R.) credited for photos. This legend was our volunteer MVP for the Planeswalker Summit, relentlessly taking over 5,000 photos with which to entertain the masses and appease insatiable Planeswalker appetites for social media fodder. I highly suggest you follow Eron. "Sure I'll take some pictures," he said. "I've got nothing else to do, since Return to Ulgrotha isn't coming anytime soon."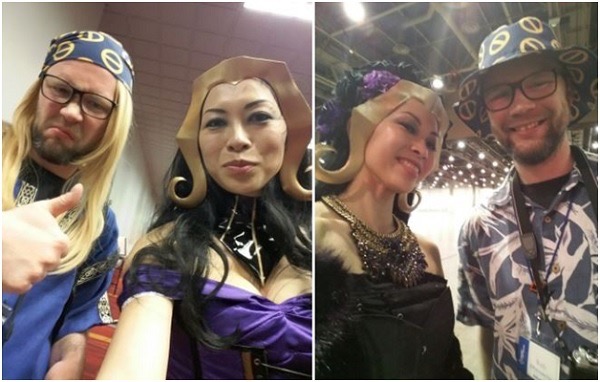 Eron and Liliana's Vegas Vacation
Amazing Allies
Cosplayers are highly visible and often experience harassment of various kinds at cons and such. Thanks to the MTG community, we had a great time at GP Vegas. Individuals stepped up to offer support to cosplayers, from being escorts to going on coffee runs. I can't thank everyone individually here, but know that from all of us, it really made a difference. From judges, to our contacts at Channel Fireball and Wizards of the Coast, from strangers who demonstrated random acts of kindness to community members who stand up for us on the internets — it all matters! Thank you.
I hope everyone enjoys the hard-won visuals in this article. We truly enjoy bringing Magic: The Gathering to life.
And now for the Hours, in pictures . . . 
Wednesday, June 14
Chandra, Emmara Tandris, and Elspeth host Opening Night of the Magic Art Show. Photo by E.R.
Cosplayers do what they do for personal satisfaction and also to entertain. MTG cosplayers do this because we love the game, Magic's lore, and the MTG community. While most cosplayers build costumes and attend GPs solely on their own dime, this year marked the beginning of a game-changing relationship: a partnership with the inaugural Magic Art Show. Opening Night was a special showing of the gallery open to Backers at the $150 level and over, plus invite-only guests. Arielle Lien of Air Bubbles Cosplay played Chandra, Angel Johnson donned Elspeth, and Erin Adams came all the way from Toronto to open the show as Selesnyan elf Emmara.
Fueled by grassroots support from the community and the personal passion of Gathering Magic's own Mike Linnemann, the Magic Art Show brought over 200 pieces total of MTG original art, concept art, sketches and maquettes to the desert for the enjoyment of GP Vegas attendees. The show ran a successful Kickstarter campaign that allowed for free admission and staffing by fourteen cosplayers, including myself. What this means is that instead of walking around as free labor promotional models, MTG cosplayers got a rare token of appreciation in the form of an hourly wage and some Art Show swag. Believe me — this means a lot! Cosplayers were able to help with door duties, bring more elaborate costumes, host the Opening Night ceremonies, and create more group-cosplay photo op experiences for fans all because of this partnership and the Backers who made it possible.
Emmara engages with a gallery visitor; Ethan Fleischer discusses art and Magic design during Opening Night. Photos by E.R.
Elspeth helps Chandra with a firebox repair. Photo by E.R.
Add a little help from Wizards of the Coast and Channel Fireball, an awesome sponsor in Matboard & More, and the Magic Art Show was able to become a reality; bringing an entirely new dimension to GP Vegas. Will we see a repeat at future GPs and/or events like HASCON? I certainly hope so. It all depends on people like you — the MTG community--and supporting each other. Mike's got a great Art Show recap here.
100% YES. #wotc are you listening? It can be a thing. We want the thing. Let's make the thing happen. https://t.co/yKveXmgPz3

— Gem Of Magic (@GemOfMagic) June 20, 2017
Elspeth guards the Mirrodin Room at the Magic Art Show. Photo by E.R.
Brian Scott Walters of the Art Show team shares a celebratory moment with Chandra. Photo by E.R.
Over the course of the GP, response to cosplayers and the Art Show was overwhelmingly positive. I personally didn't have a single negative interaction with GP goers. Fans were eager to come by the Art Show to see the gallery and get photos with their favorite Magic characters. Out on the main floor, it was often impossible for cosplayers to walk more than a few feet without being stopped by a fan who wanted a selfie or other pic. "Your costumes are awesome," was a common refrain, and the cosplayers' enthusiastic "Thank yous!" were heartfelt and sincere.
Elspeth, amidst the bustle of Opening Night, pauses for a fan photo. Photo by E.R.
Thursday, June 15
Judge Sorin stops by the Art Show and pose with… himself. Photo by E.R.
Judge Justin Rix reprised his Summit 2016 role as Sorin Markov, starting off Thursday with swagger and a "Sorin Markov" official judge pin on his leather lapel. Justin, who has also recently cosplayed Kiran Nalaar, brought out the Lord of Innistrad and Bontu for Vegas and said he was going to try and "cosplay as much as possible," when not limited by his judge duties.
Lord Bolas stops by the Magic Art Show to make sure Arlinn and Chandra aren't ruining any draconic schemes. Photo by E.R.
Nadine Grendelmeier of Nissa Cosplay rolled out her sweet Lord Bolas and stalked the GP in Elder grandeur, providing fans with lots of great photo ops despite the costume's sometimes-awkward imposition on movement. Though one wing was damaged in transit to the GP, resourceful Nadine flexed her crafting skills and was able to repair the injury on-site.
Dack Fayden makes a move on an Art Show artifact--call security! Photo by E.R.
The Greatest Thief in the Multiverse was represented over the weekend by Paul Eveslage of EoT_Impulse cosplay. Dack is a new build for Paul, but a fun one considering the roguish planeswalker's inclination to make a grab for whatever shiny is nearby.
"I enjoyed being Dack Fayden a lot more than I expected," said Paul. "Swaggering around, stealing other cosplayers' stuff, getting subtle recognition from the attendees was a lot of fun."
Paul also related a great story to me during our panel planning. "At GP Pittsburgh last year a friend of Reid Duke's had a really bad beat. He came over to a group of us who were in cosplay and said, 'Man I feel so bad right now, I just wanna get a photo with you all!' and he did, and you could just tell it made him feel so much better."
A Young Pyro sighting out in the wild. Photo courtesy AE Marling.
Liliana takes any chance to mess with Chandra.
Cosplay 101. Photo by E.R.
Some of the Planeswalker Summit team had the chance to host cosplay panels at GP Vegas: Cosplay 101 on Thursday, Armorsmithing on Friday, and Sewing/Textiles on Saturday. This was a really nice way to interact with the community and we had the chance to give away playmats, material samples and more, plus take questions from enthusiastic would-be cosplayers. There was even a Young Pyromancer in the audience during one panel!
Judge Jess Dunks wasn't wearing his Gideon this weekend, but contributed to both the 101 and Armorsmithing panels — even letting the audience pass around Gids' armor to get a feel for it! Next time it would be sweet to expand this cosplay event offering to include cosplay workshops, where we can provide even more samples and guide attendees through building simple cosplay items such as a small accessories or props.
"Psst — Chandra! Is that who I think it is? How did he get out of his wall?!" Photo by E.R.
Well-known tiny Planeswalker phenom Dana gives Chandra a huge hug. Photo by E.R.
It was a pleasure to see young people such as Dana Fischer in the panel audiences, as well as a healthy number of men! Cosplay is absolutely for everyone, and that's part of what the Planeswalker Summit hopes to encourage in the community.
"I'm interested in building a genderbent Chandra," said Amanté Douglas, a graphic designer and filmmaker. "What's the etiquette around that?"
Our happy answer: there really are no limitations, besides one's own comfort zone. Other recommendations included staying true to the character's trademarks, both personality wise and aesthetic. "But really, it's all about what makes you feel good," said Audrey Utz, who was dressed as Liliana, Heretical Healer.
Dana Fischer chooses some free tokens after the Cosplay 101 panel. Photo by E.R.
Gideon in Clark Kent mode: Judge Jess Dunks chats with Planeswalkers after the panel. Photo by E.R.
A recurring theme over the weekend was the excitement over getting to see online friends, however briefly, in real life. I've long admired Nadine's cosplay work, and it was great to finally get to meet her at GP Vegas! There were too many to name — from the guy-next-door to content creators like Erin Campbell and Prof — that I got to hug or shake hands with and solidify that feeling of community built over the years.
Look busy — Bolas is coming. Photo by E.R.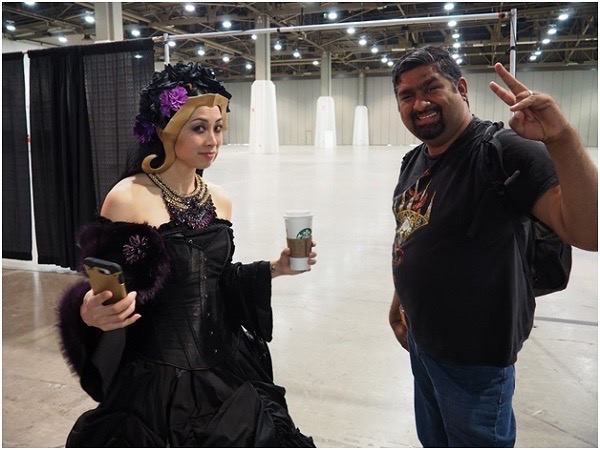 That's family. Shivam of Commanderin' podcast and I prove it happened with a pic! Photo by E.R.
Besides meeting amazing people like Shivam (you might know him from Kaladesh block due to his astute commentary that shed a lot of light on design issues with that plane) and making plans to hang out on casts, there were cool projects going on all around.
One such project was filming for a Women in MTG documentary. Hilariously, this meant that Arlinn, Chandra, Bolas, Victorian Gothic Liliana, and Baby Lili got to hang out in a support-group like circle and have a wonderful interview with Amanté Douglas.
Bolas unmasked: Nadine takes a breather from Elder Dragoning. Amanté Douglas provides a shoulder to lean on. Photo by E.R.
Photo by E.R.
Topics for the interview included how we got into Magic and what kinds of Magic we play. A woman watching the interview process spoke with us afterward. "I've been playing for over a decade. I still asked, 'what are you doing here?' by players." She was interested in learning how to foster a women's playgroup in her area, so Arielle of Air Bubbles Cosplay recommended the Lady Planeswalkers Society, which she's worked with before.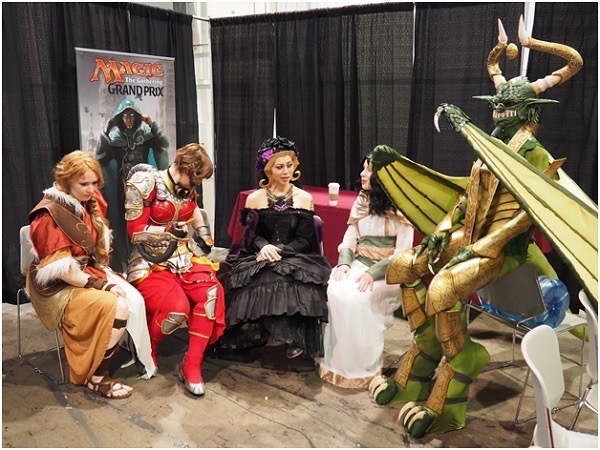 Wreck-It Ralph's Bad Guys Anonymous ain't got nothin' on us. Photo by E.R.
Everybody say, planechase! Photo by E.R.
Between the interview and my 5 p.m. engagement, Venser had to do a stint at the Art Show. So we headed back to room N115 where he proceeded to describe in detail to Elspeth how it felt to teleport his heart into Karn's body. The lesson? Don't do that. And don't develop a dependency on mind-altering potions made from Blinkmoth Extract and Zendikari animal poo.
"Not you! . . . Ok, only you would be silly enough to do such a thing."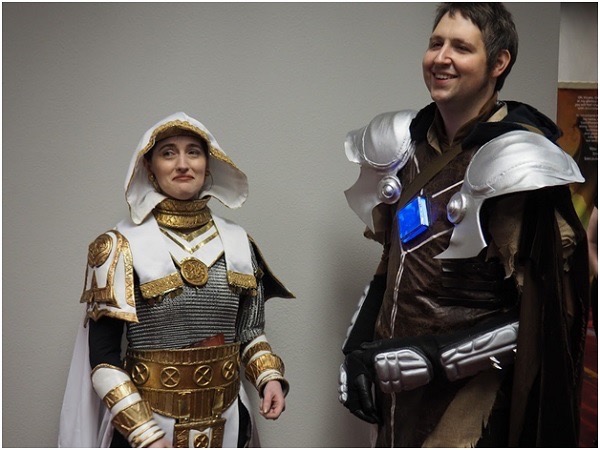 Photo by E.R.
Also on duty at Art Show on Thursday were Matt Wardle and Gin Santora of Jackal Costuming. Matt was wearing the studio's Jace, Unraveler of Secrets while Gin appeared as Nissa, Vastwood Seer. Matt was also Jace at Planeswalker Summit 2016 in Portland — you might recognize that jacket from Coat Boy last year.
Photo by E.R.
Nissa contemplates her future. Photo by E.R.
Finders keepers! Photo by E.R.
Yeah yeah, sorry about that Helvault thing . . .  Photo by E.R.
Strolling back out to Artist Alley, I was pleased to encounter the first of many independent cosplayers who came out not affiliated with any particular group or official sponsor. There was a Waldo — a classic — and a Thalia cosplayer who's real name is actually Thalia! Getting photos with other cosplayers excites me just as much as being the one asked for a photo, so I made sure to snag pictures.
So why was I wearing Victorian Gothic Liliana anyway? Blame Howard Lyon. I first communicated with Howard way back in the day to interview him for a 7 Questions article. I've always loved his art and his demeanor so when he asked if I was interested in sitting for a live portrait-painting demo, my answer was of course an enthusiastic yes.
Portrait so lit. Photo by E.R.
Photo by E.R.
Photo by E.R.
Portrait by Howard Lyon.
Friday, June 16
Nissa looks up in wonder. Photo by AE Marling.
Friday was a beating. But a fun beating. The Planeswalker Summit group photo was supposed to happen, there were tons of people schedule at the Art Show, and GP Vegas was in full swing — people and Planeswalkers were everywhere and it was a delightful type of chaos.
Community icons like Gaby Spartz, out and about as Nissa, were busy running from one event to another. I had underestimated the time it would take me to get ready on the road, and was frantic to try and get down to the floor. The day was just getting started and attendance to the Art Show was at a high pace. Over the course of the weekend, the Art Show would end up closing with 1700 attendees.
Thanks to everyone who supported the @magicartshow I was honoured to be apart of it ? #GPVegas @ChannelFireball pic.twitter.com/fYvpMVxtKJ

— Erin Adams (@Erinsartstuff) June 22, 2017
Photo by Sydney Stafl.
Saheeli Rai, played by Carolyn Cosplay, made the first of many appearances in which she seemed to indulge her affinity for cats — this one being the god Oketra, of course, an amazing build by Christine Sprankle. And it wasn't just a day for highly experienced cosplayers, but those completely new to cosplay, too.
My best friends cosplaying as Jace & Lili gathering with the other planeswalker & friends. #GPVegas #mtgcosplay pic.twitter.com/E9KzbDqVsI

— Bradley Rose (@bradleyrose) June 17, 2017
It was a good day for Jace and Liliana fans, as I can vouch that there were no less than five Lilianas taking over the GP at any given moment. You've read Test of Metal, of course. Obviously plausible — this is Bolas' realm, after all. There were also multiple Nissas, as you'll see shortly — but oddly enough, only one Chandra. Which she uses to her advantage — as you'll also see shortly.
Sisters-in-arms. Photo by E.R.
It turned out that Thalia had switched from Thalia to Liliana. Kensadi Starr of Kensadi Cosplay brought out her Liliana of the Veil for the Planeswalker Summit; in addition to Avacyn and Olivia, Mobilized for War for the Art Show. "I was so excited to get Eric Deschamps to sign my Olivia gorget," Kensadi said, "and show Steve Argyle my Liliana of the Veil."
Cruising down the hall at one point, I was pleased to be waylaid for a photo by a sultry Liliana in the original style. It turns out that this is Olivia Gobert-Hicks' only cosplay so far, but her metal tiara was so impressive that she even received a commission from Christine Sprankle!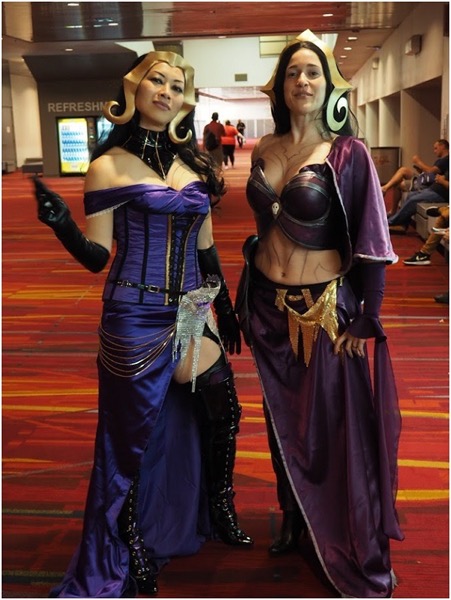 Be your own best friend. Photo by E.R.
"Liliana came about because I love making stuff, and had been casually checking out cosplay," said Olivia. "I figured I'd give it a shot for emerald City comic Con in 2016, and built the costume out having no idea what I was getting myself into . . .  but I think now that I have a bit more time and know what I'm doing, I'm gonna go all in as an official hobby."
What could make double triple and double Lilianas even more exciting? How about adding some

to the

? Okay maybe it's not all that exciting — but at least we get to play counterspells.
Jace sandwich. Photo by E.R.
Now we just need a Creeping Tar Pit cosplayer.
"THIS IS JUST LIKE MY FANFIC!" cried — Tamiyo?
It's getting . . .  crowded, in hurr. Photo by E.R.
The Jaciyo Classic Club (sandwich). Photo by E.R.
Tamiyo was a fan favorite throughout the weekend, with more than one GP goer telling me they were searching for Tam specifically. Alas, Audrey Utz was only everyone's favorite Soratami on Friday for the Planeswalker Summit. She also appeared as Gisa and Liliana, Heretical Healer.
"Emotionally and artistically, I was most satisfied by my Tamiyo cosplay," said Audrey. "It was a real challenge to make and I was really pleased with how the colors on my dye-job turned out and how I had an 'iron bound' scroll that actually worked as a snack pocket."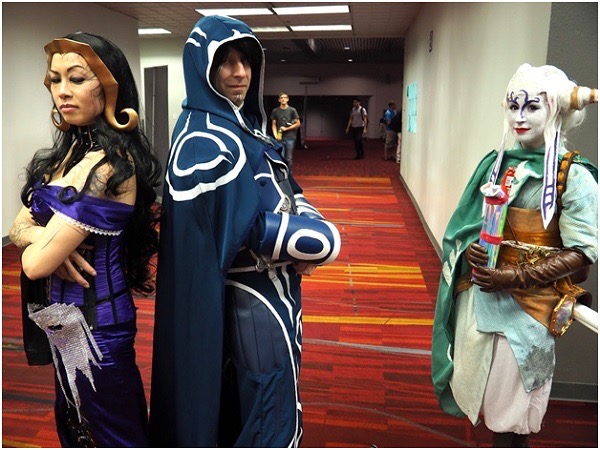 Tamiyo's lethal snack pocket encroaches on Liliana's territory. Photo by E.R.
Audrey continues: "I had a lot of fun making jokes about doing research or implying that my journal was just full of poorly written fanfiction. I was also proud of myself for staying in it all day despite the crazy heat. I chose Tamiyo because she is a Planeswalker that plays a role in some of my favorite sections of the Magic lore, because she is an Academic and a traveler, and because I enjoy Japanese traditional dress."
Liliana enjoys poorly-written fanfiction. Photo by E.R.
Venser . . .  not so much.
Returning to the replicating theme, Sydney Stafl of Velolciraptor cosplay and Ashlen Rose got in on it with Nahiri action. If one of them can wreck an entire plane — what can two of them do?!
"I was Nahiri on Friday and Jace (Unraveler of Secrets) on Saturday and I did kind of a casual Jhoira intermittently. They are both fun in their own way. I feel like I can get away with a lot of ridiculous stuff as Nahiri, because she's such an amazing — and recently triumphant — character," said Sydney. "I love taking meme-fodder pictures with huge grins and waggly eyebrows as much, probably more, than I do the serious ones."
Rock on, ladies! Photo by E.R.
"Say, Nahiri, after they're done with this sand castle, wanna turn it to stone and trap some people inside?"
"Yes, other Nahiri. Yes I do." pic.twitter.com/YuWL9cSjDF

— OrcishLibrarian (@BibliovoreOrc) June 22, 2017
Even Chandra made the most of the doubling (or tripling) season.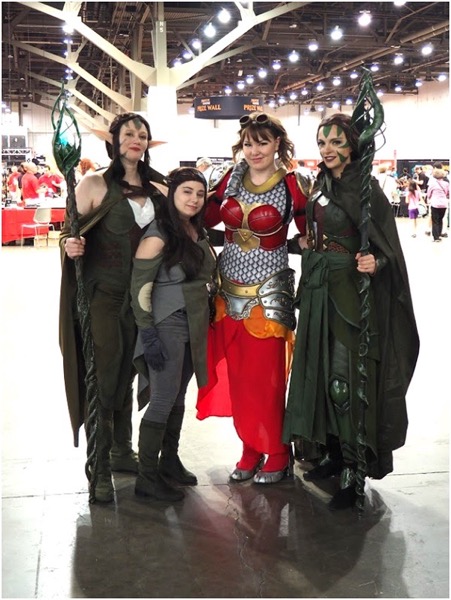 You go, Gruul. Photo by E.R.
From friendships, to rivalries. While multiplying your pleasure is fun with your favorite Planeswalkers, so is reenacting famous battles and grudges! Ronnie Head of Kensadi Cosplay was Garruk Wildspeaker as well as Sorin over the weekend, and his Garruk was fittingly surly and of few words.
"RAWR!!" Photo by E.R.
Photo by E.R.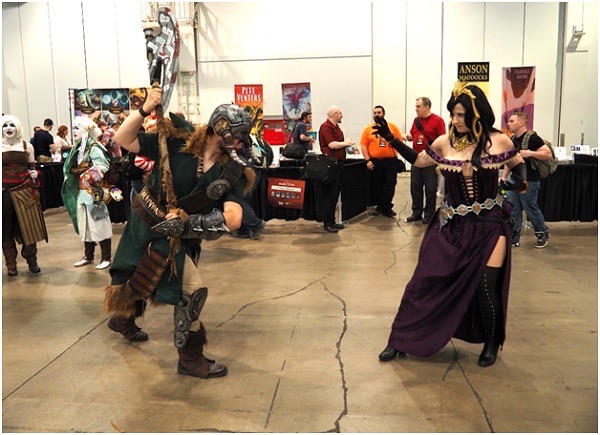 Triumph of . . . ? Bonus points: find Waldo and Pete Venters. Photo by E.R.
Photo by E.R.
Elf selfie . . .  sELFie? Photo by E.R.
Photo by E.R.
Quick! Take the picture before Bolas sees we've stopped working! Photo by E.R.
Hardworking sand sculptors crafted a beautiful piece that made a nice backdrop for photos — as well as housing for a card preview!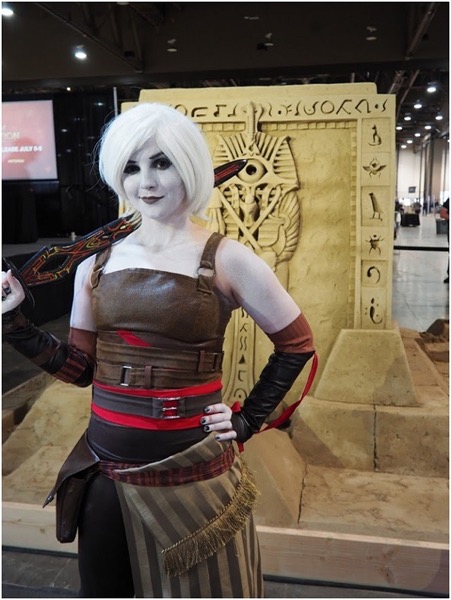 Photo by E.R.
Photo by E.R.
Photo courtesy Katrina Spillman.
A wolf in the desert. Photo by E.R.
Arlinn Kord on Saturday was played by Megan Linscott, a newcomer to the Planeswalker Summit who did an excellent job on one of Innistrad's coolest characters.
Photo by E.R.
While GP Vegas may have had a cup-runneth-over of Lilianas, more than enough Nissas, and even two Ajanis, there was certainly only one Vraska. Don't look away . . .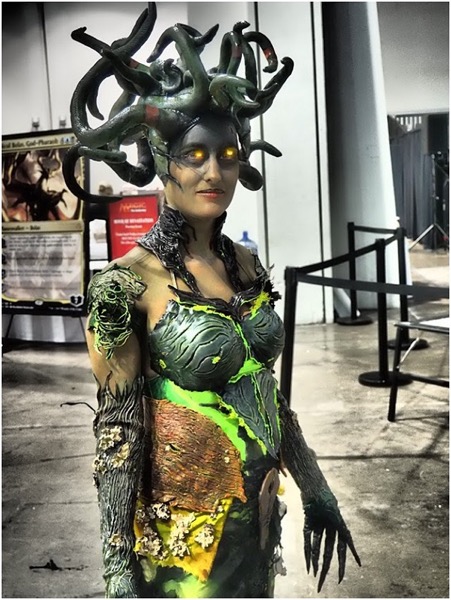 Stone. Cold. Photo by E.R.
Angel Johnson underwent a transformation from white knight to undercity gorgon, bringing the same elegance she had as Elspeth to one of Ravnica's most dangerous denizens.
Using materials like wire, Crayola sculpting compound, and hot glue, Angel created a perfect rendition of the Golgari matriarch and assassin Vraska the Unseen.
Photo by E.R.
"Little children were literally running away from her," said Eron after the GP. And I believe it — hopefully some of you got to see this stunning cosplay in person. It was a rare treat!
Photo by E.R.
Photo by E.R.
Photo by E.R.
By mid afternoon everyone was dressed and started to assemble for the Planeswalker Summit group photo, as well as filming for a Channel Fireball promotional piece. Planeswalkers gathered on the stairs in Artist Alley, and what these photos don't show is the huge crowd of onlookers who gathered to snap their own pics and to jump in for a photo op with the group.
Photo by E.R.
Photo by E.R.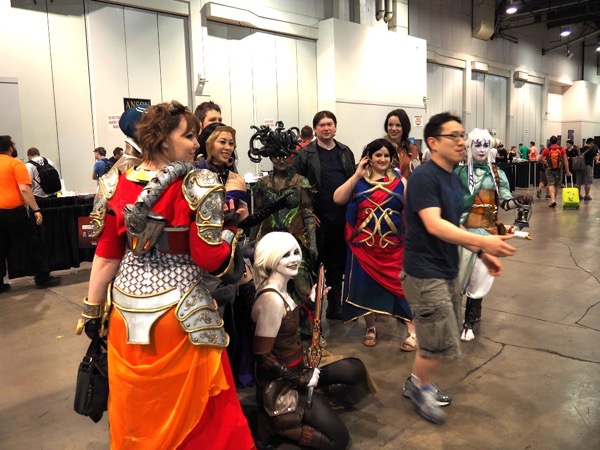 Photo by E.R.
Photo by E.R.
Photo by E.R.
Gatewatch HQ goes to prom. Photo by E.R.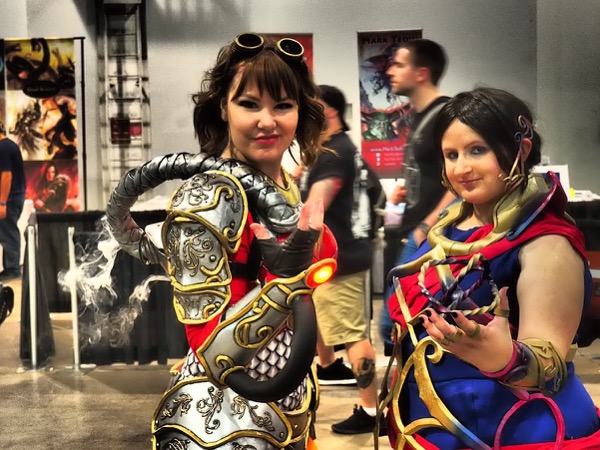 Smokin'! Photo by E.R.
"I like being Chandra 'cause she's a redhead. And I also have a fiery temper," said Arielle of Air Bubbles Cosplay, who played Chandra all weekend. Her trademark smoking costume, that can deploy vapor on cue, actually couldn't be used around the Art Show! "I wasn't allowed to push the button," Arielle said. "It was a real challenge not to."
However, out in the hallway was another matter . . .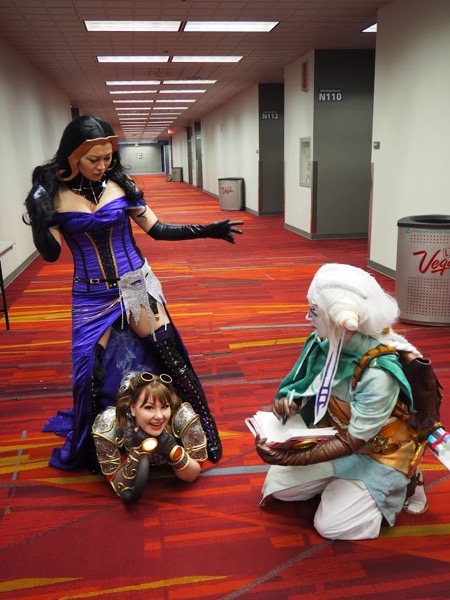 "CHANDRA! Is that smoke?!" Photo by E.R.
And when Tibalt showed up, the party really got started! Tony Houst spent a good portion of GP Vegas as Magic's favorite Red ne'er do well.
"I like to kinda do one day on, one day off," Tony said of how he integrates his cosplay with his GP experience. This meant, I believe, that Tony was in devil mode Wednesday, Friday, and Sunday of GP Vegas.
Other cosplayers and fans alike loved seeing Tibalt in person. The Planeswalker's mischievous personality was perfectly captured by Tony throughout the weekend.
Photo courtesy Katrina Spillman.
Photo by E.R.
Photo by E.R.
Friday night the Magic Art Show hosted a private event for Backers. Talking about card collections and art and costumes, it was a nice way to relax with the team after a long, successful day.
Photo courtesy Kensadi Starr.
Photo courtesy Kensadi Starr.
Photo courtesy Kensadi Starr.
Saturday, June 17
Photo by E.R.
The theme for Saturday seemed to be alternative looks! And we didn't even plan it that way. I had the pleasure of meeting steampunk duo Katrina and Justin, who brought their unique take on big name Planeswalkers and wore them with panache.
For Arielle, Erin, and myself it was time to debut our custom designed Amonkhet-inspired outfits, created by community artist SERRASILVERBRSH. I paired mine with a custom Fan Bearer, of course — which to my pleasant surprised was recognized by a lot of GP attendees!
Serra was a delight to work with and completing these costumes, even on our tight one-month timeline, was a lot of fun! Group projects like this can really help motivate you to complete your cosplay and the social aspect can make the process even more enjoyable.
Photo by Sydney Stafl
Not exactly alt but very unusual to see what Christine Sprankle's Oona, Queen of the Fae. This is a cosplay that definitely requires a high degree of creative interpretation, and Christine's take was ethereal and elegant. Somehow several people ended up in gowns . . . 
There was Kensadi in Olivia, Mobilized for War, for example. Adorned in her luxuriously detailed handcrafted foam armor and wielding a deadly-looking sword, Kensadi spent the day charming and tormenting in turn.
Photo by E.R.
Photo by E.R.
Photo by E.R.
Photo by E.R.
If you're someone interested in cosplay but the idea of being uncomfortable is anathema, check out Paul's take on Sorin. Instead of foam attached to fabric like at Portland last year, Paul had an innovative idea to get a silkscreened version of Sorin's armor. "It just made it a lot easier." Remember, there's no right or wrong way to cosplay.
Photo by AE Marling
Carolyn reprised her role as Saheeli in the Kaladesh prodigy's trademark intricate rainbow filigree. Nadine meanwhile brought out her own Liliana, with its particularly enviable fur trim and armored take on the bodice.
Another alternative AND gowned look was embodied in the cosplay of Carolyn Arnold, who brought Disney Chandra to Vegas! This hand-sewn dress was an original design of her own, complete with sequined pyromancer goggles and ruffly boot covers.
Cute animal sidekick moment. Photo by E.R.
Princess singing and dancing ensues. Photo by E.R.
Magic Brasil catches Disney Chandra mid-twirl.
Tasigur expects you to take your daily dose of fruit and whip. Photo by AE Marling
Adding to the alternative lineup, Ashlen Rose took a creative risk that I loved — genderbent Tasigur, complete with bananas! This was a very pretty and respectfully done cosplay that took some trademarks of the ill-fated Kahn and adapted them to suit her cosplay style.
Tasigur graciously entertains Steampunk Liliana and Jace. Photo Courtesy Katrina Spillman.
Femme Gideon made an appearance as worn by former Magic Creative Team member Mel Li, who looked amazing. Unfortunately I didn't get to get any pictures with her but you can ogle her Twitter!
Femme #MTGAKH Gideon for #GPVegas, b/c nothing says "current Magic meta" like adding another Gideon. See you wonderful nerds this weekend! pic.twitter.com/iTLDrpQrc7

— mel_li (@smelissali) June 16, 2017
And then there was the giant cat-man . . . 
Photo by E.R.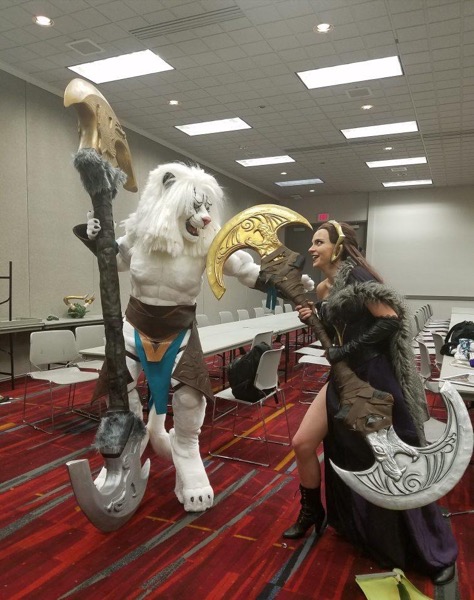 Ajani faces off with Nissa Cosplay as Liliana . . . wielding the axe from her own Ajani!
The dynamic duo Matt and Gin of Jackal Studios works together on their cosplays, which range from original characters to Jace and Nissa, and the incredible Ajani they brought to Vegas. Matt will happily give most credit to his partner Gin, though the job of modeling Ajani falls to him.
"As much as I love Jace, Ajani was just such a new and different experience," said Matt. "Why Ajani? Funny, as he's not a Planeswalker I've used much and am not really aligned well with. Someone asked us if we would take him on commission and never really circled back with us. So, we decided to give it a shot!"
Good kitty! Ajani gets pets and his hair did simultaneously.
Photo by E.R.
Matt said there were so many good fan interactions it was hard to just pick one.
"But one that sticks out is while in Ajani, I could see this one person wearing a cowboy hat and he's on the phone, maybe 20 feet away. I finally get up to him and he asks for a picture. I say, 'Let me guess . . . when you were on the phone, you're saying something like, 'You're never gonna believe this . . . but I'm looking at this giant seven foot tall cat!' . . . The guy goes, 'That's EXACTLY what I was sayin'!' We had a great laugh and he got a picture."
Photo by E.R.
Rocking the Jace crossplay was Sydney, no longer a Lithomancer but now a . . .  hair stylist?
"As Jace I spent Saturday morning as the newly christened "Mane Sculptor" and turned my hotel room into an impromptu hair-salon with my friend CarolynCosplay who was Saheeli. We had several other Planeswalkers in and out of the door assisting with wigs and styling all morning. We played out silly scenarios in character, teasing and prodding fun — usually at Jace's expense — and the reaction of the other GP attendees was usually something like 'Wow, you guys have such an amazing group! How long have you known each other?'"
Photo by E.R.
"Jace is fun because people either love or absolutely hate you," said Sydney. "Plus since it's a crossplay — the term for for opposite-gender cosplaying — I get to put on my dude-face and people usually have curious questions about the extra craft involved. It's an aspect of cosplay that the Magic community doesn't always get to see as often and people are always excited."
Photo by E.R.
Photo by E.R.
Saturday was definitely a little weird — what with zombified Venser and a 7-foot-tall cat wandering around. But it was a good kind of weird. Adding to the weird were legit crazy Gisa and Geralf Cecani, played by Audrey and Jeff of Oridayo Cosplay.
Photo by E.R.
"I have just SOOOO much fun being the Gisa half of the Cecani twins," said Audrey. "The costume and makeup are so easy to put on in the morning and I love making up derogatory banter to fling at my boyfriend who usually cosplays as Geralf. I usually wear that one on days when I need to rest up from the other more tiring costumes, like Tamiyo."
Photo by E.R.
Outside the Art Show, IlyonMTG stopped by for an impromptu photoshoot — a real pleasure!
Inside the Art Show, Mike Linnemann gives instruction on framing.
After/Before shot? Help me I.D. this first-time cosplayer who was awesome!
We found Judge Sorin out of cosplay!
Oona sits for her portrait at Howard Lyon's booth. Photo courtesy AE Marling.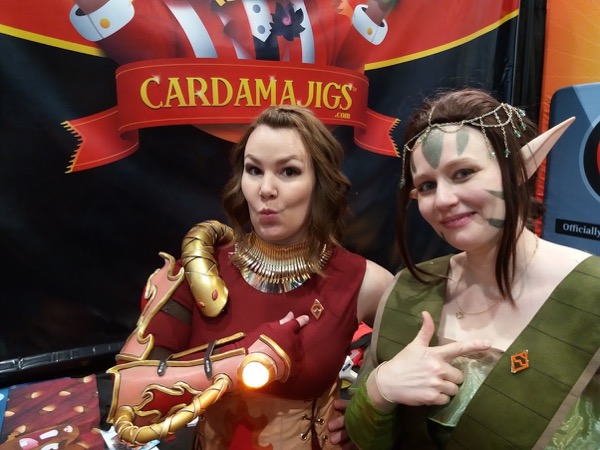 Chandra and Nissa showing off their exclusive Art Show pins.
Me, completely starstruck at Anastasia Ochinnikova's booth.
Got my Sight Beyond Sight mat, that I bought in Tokyo, signed!
All the gorgeousness at Booth Argyle. Photo courtesy Katrina Spillman.
STEVE ARGYLE. We did a little zombie-raising bonding. He got fanned.
Help me I.D. this wonderful casual Nissa cosplayer! Such a great look.
Sneaking out for a quick outdoor photoshoot with Eron in 109F weather.
Paul as Sorin helps out Mike with door duties during a mid afternoon Art Show rush.
I asked Paul of EoT_Cosplay for a favorite GP moment. "I got Ethan Fleischer's seal of approval for my Atraxa deck, then proceeded to crush Shawn Main and Ant Tessitore with it, using all sorts of ridiculous counters."
Can you spot Gathering Magic writers Ant Tessitore and Cary?
Nadine and I are tired, but still ready to bewitch you.
Exhausted, it was time for everyone to head back to the hotel and change for some dinner and recuperation. But it seemed my "hired" help was getting a little rebellious in the elevator...
Our cosplay group's last supper . . .  for now. Photo courtesy Kensadi Starr.
We closed out the night with dinner at Benihana and some of us crashed while those with energy went in search of the mythical fancy Taco Bell . . . 
Awesome taco cosplay by Oridayo Cosplay. Photo courtesy Sydney Stafl.
Sunday, June 18
Do not ever stand in the way of Jhoira and Liliana's pool party.
Yes, Sunday opened with a pool party. I don't even remember how this idea got started, but it did, and I'm glad. Everyone put together themed costumes incorporating some iconic details from their characters, and then we headed out into the 100-degree morning to get the shot.
Girls Gone Rakdos. Photo by Elliot Scott.
Unbelievably, despite a wardrobe malfunction, melting faces, mist-sprayers that seemed to be aiming for our camera, and a headless God (Bontu!) that wandered into our shot, we had success! It was perfect. I couldn't have asked for a better photoshoot, or better friends to spend the weekend with.
Some of us were getting ready to fly out, some were tryna jam some Magic or chill, and for some . . .  well, there was still work to do.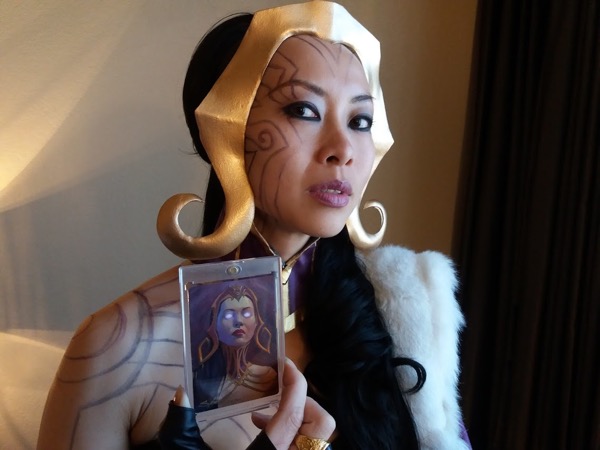 My morning inspiration: a special card alter from Steve Argyle. I don't think I'll ever be able to slack off with this around to remind me to hustle those demons!
One casualty of Sunday was Eron. So I mostly have to rely on my own phone pics for this day's coverage. Hopefully you'll still get an idea of how killer it was.
Photo courtesy AE Marling.
Christine wore a sweet Sugar Skull Liliana on Sunday, which reminded me of a Thomas M Baxa painting I bought a print of a couple years ago and had always wanted to emulate. Her beautiful and detailed makeup was a lovely complement to her dress.
We had the opportunity for a special Father's Day photo op this Top 8 player, Benjamin Coursey, has a daughter named Liliana, and we were able to do a special picture for the family:
Photo courtesy Wizards of the Coast.
Appropriately enough, it was Tibalt who came to find me for that photo! Always the instigator, but not a bad fella at heart, really. Tibs ran all over — well, fast-walked — the GP floor to find Lilianas to make the Father's Day special happen! It was really a fantastic and memorable moment.
Gail Senatore was working a booth all weekend so pictures together were hard to come by. Luckily, her armored Lord Bolas came by the Art Show photo area for a visit with myself and Avacyn on Sunday.
Gail's humanoid Bolas is an original design, featuring oversized horns that I adore and wing-styled back plate armor.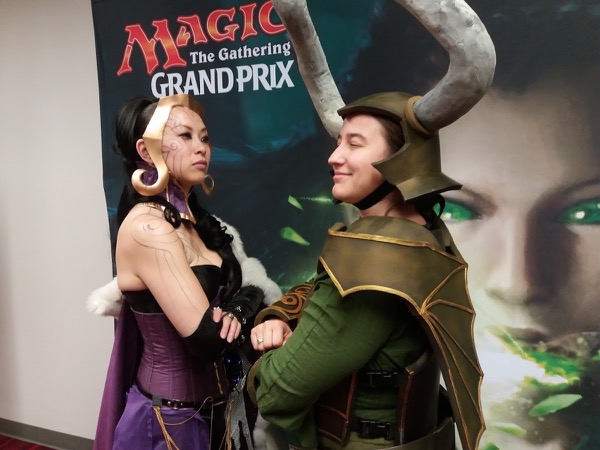 Horrible Bosses: Planeswalker Version.
#GPVegas will always have a special place in my heart ?? pic.twitter.com/nbZ3P5gbzN

— Ashlen ? (@AshlenRose) June 20, 2017
As the weekend went on and people were leaving it got harder to get pictures. Justin Rix definitely did not get enough photos of his powerful Bontu cosplay, but we did get a few I just love.
This cosplay fan put on mummy wraps in the restroom in order to come out and jump in the photo op fun with Liliana and Bontu. Moments like this are priceless — your appreciation really makes a cosplayer's day!
Eric Levine of Channel Fireball came by the Art Show to hang with the Innistrad crew.
Braids! If you can help me I.D., that's great! Adrienne Reynolds rocks the Stocking Tiger.
A D&D Druid has joined your party . . . 
While working the Art Show, two cosplayers came by — a Braids, and a D&D-inspired Druid! I failed to get Braids' name, but the Druid was Danielle Phillips, a skilled cosplayer who's excited to join us in doing some MTG projects!
As Kensadi and Ronnie — as Avacyn and Sorin — finished their last shift, Paul, as Tireless Tracker, and Audrey as Heretical Healer helped me hold down the Art Show fort as our comrades crammed in some last-minute games of Magic or got ready to head to the airport.
When it was finally a wrap for us at the Art Show, I headed back to the main hall. Nadine, still in cosplay, was sitting down to play a round of something. I noticed several other women also playing near her. That made me smile. I gave Nadine her Planeswalker Summit gear and walked around tying up a few business loose ends I'll write about later.
Joseph Meehan shows off a Liliana print from his art for the Magic story.
Changing quickly at the hotel, I had to hit up Artist Alley one more time. Retail therapy; all of it probably to be used as cosplay references later. Some of it definitely needing me to use the Art Show discount at Matboard & More (you too can get the discount, if you mention Magic Art Show)!
No such thing as too many Lilianas. Playmats from Steve Argyle.
I like to joke that my most successful cosplay is the one I put on every day: mtg mom, patient parent, good partner, responsible adult. I know I'm not the only one who feels "more like myself" when I put on the guise of a necromancer or a pyromancer, a devil or an angel. Escaping from the mundane, sure — but not escaping reality, because the reality is that these costumes allow you to explore very real sides of yourself. They're just not side you get to visit often.
In the aftermath of GP Vegas, we've had more men than ever express an interest in cosplay. And I've heard everything from requests for art representing more body types, to male Planeswalkers in more revealing attire. People want advice on how to cosplay, what to cosplay, and we're happy to help.
Cosplayers, like fantasy artists in general, strive to bring Magic to life. Except that in the case of cosplay, you're building your body into the final piece, putting yourself out there on the line to make the composition work. When you think of cosplay, I hope you'll think of kindhearted people who want to entertain by bringing something amazing or beautiful to the fandom they love, as well as celebrating the characters they admire.
If you're interested in cosplay, join these two groups:
— the general MTG cos group with about 500 members where people post cos pics, progress, etc
— a smaller group of about 50 members, founded by me, that focuses on planning meetups and group projects
Follow me on Twitter: @moxymtg
Myself and my crew are always available to help!
Until next time . . . 
---