Impeccable Timing by Chris Rallis
Welcome to Kaladesh — where inventions rule, Tezzeret drools, pyromancers turn up at the Lost Kids booth for some major tearjerking fun and everyone's favorite great white kitty is back with a vengeance! Or something.
Seems, we (and Baral perhaps?) get treated to some lion-sized beats on Chandra's shiny home plane, and with Ajani back in the storyline it's a great time to show y'all an Ajani cosplay I simply adore.
Ajani Steadfast by Chris Rahn.
So, if you always dreamed of watching Chris Rahn and an enthusiastic mohawked planeswalker (no, not Domri) throw bricks at Nahiri's pants, this article is for you.
Meet Dani Hartel — a multi-talented artist whose amazing props and killer cosplays should definitely be on your radar. Dani was our Ajani at the first annual Planeswalker Summit held at GP Portland in August. Her innovative take on everyone's favorite white cat is always a hit with fans.
Dani Hartel as Ajani at the 2016 Planeswalker Summit. Photo by Ken Doffek.
I first saw Dani's work last year on Tumblr, and my jaw dropped. Her attention to detail, eye for weight and proportion plus the sense of daring that emanates from her work is impressive.
This year not only did Dani bring Nahiri and Ajani to Portland, she also made some insane Dungeons & Dragons props for PAX. I sat down with Dani to get her take on how to get inspired, stay energized . . .  and find out what kind of pizza Ajani stuffs his face with.
Dani Hartel as Nahiri, flanked by Paul Evelsage (left) and Justin Rix (right) as double-your-pleasure Sorins.
Name: Dani Hartel
Location: Washington state
Facebook: www.facebook.com/danihartelart
@danihartelon Instagram and Twitter and Twitch
1. Why did you choose to build Ajani?
I chose to build Ajani because I really wanted to cosplay a planeswalker that doesn't get much cosplay attention. Also, I figure if I'm going to pour hours of my time into something, I want it to be something people don't get to see very often.
2. You built some HUGE props for PAX West! How did you get into this specialty area? What are its particular challenges and what do you love about it?
I did! I built a massive frost giant's helm and two 8-foot frost giant hatchets for the Dungeons & Dragons Experience. I honestly don't think of them as being too different from cosplay. I used all the same techniques I would on weapons and helmets that are small enough to wear, except for the wooden frame. The challenging part comes when you're considering your limitations. You have to think "How am I getting this through doors" and "Do I make it so people can crawl inside?" and then coming up with solutions. But after that, it's endlessly rewarding watching people experience their love for the game in a new way.
3. What's your key advice for people thinking about trying their first cosplay, or maybe stepping up the difficulty level of their cosplays?
I think my advice for people at any level of cosplay is to really think about what makes you excited about a character/game/movie/whatever. Then, figure out how to bring that excitement to other people. Is it the size? The scare factor? The overall beauty? Also being excited about your own cosplay is the only thing that will drive you to finish it!
Photo by Foto Matica.
4. You seem to be fueled by pizza in a lot of your posts. What's your poison--I mean pizza--of choice?
Not just pizza, food in general!! I freaking LOVE food. I love to cook and eating is always the best part of my day. But man, the best pizza I ever had was covered in salmon lox and capers some UH-MAY-ZING cheese and dill. But yeah. I do enjoy food.
Photo by Foto Matica with editing by Mel Li.
5. What's Ajani's favorite kind of pizza?
I think Ajani would order a meat-lover's created with the flesh of his enemies slain in battle. With a garlic truffle oil white sauce.
6. Um, eugh — that's an . . .  interesting sounding pizza! Ok. Well, moving on, what are you looking forward to or hoping to see in Kaladesh?
I'm so excited about Chandra's new Kaladesh costume! I'm actually working on making it right now, so I can wear it to GPs for the rest of the year. I'm also making a Gremlin cast in silicone to sit on my shoulder while I'm cosplaying. They're just so cute!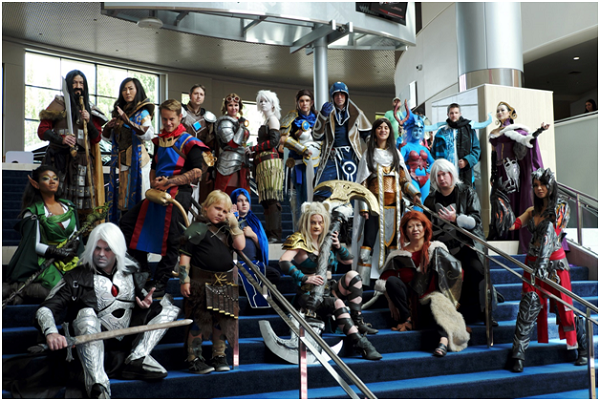 Dani Hartel as Ajani (lower middle) at the 2016 Planeswalker Summit.
Take a minute to check out Dani's work at:
And mark your calendars: The 2017 Planeswalker Summit is happening at GP Las Vegas, June 15-18.
We've got a stellar four-day lineup of top notch costumes planned! Come play with us! Dani's planning on building Ugin, and new Planeswalker attendees include Ob Nixilis and Tibalt just to name a couple. Interested in joining the shenanigans? Contact me directly or join the Planeswalkers of the Summit group and make some new friends. All levels, all concepts, all colors/creeds/configurations welcome. It's gonna be a blast.
Till next time, may Magic be your vengeance drizzled in warm garlic alfredo sauce and truffle oil.
-MJ
---