Before I talk about the spectacle of Japanese Magic's 25th anniversary, I need to explain what the actual thing was.
Forgot to post this Magic promo by @mtgjp.
At the Japan 25th Anniversary, they had running ads all over the train station and mall. It was at Lumine 0, but each Lumine 1,2,Est, had it too.#????? pic.twitter.com/ufDJ6DhhCP

— Vorthos Mike (@VorthosMike) September 24, 2018
On September 11, 2018, the Japanese brand team of Magic started their exhibition in the Shinjuku neighborhood of Tokyo. This opening had not only a line, shown below:
It had a secondary line, for the line:
This is the overflow line. ?#mtg?#????? pic.twitter.com/CiiEAJLn3o

— Vorthos Mike (@VorthosMike) September 11, 2018
Starting in March, I received this email from a Wizards employee:
My Japanese brand team is interested in hosting an art show in September and I was told you were the person to speak to. I am wondering if you are available for a phone call sometime this week with me and my co worker? If so, please let me know a few of your most ideal times.

Thanks in advance!
And then we were off.
The exhibition itself was quite a few things. While I was brought in to source, gather, get loaned and insure the original Magic paintings that would make up the original art room, I was only one piece of the overall experience.
You entered the space with a promo video, a personal note from Richard Garfield and a timeline of Magic in Japan. The timeline was an in depth perspective of everything Magic related to the Japan Wizards team, and also each community initiative and special thing that only Japan had. You might think of the 1999 Donato Giancola Archangel Gotta Magazine Promo, their alternative cover Chandra novel, or even their Brother's War manga that absolutely isn't a myth.
As we turned that corner, we begin to see the next aspect of the exhibition, the history of every Magic set.
As each set is explained in quick terms, perhaps a paragraph or so in English, a few marquee cards are mentioned and why they were important.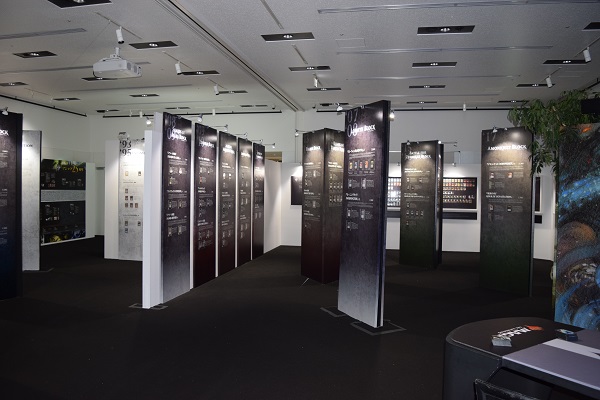 Big Magic lent cards to be shown, which you can see below on each wood panel, covered in glued on vinyl by nailed on Lucite. While you might have been able to force them off, there were roaming guards. The cards chosen were doubly significant as some of those original paintings were shown in the original art room.
Next to the sets was a Pro Tour video installation. You were able to sit at the seats and take a selfie as you watched both major Japanese players win major events in full audio, along with major moments in Magic's history like Ignite Memories with Nassif and Chapin, or Craig Jones and Olivier Ruel at Pro Tour-Honolulu with Lightning Helix. People watched the long loop of video for more than a few minutes.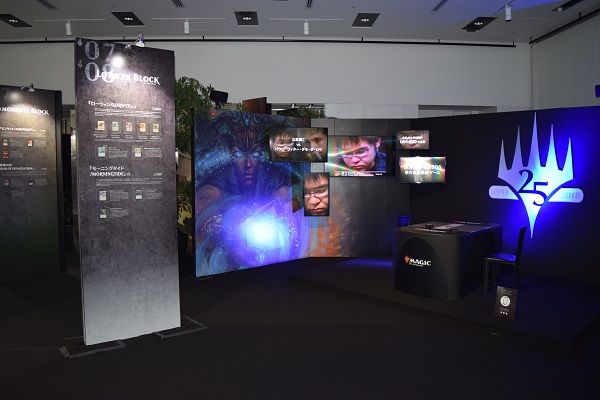 Between the sets and video installation were cases full of decks important to Magic's history. Pros Bloom as one example was all there.
I personally thought the insight into the deck from a player or just additional insight into how the deck worked was a great addition.
Behind and off to the right, there were some anime token artworks. I didn't recognize them, though Japan has a history of alternate token artworks.
In a transitional area between the sets, video installation and moving into the art show area, a "planeswalk" was in order. The full art basic land you see was a reverse projection on a screen. It zoomed into the art and then changed to a different plane. While people want paintings in a traditional medium for an art show, this was a fantastic way for digital art to also have a home.
Before stepping into the art show, a full set of Beta power 9 cards in their own display case was shown. This changed the mood of the show, from fully lit to no photos by visitors and darker walls.
Even the ceilings were dimly lit, but thematic.
Next to the power was a very special dragon to Japan, and Garfield's Phoenix Heart card.
The first artwork was one of Japan's most beloved, Descendant's Path by Terese Nielsen. As you walk through the art show, please know that I had a ton of help from a local company, Terrada Art Assist Co. They were mega passionate about art, framing pieces that even came unframed. Collectors were then able to keep the black on white frames.
My favorite part of the art show was not an artwork, but rather one player who brought a card and compared the card and his perception to the reality of the painting. Only by having an art show do experiences like this occur. It was a special moment for me that I saw happening hundreds of times throughout the week.
After the art show, there were two short films made. One was by the director of Akira, and the other by a Naruto animator. I'm sure Wizards of the Coast will share them in the future. They had keyframe artworks shown on the wall after the two films. They were "inspired by" Magic, rather than being canon or fan art. They were mighty cool.
A collage was made from Magic cards, blurred here on purpose. It was created, then made into phone cases and sleeves for the event itself. I thought that a neat addition.
The final room of the exhibition was the Ravnica room. It had each guild represented on placards on the walls, along with each guild under glass from the world guide. The most interesting part of the world guides was that each guild would thematically "remove" parts that were secret or spoiler heavy according to their guild. Selesnya had dirt, Izzet had burned pieces out, and Boros had redacted pieces.
As you were leaving, there were video monitors with a new preview card every day of the exhibition. If you saw the Japanese preview cards that were grainy like below, you know where they came from now.
Right outside the show, in true Banksy form, there was a gift shop.
I really enjoyed the 68 items you could purchase, with some unique to the show items like the collage sleeves, to even 25th Anniversary Black Lotus sleeves in each color of Magic that sold out each day within 90 minutes. It felt like a prize wall that was more organized, and people bought souvenirs of all varieties.
Once leaving the gift shop, you picked up your Scott Fischer promo Serra Angel, a postcard and a flyer to visit another site of this experience.
The promo itself? We now have a precedent for future art exhibitions.
Having the next event, the Magic Open House, on the back of the postcard was a brilliant move. I urge all artists to look into postcards at their next Grand Prix. They're cost effective, have a great margin and they're just fun.
Another thing as you were leaving was the wall of SDCC numbers. As you entered each day from 11:00-3:00pm, you were given a numbered chance to buy the San Diego Comic Con cards featuring five planeswalkers at cost.
At about 5:00pm each day, they listed the numbers on the wall. You had roughly a 20-25% chance to get one at cost, and considerably higher if you stuck around at this time with money in your hand to trade with someone.
Also as you were leaving on the weekend days was Scott Fischer himself! He brought his family and was signing cards at the door. He had a translator, Hiromi, from the Japan Magic brand team helping players as well. (Sidenote, Hiromi is incredible people.)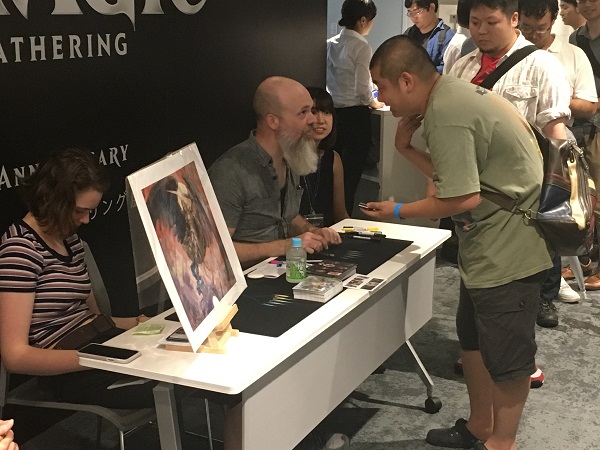 That other experience? They also had signs, because the Japanese Magic community knows exactly what they're doing. You had to go outside, and under an overpass for it. There were restaurants next to it.
The "Black Lotus" installation outside was incredible.
From one flower to a prism of color, representing the card, this was incredibly well done and tons of photos are all over Twitter from Japanese players taking pictures.
Also, for new players, if you look behind this picture, the bazaar idea that Kaladesh used was similarly done and they had a great response from new players.
Here is a quick run through, so you can see the feel of the exhibition.
It was a ton of fun to be part of Japan's 25th Anniversary. People loved the art and I have to thank the art collectors willing lend art, Don Maddock of Wizards for being my Tokyo guide, Hiromi Iwasaki for being the tactical mastermind to keep the entire event moving smoothly, Kyoko Yoshida for bringing me onboard and Terrada Art Assist Co for their hustle and love of the art.
Finally, I would like to thank the over ten-thousand people who attended. Let's do this again soon.
-Mike