Illuxcon is only days away and a quick reintroduction is always needed for the art-focused show in Reading, Pennsylvania.
Illuxcon, or IX as it's more commonly seen online, is the world's leading organization dedicated to contemporary imaginative realism. Imaginative Realism is a broad area of art that includes things like fantasy, science fiction, children's story books, mythologies and more. If it looks real, but does not exist, it fits under the umbrella. Art can be commissioned as an illustration or it can be a personal work. Much of the art you see is from novel covers, products, and games like Magic: The Gathering.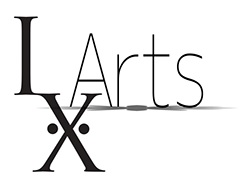 The IX Arts group oversees and handles the annual IX convention, Illuxcon. They also do museum/gallery exhibitions, and have their own ongoing area for sales, the IX Gallery.
If Spectrum, with its Spectrum Live convention, and its annual art book where artists submit for inclusion is largely a book recognition, getting into the main show at Iluxcon, where you have to submit, is more colleague based. It is the artist's show where artists meet with fellow artists and catch up. Some artists go every year, some go every other, like Lars Grant-West, and some have only been once and created a phenomenon, like the Croatians Milivoj ?eran and Filip Burburan.
The co-founders Patrick and Jeannie Wilshire are people to know in this area of art, and other influencers, writers and major collectors also stop by, like Jane Frank. It is very much a see and be seen area for collectors; and, in recent years, Magic collectors have been showing up a lot more.
Image via Wikipedia
As part of the show, because it is a bit remote (1 hour from Philadelphia), visitors are given time with artists. At a MagicFest event, there is often a line and signatures are a common experience. At Illuxcon, conversations with an artist easily average above ten minutes, with collectors and fans being able to interview artists during the show, gain a deeper understanding and appreciation, and often then continue a chat into a happy hour or dinner. It's not entirely unfettered access, though artists can converse because people asking to buy one print, or one signature is rare. This is a show where paintings, especially large paintings are sold, making little purchases more uncommon. The oversized, gigantic paintings artists make often are made for this convention.
---
Here are some facts about it to get squared:
Location:
GoggleWorks Center for the Arts
201 Washington St, Reading, PA 19601
Dates:
Wednesday October 23 - Sunday October 27, 2019
Cost:
Single day tickets $30
5-day pass $190
Student 5-day pass $90
Weekend Pass $70
Hours:
Wednesday 6:00-9:00pm EST
Thursday 10:00-5:00pm
Friday 10:00-5:00pm
*Friday DoubleTree Hotel Artist's Showcase 8:00pm-12:00am EST
Saturday 10:00-5:00pm
*Saturday DoubleTree Hotel Artist's Showcase 8:00pm-12:00am EST
Sunday 10:00am-5:00pm EST
Parking is free behind Goggleworks
Showcase: 8 pm until midnight Friday and Saturday evenings - Reading Doubletree - No ticket required!
---
Magic Artists Who Will Be There
Each link goes to Scryfall with a list of unique artworks they have for the Magic brand. This first group are in the main show.
There will be paintings to sketches, artist proof paintings and more. It's also the place where Magic marketing art and non-cards show up the most. Most notably this year is the Ryan Pancoast masterpiece of the Kenrith Family Portrait. It will be worth checking at the show.
Kenrith Family Portrait by Ryan Pancoast
oil on canvas 30"x40"
$15,000 at Illuxcon
Showcase artists (Friday and Saturday night at DoubleTree Hotel nearby):
A common misconception is that showcase artists are students or lesser artists. There are a many reasons artists end up in the showcase event, including everything from being short on paintings that can be shown to the public, down to wanting a smaller booth due, to being on deadlines.
In this group, I would call out Zack Stella, who is now a Wizards of the Coast art director. People wanting a portfolio review have times for those sure, but if you also have a leave behind postcard of your art and want to be seen, his table is definitely worth a visit.
Magic Art Show - Whimsy, Wonder and War
In addition to artist booths and sales, there are panels, talks, portfolio reviews, demonstrations and more, I worked on two elements that are new this year. Through the Magic Art Show brand, Donny Caltrider, Brian Scott Walters, and myself are presenting Whimsy, Wonder and War at Illuxcon.
This year has been quiet for the Magic Art Show Team, after a massive Japan Art Show last September, and a mini Ravnica Concept art show this past winter. This is one of two art exhibitions we have been working on.
With over 50 original Magic: The Gathering Paintings, the main curator for this show, Donny Caltrider, wanted to find a way to exhibit Magic art by content instead of plane, allowing exceptional art to be next to each other, instead of narrowing his search. He decided on war and whimsy rather quickly. Wonder took a while as it fuses with Imaginative Realism perfectly, the main focus of the Illuxcon entire experience. It also allowed for current roster Magic artists to be alongside former artists to show a greater variation in style and medium.
Donny is a writer over at Hipsters of the Coast, and has been collecting original Magic art since 2017. He has an M.A. in Museum Studies from Johns Hopkins University and enjoys telling stories about art, objects, and the intersection of fantasy with real-life.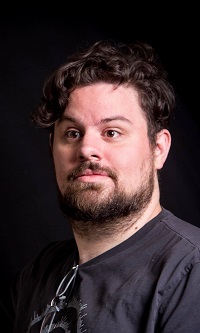 Joining Donny in the creation of the show is Brian Scott Walters. If you were one of the lucky visitors of the Grand Prix Las Vegas 2017 Magic Art Show, Brian was head of logistics and layout, making sure all art got in, got out and was safe the entire time. Since 2014, Brian has been a volunteer, now staff member of Illuxcon, and lent his expertise with the show, audience, and creation of Whimsy, Wonder and War. His background is in art, earning a BFA and a Art History degree focusing on figurative work from the University of Delaware. He also works as the Event Coordinator for thedeckofmany.com and Humblewood brand.
I am involved too with the show, though only as a supporting member. The show will be documented, and afterward will have a full recap on the art there, interactions and shown to the public. If you can make it out, it will be in the Schmidt Gallery on the 2nd floor of the Goggleworks complex in Reading, Pennsylvania.
4x4s for a Cause
In the Magic show area, there will be another addition to this year's Illuxcon. Inspired by the two-hour helmet studies by Greg Manchess, 4x4s for a Cause is a charitable exhibit in the Whimsy, Wonder and War show.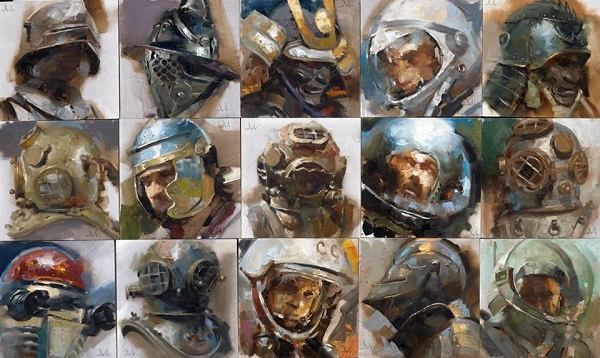 Manchess began this idea at Spectum Live 1 in Kansas City, Missouri. They quickly sold out and he has revisited the idea multiple times to great success. It's a simple project and done by an exceptional artist creating a mini 4"x4" canvas painting that is accessibly priced.
We were inspired by his works and wondered if Magic has done anything similar. There was one 4"x4" created of Dack Fayden by Terese Nielsen for a charitable tournament in Minneapolis I organized with Mead Hall that did fairly well and we figured it could be a hybrid. We would have a wall of planeswalkers and have them for sale.
Shipping the quick but fun, teeny, 4x4" Dack Fayden for @themeaderyMTG's auction charity tourney. @VorthosMike pic.twitter.com/RBiQxaUgdZ

— Terese Nielsen (@tnielsenart) July 15, 2015
Since copyright was a concern, we wondered if they could also be philanthropic. Wizards gave us the green light and we chose a new group, the Imaginative Realism Foundation to benefit. This new foundation was created to help artists span the gap between art school and working for Magic: The Gathering. As a foundation, its goal is to create scholarships for classes, ateliers and intentive workshops. It will also support artists getting to portfolio reviews, like covering automobile gas costs and an overnight at a hotel, even an Illuxcon badge in future years for a carpool of artists to get in front of a Wizards art director. As with any new foundation, funds need to be acquired first, then processed for application, submission, and disbursement will be conducted.
With two fellow art collectors in Minneapolis, all activities will begin in 2020 for ease. Winter is a great time to hammer out exactly how this will all work, and future fundraisers to refill the pot.
The project for this art show is to sell over thirty different 4"x4" mini canvases by current and former Magic artists, with 100% of proceeds going to the Foundation. They will be on site at Illuxcon, and sold via online auctions at the MTG Art Market.
Below are four examples of the art and radically different styles available:
Gideon by Craig Spearing
The Wanderer by Drew Tucker
Teferi by Donato Giancola
Elspeth by Chuck Lukacs
There will be a public announcement of all the 4x4s for a Cause auctions and how to find them. Most will likely start in the $50-100 range, with a few starting at $500 or $750 depending on the artist.
---
If there was a list of must-see art conventions, while LightBox Expo is new, Illuxcon is also on that list. For anyone looking for oil paintings by living masters, this is where you would go. Were Frazetta still alive, he would attend this convention. And if you find yourself there, please let me know. Stop by the art show and I will see you there.
-Vorthos Mike