Welcome to another year of my annual Vorthos Holiday Gift Guide.
In past years, you should know already about some socks, great Magic art books, fun pins and more. This year, I'm going to hyper focus in on Magic art, with items of all price ranges. Stockings need stuffers, and like the Lexus bow people, we have something for them too.
Let's go.
Logo Art, Branding
Graphic design is art too, right? Of course it is.
Mana Scarf by SilverSpoonSundries - $38
Sure, there are official ones with the Magic name or the planeswalker logo, but I like to wear my geekdom subtle sometimes. A mana logo is just a symbol that works for me and still wears that flag. The red and the white ones are pretty nice.
The MTG Pro Shop has a few logo items that really stand out, like the Theros logos that are to resembled a mosaic. I love the Forest of course for having on your table during video Commander games and I don't think they'll be around forever. I'd pick up your color, Green, as is known.
Fun Art Stuff
Honestly, you think it may be dumb, but I use this thing way more often than I would possibly believe. My wife and I do a seasonal rotation of art in our house because Minnesota has snow and lighting changes in the winter. I use this tool and if you hang art, it's a really useful thing.
With the measuring tool, it tacks the wall where to nail and just saves a lot of headache.
Fancy Basic lands - Surprisingly inexpensive
I always encourage people to sort and find more basic lands for their decks. I like searching on Cool Stuff for just Forests in stock and see what pops up. Sure, I'm going to snatch up all those Tony Roberts forests, but maybe you are into some old border foils like Pat's snowy but not Snow Forest for $5.50, pre-discount, or an Invasion foil for around a dollar!
James Gurney - $25 each
His two books, Color and Light: A Guide for the Realist Painter and Imaginative Realism: How to Paint What Doesn't Exist, are must have books to learn more about art. Once you get through them, you don't think everything is digital anymore. It trains your eye quite a bit!
His book on dragons is a great look into a ton of varieties of dragons that he made on Kickstarter. Just great to see more artist books out there. You can get a signed copy or even add a sketch from his website store.
The James Wyatt written books, and soon to be Jay Annelli, are staple for any Vorthos fans who like a little story with their pictures. The new War of the Spark one is really quite good. They are all good, and personally I vouch for the Innistrad one.
Ryan Pancoast Gumroads - $5
They're all about an hour or so and his newest on Hans Eriksson is up. They're fun to see his process and have him talk through the choices he made.
You can see a time lapse for free, sure, but the value is in Ryan explaining his decisions. It is very worth five dollars.
Oversized Cards $200-800
Do you remember those giant Magic cards on foamcore you used to be able to get with tickets at Magic live events? You can still pick them up if you look hard. There are two groups, #MTGRarities: Major Misprints, Test Prints, Oddities and #MTGRarities: Accessories, Memorabilia, Marketing, Play Mats that regularly have them for sale.
I would scout those two groups for the oversized cards. They are a bit too large for the US Post Office, but FedEx will ship them in TV boxes to nearly anywhere. In the USA, it's about $100-200 to get it shipped. This week even, there are two sale threads this week with them, a Sword of Sinew and Steel and a Path to Exile promo some friends and I are doing for charity. You can find others, of course, but these two are in auction:
Magic ART for Sale
You'll see a ton of things involving folks I know, which is...obvious that I would that know that information early. The big thing to note is that the MTG Art Market changes literally daily and if you are searching for approachably priced art, you need to lurk there a while and pay attention to who works with who, what are cadences, and which pieces weren't auctioned or sold. The pieces you *don't see* are often where the deals are had, but that takes work.
I'm adding a few that I personally know about, but know that others are constantly there too!
Artist Proofs (APs)
There are some Facebook groups for them, and a Discord as well. If you want something clean and easy, check out a few artist websites. And always be sure to pay attention to Chris Moeller's grab bag artist proof sales! I have three people I've seen doing really great stuff lately, amongst the many, and are still taking on commissions, which is important.
His sketches on the back are phenomenal and can be as inexpensive as $30 for pencil, to $150 for gouache full color, which can include him making a pseudo token, as shown below.
Kate has been firing up her artist proof artworks a ton more as of late, and her plein air paintings show some incredible skill. She has a few auctions this week and you can commission more by inquiring in the Artist Proof group on Facebook for around $200 each for whatever you want.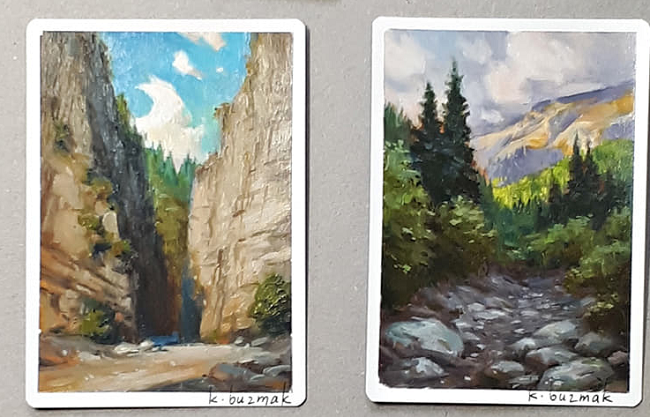 Chris has a set £50.00 per sketch request (plus the cost of a proof) and it's a mix of media. I like his blue little additions; it makes it feel like a comic book ink page. His usage of being able to integrate borders and edges are quite stellar. He makes a ton of planeswalkers in marketing commissions, so I would call him up to make you an emblem for your planeswalker you play the most.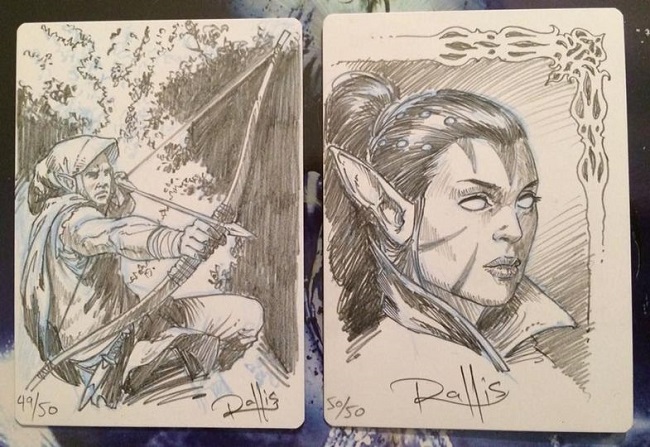 Image via Jerry Brayson
Of course there are many, many artists who would also love to do a sketch for you on an artist proof. Google them and ask them via email and if you struggle to get ahold of one, always know I would be happy to get you in touch. I can't guarantee they will, but I can make sure you find out!
Sketches for Sale
The raw creation of art can be mega fun to own, to see the artist noodling around with ideas, working with compositions and values. Below is a little list of a few of them, with plenty more on everything from artist sites to the MTG Art Market.
Her work to add gold to a giclee is really striking, adding elements to make it grab light as you walk past it each day. It's a lovely little work to snag.
Image size - 11" x 17"
Paper size - 12" x 18"
Limited edition of 50
Chuck Lukacs - Anger of the Gods original sketches - to be auctioned
Chuck made one artwork for the 9/3 Happy Yargle Day, a creature that has power and toughness of 9/3, and it was released on 9/3/2020. These are all part of Chuck's normal process, showing his different ideas for composition. The smart move would be to get the sketches, then a color print of the final card art image from his InPrnt and frame them together!
His auction has just started on them over on the MTG Art Market. They end on Sunday.
Hugh Pindur (Pindurski) - Nightshade Harvester sketch - $600
This elf has only a digital final, this sketch is the only traditional aspect and Hugh is doing a straight sale on the MTG Art Market starting... now.
The price includes worldwide shipping, a color print of the final card image so you can frame them together if you would like, and a sketch on the back of an artist proof in pencil of whatever you would like.
Pencil (graphite) on paper, 7" x 5" (13cm x 18cm)
Contact Hugh through his ArtStation or via Facebook.
Forrest Imel - Dog sketch - $500 shipped anywhere
Normally sketches are sold shortly thereafter but in this case, Forrest refound these and wondered if someone would want them. (They would.) They are his investigations of the Bolt Hound.
As part of it, he's including a print of the final art too. Fun little thing if you dog looks like this!
Donato Giancola - Heartfire Immolator - $950
Donato has his original sketch on his website. As of late, they have been getting scooped up even before that, but this one snuck through.
16" x 16.5" paper size, drawing live area 12" x 12"
Watercolor Pencil and Chalk on Toned Paper
Filip Burburan - Jubilant Mascot - to be auctioned on MTG Art Market
Filip Burburan - Wrong Turn - to be auctioned on MTG Art Market
Final version, watercolors and ink on paper, 5.2" x 7.1" (13.25cm x 18cm)
Alternate, watercolors and ink on paper, 6.5" x 9.5" (16.5cm x 24.2cm)
Final sketch, pencil and ink on paper, 6" x 8" (15.25cm x 20.3cm)
Alternative sketch, ink and pencil on paper, 6.6" x 9.1" (16.75cm x 23.1cm)
Color sketch, watercolor and ink on paper, 7" x 9" (17.75cm x 22.85cm) (and includes the doodle!)
Filip was searching through his sketches for Wrong Turn's process images and while unearthing them from his artist studio, he refound his Jubilant Mascot sketches as well. Both will be auctioned soon, though in separate auctions.
Tyler Walpole - Sakashima's Protege - to be auctioned on MTG Art Market
Starting today, the reactive clone with cascade is being auctioned. Tyler's tight sketches are a fraction of the cost of his final paintings and might be a great way to get some kamigawa original art without hitting the bank too hard!
Duralar sketches are 9" x 12", pencil (graphite) on paper
Lars Grant-West - $2500 and to be auctioned on MTG Art Market
He has a duo of paintings he is putting up for sale literally right now. He's been busy teaching online and needed a little breathing room to take photos before the snow.
The Spider and the Cat are both 16" x 20", oil on panel.
For the mammoth spider, he was channeling a 50's "giant spider" feel for that one. Lars grew up loving those movies and wanted to give that older pulp feel to the art. He has it as a straight sale for $2500.
For the Trove Warden Lars was using sphinx cats, naked mole rats and jaguars as reference. (notice the missing eyes!) he wanted something short and beefy that could travel quickly through the Zendikar skyclave environments, and have a low center of gravity while traversing moss slick sheer stone thousands of feet in the air.
This work will be auctioned on the MTG Art Market.
Alpha Artwork
There are people in the world that buy each other a Lexus during the holiday season. I have never met them, but I hear they do exist.
There are five Alpha paintings for sale by Heritage Auctions for their November 19 - 22 Comics & Comic Art Signature Auction. Each of them are worth more than a car and we have a few days to go. While it's outside 99.8% of us to pick one up, there are a handful of people who are refreshing these often to see if they can snag one or more of them!
I wish you a happy holiday and encourage you to reach out to artists directly to help them with sales as they have not had conventions all year. Also, they love hearing from their fans. If nothing else, just reach out on social media to say an artwork you loved of theirs in the past year. Sometimes even the free things are nice as well.
Happy hunting out there!
-Vorthos Mike