The following stories are disjointed and slightly out of sequence, but they convey an entire narrative about my trip to Worlds. Trying to wedge together a fractured trip composed of pure vacation, pure work, and an unusual hybrid of both left my memories disconnected.
But everything is absolutely true.
The Hustle
My wife looked at me with that plaintive look she patented sometime long ago. Our conversation was mostly positive, but she often speaks imperatively in order to firmly close a door. It's an odd habit, but if you met her mother, you'd understand.
"I'm going to be bored the whole time?"
It was a fair question—one I expected to field. The allure of sexy, cross-country travel to a city we wanted to visit baited her to the hook, but she hadn't bitten. Not yet. Despite the tantalizing worm squirming in front of her, she waited, observed, and processed all the information.
She was always a hard catch, but I knew how to land a whopper. She married me, after all.
"No, but I won't lie; I want to go for the Magic. It's among the most important events of the year, I've never attended before, and events like these are usually somewhere international. But it wouldn't be fair to you for me to make you just sit around the site. I'm also excited just to go out West. We can be tourists for a day. My buddy said there is a pretty good modern-art museum."
"You won't go to the convention for a day?"
"This isn't just work; I'm going on vacation with you."
She tanked. Hard. If it had been a Pro Tour, this would have been a critical moment in the fifth and deciding game of a Top 8 match. It wasn't that I couldn't go if she didn't want to (I was planning to go regardless), but it would be awkward. We don't do vacations often. For her to skip would mean another year that we didn't take time together.
Her face shifted. She had her answer.
"Will it be warm while we're there?"
I smiled. "It's California!"
(This was an unintentional lie.)
Adventures in Modern Travel
I don't care for flying. The system of gaming consumers in which airlines and airport security each use the other to absolve itself of baggage screw-ups is a legal racket. If it weren't expensive, we could substitute flying coach for waterboarding torture. At the start of all this, they make you forfeit basic legal rights in order to fly, but they fail to enforce their arbitrary rules about carry-ons and personal items.
You'd judge me for being a curmudgeon and a bitter traveler, but you're too busy agreeing with me to notice the tone.
The flight back was in an exit row that was quite comfortable—aside from the Selena Gomez movie the airline played. I'm still unsure whether the movie or the lack of sleep was what had me feeling so bad the whole time.
Traveling around San Francisco is, supposedly, either quite easy or quite difficult. I've heard it both ways. I settled on the mono-cab-ride plan, which was certainly not the highest EV, but it definitely delivered on convenience. I gripped my beginner's luck tightly—I found no issues hailing a cab any time all weekend. I'm not sure why the city needed to be carved into the faces of cliffs, but the obscene hills were not something I was keen on walking.
The BART (local pubic rail system) was far dirtier and more expensive than I expected. Is the DC area's Metro really that much nicer than other cities' transportation?
Travel is pretty boring, but I did want to share my Commander tech for airplanes and small work spaces:
Store your deck using a two-hundred-count cardboard box.

Sort your deck carefully, then place it upright in the box in the order you want to type it up.

You can read the name of the card as it sticks out above the lip of the box.

As you type the list, remove the card and place in sideways (the direction to actually store cards in the box) at the end of the deck.
This will work for other decks, but other decks rarely require a two-hundred-count box to be stored. Discovering this was the highlight of my time in transit. I find joy in the little victories.
The Art of the Pageantry
There are many more pictures (some of which are below) and videos to see that convey this, but something Glenn Godard shared with me stood out: The pageantry of Worlds is unlike anything else.
The hall was bedecked with the flags of multitudinous countries, pillars of oversized Moxen, a statue of Jace, the grandmaster of card alterers, Ohkubo, and many more pieces of the Pro Tour logistics puzzle. In fact, there's an entire album on the GatheringMagic Facebook page for all of this (in addition to those found on the official coverage and other places).
But the pictures don't tell the whole story. They can't capture the majesty and splendor of the Hall of Fame induction ceremony. They can't relay the wonderment of seeing nation after nation, with the proud flag-bearer of each clutching his colors and being called to the stage. They can't send an electrifying jolt of excitement as the details of Mr. Ohkubo's work become clear.
They record history. Although this was my first Worlds, it's possibly the last of its kind. These pictures are souvenirs enshrined for the future. They are souvenirs I will cherish.
Glenn, you were right. I am going to miss this, and I had no idea going in.
The Real World: San Francisco
The city proper, as mentioned above, is a layered cascade of steep inclines and upscale prices. It's beautiful, though the dreary weather kept us from finding anything gorgeous outside on our tourist day. We did visit the SFMOMA (San Francisco Museum of Modern Art), which turned out to be better than any other we'd been to. As a strange bonus, there was a Dieter Rams exhibit. Mark Rosewater referenced this figurehead of industrial design in a two-part article on the Ten Principles for Good Design:
I had trouble understanding Mark's articles when they premiered. I enjoy things that are different, and I appreciated sets that former R&D member Brian Tinsman worked on (such as Saviors of Kamigawa and Rise of the Eldrazi). I overvalued innovation in that I liked something different simply because it was different. Touring the exhibit opened my eyes to the true importance of the other nine principles.
This boom box slid apart, going from a sleek and unobtrusive geometric frame into an aesthetically pleasing unit for use. The regular layout of buttons, obvious placement of handles, and framing of the speakers all scream functional yet beautiful.
These pieces were hairdryers and a lighter, respectively. The simplicity and obvious utility of each struck me here as well. What was most intriguing wasn't the actual designs or the objects' functions—which were mostly obsolete—but the fact that they had a nagging feeling of familiarity.
The above quote from Rams finally tied it together. Writing is, too, a form of design. Just as Mark Rosewater feels that Dieter's principles of design apply whether it's Magic or markers, I now believe these principles apply to writing. To recap these principles:
Good design is innovative.

Good design makes a product useful.

Good design is aesthetic.

Good design helps us to understand a product.

Good design is unobtrusive.

Good design is honest.

Good design is durable.

Good design is consequent to the last detail.

Good design is concerned with the environment.

Good design is as little design as possible.
Someday, when I'm far less green, I'll revisit these and succinctly capture them in terms of writing. Until then, I will merely strive to achieve them.
Waxing philosophic about designers and insight beyond my years wasn't the main attraction that excited us about the city. We're casual foodies, and we were hankering for good seafood.
Yeah. That's the ticket.
Well, there's a different one. Based on a tip from Wizards insiders, Diana and I booked a reservation at Ace Wasabi. They serve sushi with a generous helping of rock-and-roll attitude.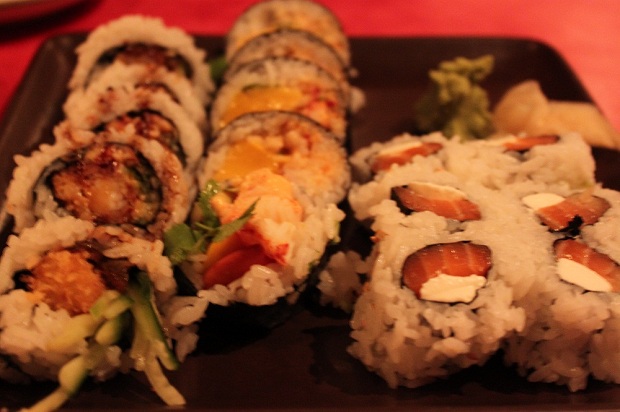 We haven't had anything close to "the best" sushi, but compared to our usual fare at home, this stuff was damn good. I'd never received sashimi-quality salmon in a Philadelphia roll (we all have our vices). Our first taste of Dungeness crab came heaped over cooked eel and razor-thin slivers of jalapeño. It was fresh, clean, appropriately rich, and the best meal all weekend.
This stuff was damn good. This stuff is why I adore traveling for Magic. Always remember to dig in.
The Good Wife
I won't bore you with too much gushing, but significant others who don't play Magic are usually not allies of the hobby. Magic takes time, concentration, socialization, and travel. It's a challenge doing significant amounts of these things without the person you can't imagine living without.
My wife gave up half our trip to waiting around on the event site. She didn't complain about having nothing but her Kindle to keep her company. She didn't get angry, frustrated, or petulant about a working vacation.
She took pictures, helped me get cards signed, and patiently waited for whatever time-consuming activity I was engaged in to finish before grabbing me. I hear many stories about significant others fighting Magic—or other hobbies—tooth and nail.
I gave her a day during which I didn't touch a Magic card and devoted my attention to being her partner. If you aren't doing this on a regular basis, you probably aren't doing it right. It's not about women and Magic and feminism and the community; it's about being responsible to the important people in your life.
She gives me more than I ask for, and I return it even greater. It takes humility and trust from everyone involved to make this hobby-for-fun-and-profit work for me.
And without her, I wouldn't be here or have traveled to San Francisco.
Join me next week for fun with the Community Cube.