It's award nomination season, and the finalists for the Chesley Awards, awarded by the Association of Science Fiction and Fantasy Artists or ASFA, were just announced. ASFA is a nonprofit where dues-paying members have built a supportive community to do everything from running forums and charity auctions to technical assistance for its members.
From its website, here's an explanation of why the awards are named Chesley:
"Each year ASFA gives out the Chesley Awards, which are named for the great astronomical artist, Chesley Bonestell. The Chesleys were started in 1985 as a means for the SF and Fantasy art community to recognize individual works and achievements not otherwise recognized by the Hugo Awards, during the previous year."
The group is nonprofit and the award is meant to fill the gap left by the Hugo awards, which don't include all the art categories. For $35 a year, you can become a member and vote for your favorite.
Below, I've included all the categories and nominations. I've marked the category where Magic illustrations are located by putting it in bold.
Best Cover Illustration: Hardcover Book
Richard Anderson, The Dinosaur Lords by Victor Milan (Tor, July 2015)
Lius Lasahido, Hannu Rajaniemi: Collected Fiction by Hannu Rajaniemi (Tachycon, May 2015)
Todd Lockwood, Voyage of the Basilisk by Marie Brennan (Tor, March 2015)
Cynthia Sheppard, Karen Memory by Elizabeth Bear (Tor, February 2015)
Sam Weber, Dune by Frank Herbert (The Folio Society, April 2015)
Best Cover Illustration: Paperback Book
Julie Dillon, The Very Best of Kate Elliott by Kate Elliott (Tachycon, February 2015)
Tyler Jacobson, Beyond the Pool of Stars by Howard Andrew Jones (Tor, October 2015)
Jeffery Alan Love, Wolfhound Century by Peter Higgins (Gollancz, May 2015)
David Palumbo, Binti by Nnedi Okorafer (Tor, September 2015)
John Picacio, Invasion of the Body Snatchers by Jack Finney (Simon & Schuster, October 2015)
Best Cover Illustration: Magazine
Maurizio Manzieri, Asimov's, Oct/Nov 2015
Reiko Murakami, Lightspeed #63, August 2015
Tran Nguyen, Uncanny #4, May/June 2015
Greg Ruth, Alabaster: The Good, the Bad, and the Bird #1, Dark Horse Comics, Dec. 2015
shichigoro-shingo, Clarkesworld #109, October 2015
Best Interior Illustration
Galen Dara, "Tuesdays with Molakesh The Destroyer" by Megan Grey (Fireside Magazine #19)
Marcel Mercado, Southlands RPG (Kobold Press, July 2015)
Peter Mohrbacher, Angelarium: Book of Emanations by Peter Mohrbacher & Eli Minaya
Tran Nguyen, "Transition Management Survey" (Chief Investment Officer, September 2015)
Sam Weber, Dune by Frank Herbert (The Folio Society, July 2015)
Best Color Work: Unpublished
Joseph Bellofatto, Star Ship, Oil
Donato Giancola, Beron and Luthien in the Court of Thingal and Melian, Oil
Wayne Haag, Desert Wreck, Oil
Jessica TC Lee, Enchanted, Digital
Elizabeth Leggett, After Hours, Digital
Mark Poole, Memories, Oil
Eric Velhagen, Felines, Oi
Best Monochrome Work: Unpublished
Rovina Cai, Cold Wind
Jeremy Enecio, Progeny, Graphite on Moleskin,
Travis Lewis, Symbiosis, Graphite
Mark Molchan, Return, Graphite
Ruth Sanderson, Invoking the Dragon, Ink/Scratchboard,
Chris Seaman, Family Portraithausen, Acrylic,
Allen Williams, Bound, Graphite & Gold leaf accent
Best Three-Dimensional Art
Devon Dorrity, Flight of the Merrow, Clay & Bronze
Thomas Kuebler, Adelpha and Her Sister, Mixed
Stelios Mousarris, Inception Coffee Table, Wood
Forest Rogers, The Morrigan, Mixed
Virginie Ropars, Okunoshima, Mixed
Vincent Villafranca, Dark Day for the Metal Heads, Bronze
Best Product Illustration
Linda Adair, Adolescence – Promo art for IlluXcon 2016
Mitchell Bentley, Mitchell Davidson Bentley 2015 Calendar – Albon Lake & Atomic Fly Studios
Rovina Cai, Black Hole – card for Cosmos Tarot & Oracle Deck, The Light Grey Art Lab
Jacob Murray, A Game of Thrones: The Card Game – 2nd edition box art, Fantasy Flight Games
John Picacio, El Arbol – Loteria card, Lone Boy,
Magali Villeneuve, George R.R. Martin: Song of Ice and Fire – 2016 calendar, Bantam
Best Gaming - Related Illustration
Clint Cearley, Mind Rot – Dragons of Tarkir Magic Card, WotC
Vincent Proce, Guardian Automaton – Magic Origins Magic Card, WotC
Anna Steinbauer, Blessed Spirits – Magic Origins Magic Card, WotC
Ryan Yee, Fruit of the First Tree – Fate Reforged Magic Card, WotC
Min Yum, Sandblast – Fate Reforged Magic Card, WotC
Best Art Director
Neil Clarke, Clarkesworld magazine
Irene Gallo, Tor Books & Tor.com
Jeremy Jarvis, Wizards of the Coast
Elizabeth Leggett, Lightspeed's Queers Destroy Science Fiction! special issue
Lauren Panepinto, Orbit Books & Muddy Colors contributor
Betsy Wolheim & Shelia Gilbert, DAW Books
Lifetime Artistic Achievement
Kinuko Y. Craft
David A. Hardy
Greg Manchess
Iain McCaig
Wendy Pini
Drew Struzan
---
The winner of each category will be announced at MidAmeriCon II in Kansas City, August 17-21, 2016. The Hugo awards are also announced there.
Are there quite a few names there you recognize? You'll notice a few things about art awards for science fiction/fantasy or imaginative realism. The community is small. For trading card games, those with truly exceptional art are Magic and occasionally other brands will see some greatness every now and then. Donato is always nominated because he's incredible, and it is incredibly difficult for new artists to break onto the scene. Being socially accepted can coincide with awards if someone is accepted enough to be nominated while making stellar works on top of that.
Art awards are the difference between painting novel covers for years, a reputation of quality, and having to constantly reprove yourself as an artist. Getting paid better rates and more leverage to negotiate also come with that territory.
Magic Sweeps
This is the first time Magic has swept the entire category. They had all but one nomination in 2014 and that single outside artwork won the category. Last year, Pharika, God of Affliction by Pete Mohrbacher won the category. Distress by Michael C. Hayes won in 2012, Stoic Angel by Volkan Baga won in 2009, Blazing Archon by Gabor Szikszai & Zoltan Boros won in 2006, and Shivan Dragon by Donato Giancola won in 2002.
A quick note: not single one of the 2016 Magic card art nominations are mythic rare or rare cards. One is even a reprinted card and all pieces are digitally created. Let's examine each piece of Magic art that made it in.
Blessed Spirits by Anna Steinbauer
I wrote about this in More Art Controversy and the link is mildly NSFW. The piece is haunting, and the meaning changes as your experiences change throughout life. It's a broadening of Magic's brand to show highly digital children ghosts. There is nothing morbid about them, yet, as a marquee brand, what is brand-appropriate shifts over time. I think it's lovely and makes you ponder they're saint-like appearance.
Fruit of the First Tree by Ryan Yee
Ryan was given Anafenza and the Abzan spirits. It was an excellent choice by the art director to take Ryan's more conceptual interpretation on an art description for a dying creature which draws cards.
It's haunting. It's eerie and beautiful. Nothing else to say on why this works.
Guardian Automaton by Vincent Proce
I wrote about this masterpiece in my Origins Art Review. I wrote about the serene scene amidst a busy street. Vincent created a strong scene with ease, integrating numerous diverse characters into a 2"x3" square. Not to mention how well the figures read at card size.
As Kaladesh images go, this snapshot clues us in to an immense amount of information about the culture of the plane. We see constructs as babysitters, ornamentation is constant, and the streets are busy. I want to see this zoomed out to see more, and in a few short months, we do get to see more.
Mind Rot by Clint Cearley
Distress was a previous category winner and a reprinted card. It's mighty difficult to ignore a previous version and not integrate anything for fan service or, frankly, determine how far you should deviate. At size, it's really hard to see the fingers pushing into the creature's head. You miss the best part of the artwork! I thought immediately of Bernini when I saw the fingers pressed into flesh.
Detail of the Bernini masterpiece
The concentric circles are so impossible to paint. There are blurred lines to show focus on the pain.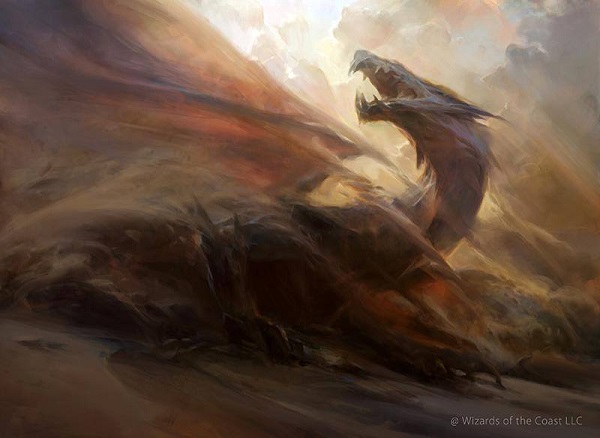 Sandblast by Min Yum
Remove the card frame and doesn't this card artwork breathe?
It's almost a deconstructed dragon, isn't it? Take all the forms that mean Dragon, then strip away each piece until all you have left are only the most essential forms.
Taken to its most bare form, we recognize a Dragon also being annihilated by wisps of sand with a triangle for a wing and a serpentine head. It's dynamic, the way the digital brushstrokes imply sand. Keeping the palette limited in color choice grounds it on the plane of Tarkir. Were this traditionally painted, it would look almost identical.
In addition to the art, art directors can also be nominated. Often one of the art directors at Wizards of the Coast, whether it be Dungeons and Dragons or Magic is nominated. They make the most amount of art in the entire field. It'd be rather odd to not have a Wizards art director nominated.
Ron Spears won his category in 2000 for being a Magic art director. Jeremy Jarvis has been nominated five times, 2007, 2009, 2010, 2015 and 2016. Recall I mentioned the community is small? Well, book cover people and people who love Magic card art aren't the same people. Since so few TCGs exist producing phenomenal art, getting acceptance into the fine art crowd has taken time and constant knocking at the door for nominations. Let's hope this year is the year Jeremy Jarvis is finally recognized for his world building efforts and vision for making planes visually unique and immersive places to visit.
Good luck to the artists and Jeremy!
-Mike
---