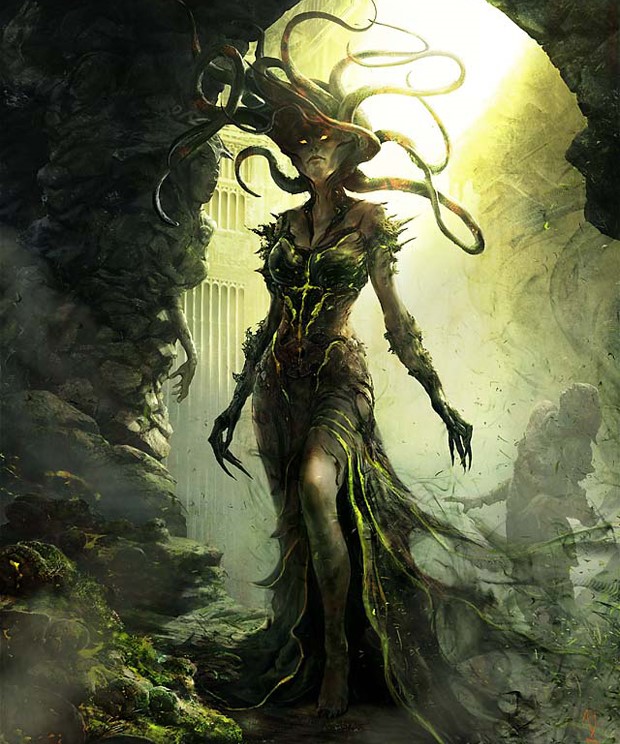 August 30, 2013
10:00 A.M.
Finally on my way. Made mistake of trying to talk to my parents when I dropped off my son for his day with them.
Stop 1: Ross Dress for Less. Not impressed with selection of gowns at $25 and under. Made mistake of going shopping for attire w/out picture, like a total newb.
Stop 2: Toys 'R' Us. Bought new train toy for my son because he pooped three times in the toilet. Found rubber snakes that look awesome for $9.99 each.
Stop 3: Jo-Ann Fabrics. The devil's playground. Discover there are such things as bulk packages of preserved moss that are perfect for Vraska's details. As usual, there's an insane line. Apparently, there was a coupon sale I missed out on because I don't get the little crafty lady mailer. Oddly enough, in line with me I see a statuesque black woman dressed in Shivan brights who had just also been at Ross Dress for Less in the same section as I was. I couldn't be mistaken—she's six feet of hard-to-miss. Is she stalking me? She must be a Dimir spy! I don't make eye contact and hurry to my car.
Got home and cracked a cheap tall boy. Time to get to work.
Took an hour-long break from Vraska here to turn in a freelance writing job application—for some kind of travel/destination review site. Ate an avocado.
Now. Time to get a little crafty!
Duct tape is the name of my game. I am pleased to find that the first snake attaches easily to the bike helmet. Dismayed to find the gauge of wire I purchased is not strong enough to use as sculpting form for the rubber snakes . . . have to come up with solution leveraging just the duct tape.
Thought about creating "snakes" with fabric then stuffing with polyfill and inserting wire to shape—would take too long, and "weight" of tendrils wouldn't look correct.
Decided to rely on placement of snakes and using their built-in arcs to create illusion of height/size. Vraska's headdress is very imposing, so flat, lifeless snakes won't do for her 'do.
Found that snakes could be looped to gain some height. Held in place with duct tape. Connected snakes together with wire—the malleable gauge was perfect for this function.
Concerned with weight of headpiece. I already have a headache from wearing it for thirty seconds. Must tighten bike helmet straps to keep in place.
Adjusted snakes to be more balanced on crown. Added premade cardboard skull to front of headdress to act as a lift for smaller tentacles I might add in the future. Also, a flavorful addition that added to the look of "completeness" for the costume.
Painted helmet with black, washable poster paint. Great thing about Golgari is that its style identity is rough around the edges, so no need for extreme neatness. No finished edges required, and I can paint outside the lines! The more organic it looks, the better.
While letting helmet dry worked on attire. Plan: Snip up old black tank top and skirt, and then add detail with ribbon, paint, fabric, silk foliage, and hardware.
Asphyxiating from the superglue.
3:00 P.M.
Hours used: 4
9:00 P.M.
Back at it.
Found the paint I'm using has a distinct blue cast to the "black" and flakes when I do double coats. The flaking isn't bad in terms of flavor, but it may prove impractical. I'm using the washable poster paint because I didn't have time to search out real theatrical full-body makeup. So, I plan to dip myself in paint.
Painted details on the bra I'm using to give structure to the top. I like building off a good bra because while I hate a super-obvious bra silhouette IRL, in costuming, it photographs well and adds that strong fantasy/sci-fi line.
Added dimension to bodice using stapler that my husband borrowed from work. Swingline!
Finally settled on a way to handle Vraska's neckpiece and shoulder detail. I have an old cardigan that I think can rig to stand up around my neck. It'll also help blend in the headdress to the bodice.
Added another layer of paint to the helmet, this time mixed in yellow to the black.
Feeling tired but the dress is almost done. All details added with glue and stapler. Vraska's look is deconstructed couture—very Derelicte from Zoolander—so even though it's organic in feel, I have to make sure it has some strong structural high-end elements to retain that elegance she exudes.
This moss certainly smells Golgari . . . 
Tried on headdress. Looking good, but sort of resembles Kentucky Derby Gorgoni headwear with a skull fascinator—albeit totally awesome headwear, by Theros's top milliner, obviously.
Well, maybe Vraska's attending a special event—a Gorgoni wedding, perhaps she has cousins in Setessa.
Rethinking my decision to take the visor off the helmet.
Pretty sure good ole Hackworth is going to be upset with me—I haven't been following the ventilation rules on the superglue. THIS PRODUCT KNOWN TO THE STATE OF CALIFORNIA TO CAUSE CANCER.
Well, good thing I'm in Oregon.
August 31, 2013, Pre-Sleep
12:30 A.M.
Hours used: 3.5
Running total: 7.5
1:30 A.M.
Couldn't resist doing more. I think I avoided another Jo-Ann trip by using some acrylic paint as highlights instead of acquiring new stuff—gold and mixed some Kelly green. I added a Golgari guild symbol to the back of the shrug in Sharpie. I also found some items in the basement that would be great for a Vraska night on the town . . . you know, like when she goes on OkCupid dates in Tin Street Alley.
Running total: 8.5 hours
Augst 31, 2013, Post-Sleep
10:30 A.M.
Time to assemble and photograph.
I used a mix of poster paint, black liquid eyeliner, Revlon eye shadow, Nars highlighter, and costume makeup crayons to achieve the Vraska glow. Vraska is very thin, so I duct-tape my torso viciously to add definition. I used to model and am used to suffering for fashion, but I admit I, at this moment, regret eating all that fried chicken on Thursday—sort of. Maybe we'll solve that with my Theros Fitness Makeover, coming soon!
The costume is way-uncomfortable, and parts of my "skin" are flaking off. This does, however, have the silver lining of adding a really, really cool marbled/cracked stone look to my getup. Gorgon realism.
The makeup oddly photographs brown. I'm looking in the mirror, and I'm green. Then, I look at my camera's viewfinder, and I'm brown. Huh. I'm sure professional makeup artists are aware of this kind of discrepancy. I'm frustrated at the moment—but I just need to find the right lighting in the house.
The kitchen window provides the answer.
1:30 P.M.
Uploading picture to igniteyoursparkcontest.com. Cracked a tall boy.
Hours used: 3
Grand Total: 10.5
Vraska costume ingredients:
1 roll duct tape1 long black skirt
1 too-small Old Navy black tank top from fragging 2003
1 old sweater with blanket collar
1 new shirt with spiked epaulets and sheer back – $7
3 rubber snakes – $30
Poster paint – $15
X amount silk foliage from wedding reception of first marriage
1 old bike helmet from second (current) husband
1 rolls flat aluminum wire – $4
2 packages dried moss – $9
A Sharpie
1 old bra
My actual entry to the contest:
I love the power and elegance of gorgons, and overall, I am pleased with how the costume turned out. Obviously, this was for a photo shoot—as I wouldn't have been able to go to an event or even walk down the street without my hide disintegrating. That's flavorful, though.
Analysis of My Results
The costume turned out more tribal than I'd intended. That's a design flaw. While the skull is Golgari-appropriate, it calls to mind the shamanic attire of Deathrite Shaman. When we get tribal, we start to hit Nissa territory. The costume is gorgon to the core, but it's not as obviously Vraska as I'd like it to be.

The snakes are awesome, and they move when I move. It's like a Pantene Pro-V commercial dubbed over in parseltongue.
The brown/green in the headdress picks up too obviously in photos, so moving forward with this, I'd like to replace some of those elements with black ones—sheer black fabric or black silk flowers pinned in would probably do the trick.
The transition from headdress to neck needs to be structured more carefully. I want to construct two ear flaps that come down snugly from the helmet to my collarbone. Will need to add texture here.

While all elements of Vraska's attire are present in my rendition, the gown became too voluminous. Vraska has a very "bare" look to her, and I think this could be better achieved if I used a fitted strapless swimsuit or Spanx as the foundation and overlayed that with sheer green fabric and some copper wire for structure, perhaps with rhinestones as the green highlights. With some time to order online and actually browse the fabric at Jo-Ann's, I think this would be affordable and achievable. Her signature look is very skin (like Mystique in the X-Men movies), so it should read "sheer green over green flesh and shadows," while my rendition of her outfit is more "vibrant green on Angelina's 2012 Oscars dress."

For live events, the paint would need to be switched out for real theatrical makeup or body paint. I'll have to look into the costs of such.
I came in on budget and under my allotted time, so I'd call this project a big success.
I love that the whole experience was so Golgari. I recycled deadweight in our closet and basement to new and epic heights. It was all about using found objects and what was at hand to make it come together at the end.
'Till next time, may Magic be your HEAD FULL OF TENTACLES, son. Hope you enjoyed the pictures. Keep an eye out for more #vraska in days to come.
-MJ
---