If you haven't yet heard, Brewport Games has a swank service where you can receive a box of fabulous Magic swag every month for a modest $18. One of the most appealing features of Brewport's Brew Box subscription is that, every month, new exclusive tokens are included in the package.
I'm stoked to be one of the artists on the Brew Box roster. This article features the creation of the Satyr token art I did for June's subscription box. If you're curious to see what the box offers, watch the video at the end of this article. I open May's box and preview the killer Assassin token done by my compatriot James Arnold. If you're more interested in watching me be extremely awkward, make strange faces, and say "Palumbo" in really weird ways, watch this test video:
Allllright, now that that hideousness is over, on to the art. The concept I made up for myself for this token was, more or less: "What if Xenagos was a metal rock god and had these crazy, badass Satyr groupies who jumped off the stage to pyrotechnics and kicked your butt all over the concert venue?"
Here's how she came to life.
I worked on a sheet about four times card size since this image would be digitized and shrunk down for printing.
She should, of course, be coming at your face directly out of a Nyx starfield.
Rocking out burns a ton of calories, so she's ripped as hell. And hairy women are sexy.
Gotta be a ginger for both the nerd cred and for the fact that it suits her flaming, aggressive personality.
I designed her outfit to be obviously tribal, with trademark Satyr wanton skimpiness.
Before inking, I made sure to flatten the kinks out. If you haven't read this book yet, you should.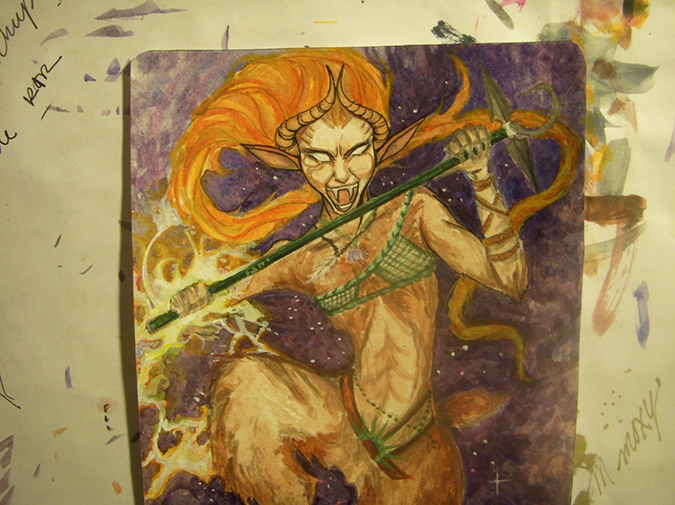 Inking. The hard part was thinking about where to add accentuation and how it'd look at card size.
She really seemed to be succeeding at being intimidating and dynamic while still believable as a 2/2.
Used regular ink pens to add R/G details like her face/body/arm tats, accessory, and weapon particulars.
Fierce.
The finished token has "Satyr" and "2/2" text courtesy Brooke of Brewport Games. It looks pretty sweet if I do say so myself. Currently, these are available only in the Brew Boxes. If you ever see me at a live event, I may have a few at my table.
And now, if you'd like to preview the Brew Box experience before you sign up, feel free to live vicariously through my amazingly low-production-value unboxing vid:
You can find more of James Arnold's work on his site. Follow Brewport Games on Twitter @BrewportGames. If you have suggestions on what token art I should do for July, let me know!
Until next time, may Magic be your totally metal hairy groupies.
-MJ
---