It's another beautiful Saturday here at Gathering Magic, and that means it's time for another Gathering Magic Week in Review! Sit back, relax, and enjoy some of the fine content we produced for you this week!
News and Announcements
Two big pieces of news this week in the Magic world. Alex Ullman covers the Banned and Restricted List Update and the Changes to Magic Online Leagues!
Banned and Restricted List Update
Update to Magic Online Leagues
---
All the Content Fit to Print
The consensus is in among pros, and Standard is officially a two deck format now. Some pros, like Andrew Jessup, embraced Four-Color Saheeli for their recent tournament outings. Check out the list Andrew played to a 51st place finish at GP New Jersey last weekend!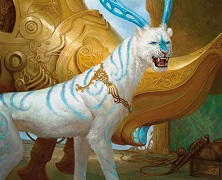 New Jerseys in New Jersey by Andrew Jessup
---
Meanwhile, Ali Aintrazi continues the search for sweet brews that have game against Saheeli Rai and Mardu Vehicles! Take a look at the lists he's found on Magic Online with some game against the pillars of the format!
Combating the Best by Ali Aintrazi
---
In an entirely different format, Alex Ullman goes deep on predicting the new Pauper metagame using a lesson from his Theory and Criticism class in school. Brush up on your knowledge!
---
Keeping it Casual
In the realm of casual interests, Sam Keeper wrote an article on whether or not Wizards is ready to do Dominaria justice should we make a return to the iconic Magic plane. Featured on the Daily Magic Update for Thursday, March 16, this is definitely a Vorthos Piece worth checking out!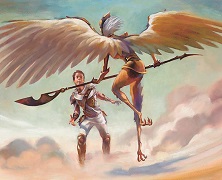 Is Wizards of the Coast Ready to Go Back to Dominaria? by Sam Keeper
---
Mike Linnemann cranked out another fine piece that was featured in Wednesday's Daily Magic Update. Joined by Sonja Boschman, Mike explored the themes of Ancient Egyptian art in order to enlighten the rest of us on what to expect in the upcoming Amonkhet! I implore you to take a look if you have any interest in the magic behind Magic art!
Vorthos Art History: Touches of Egyptian Art by Mike Linnemann
---
Abe Sargent continues to impress with his incredibly detailed excursions into alternate ways to enjoy Magic. This week, he revamped a classic project of his: Magic: The RPG. If you've ever wanted to roleplay as a powerful Planeswalker , you definitely need to give this a shot. Thanks Abe!
Finally, Jon Medina brings his Commander Battle Box series to a close, addressing some of the questions he's received along the way. If you enjoyed his series, let him, and us, know! Join Jon for one last foray into the Battle Box!
A Boy and His Box: Closing the Box by Jonathan Medina
---
Video Spotlight
60-Card Shootout: Standard Four-Color Copy Cat
---
And That's the Way it Was
And there you have it! Plenty to keep you reading over the weekend. As always, there's so much more content on our site than I can put here, so I welcome you to explore everything our site has to offer!
I want to finish this look back at the week by posing a question for discussion.
With Amonkhet on the horizon, what do think we can expect from the Magic's newest plane? We haven't seen any leaks or spoilers, so what awaits us?
Leave your responses in the comments below, and we'll see you next week!
Find us on Social Media!
---