Every holiday season I write a little article on some interesting Magic: The Gathering items to look into or pick up. In previous years I have suggested everything from inexpensive paintings to official Magic books, and all sorts of other products. This year will be a little different.
If you are interested in picking up something Magic related, consider supporting an artist directly.
Patreons are wonderful as a way to directly support artists, and I want you to consider supporting all your favorite artists this holiday season. Pick and choose some fun things that come from a Patreon, and while it's a buck or two more to get the content, it's entirely worth it.
Daarken - Lich's Mastery video - $x - Name your price (Suggestion is $5.99)
Daarken has a novel little concept on his Gumroad account, where artists can post in depth paywall videos. With three sections and nearly 2.5 hours of content, you can hear from Daarken directly on how he handles multiple sketches, to revisions to even speaking at length on art director feedback.

=
For the cost of a cheap movie for two, you can hear directly from an artist how a planeswalker is made at the quality needed for Magic to approve. The best quote on it is:
"I really like the way you explain mistakes and your way to fix things up"
This limited edition will not be around forever and is a lovely addition to a home office you may have. And yes, I know, they are not in




order. We all know this. I like how they're set up though, just a lovely panorama.
Artist Steve Prescott is doing a limited edition print run of his contraptions from Unstable for $60. Snag one of the only 100 made for that goblin lover in your life.
And if you want more whimsy than goblins, check out the S.N.E.A.K. one from Ralph below!
Also to note is Ralph's Urzaton limited edition print of the Urzatron. He only made 32 of them and they will sell out likely within days of this posting. If you ever want one, I'd get one now because who knows when or if they'll be reprinted.
Donato Giancola - Foil - 18x24" - $7500
Just like there are people who buy each other a Lexus for the holidays, there are people of means who go BIG on art as well. Donato Giancola, a living master, has dipped his toes a little back into making Magic card art and this preview just happened of his new version of Foil. It's framed in a black and gold shadow box to 23" x 29" and while $7500 feels like a lot, his pencil sketches are $1000. He's a huge deal, and if someone has the means, this is the best deal and offering this season for high end art. Just note, the painting and the card always differ slightly and in his case, seashells were included around the midriff digitally.
There have been a ton of supplemental cards as of late that you may not think about when buying a little something from an artist. For Chris here, a white-back artist proof is pretty inexpensive, and you can poke around to get a few things like a regular Razaketh, the Foulblooded artist proof for £5. If you and some known associates are in, Chris has free worldwide shipping if you spend £80 by using FREE80 at check out.
If you're looking for a fun artist proof sketch for a 1/1 black snake token with deathtouch because it doesn't exist, you should be contacting Jason Rainville. Choose any artist proof, like the $20 Cryptic Command here or a $5 proof, and his sketches on the back are a flat $20 for pencil. That is a super good deal. Consider getting one or two!
Randy Gallegos - Merfolk token - oil over acrylic on panel - 16x20" - $2000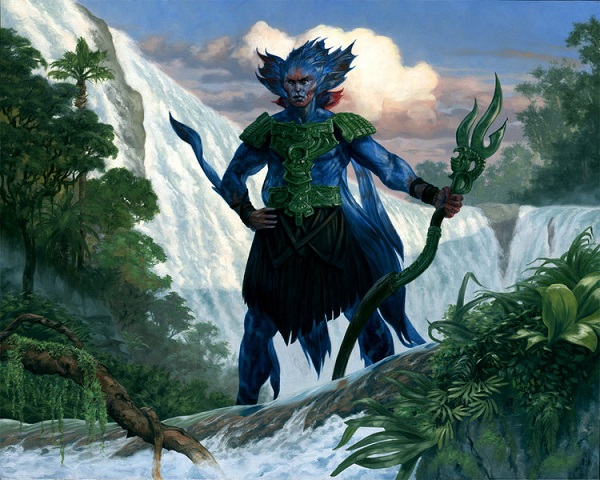 A giant painting of a merfolk? You do know that they come up and are sold near immediately right? This token will be used and reprinted for a while. Worth checking out it's up your alley.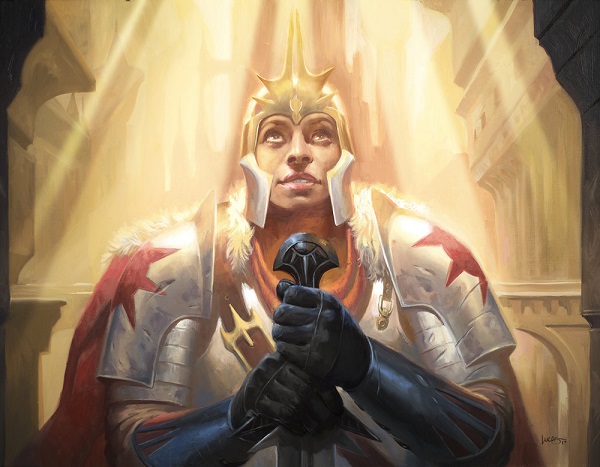 There are a ton of Boros fans out there. Take Heart is a combat trick, I get that, but the art is 100% Boros and it's affordable if you talk Lucas into a three-month payment plan situation. By that time, you can offload some cards and get this up on your wall!
Lars Grant-West - War Horn - oil on hardboard panel original -12x16" - $750
Elf collectors? I know you're out there. Here's a interesting one that might've flown under your radar. It also comes with one foil and one standard artist proof, which is fun. He also still has Glowspore Shaman, if you're up to reaching out to him and asking on price...
Ryan Pancoast - Plains print - 12x15" $20
Bearing repeating, Ryan's Plains is one of the most beautiful, couch friendly pieces you can possibly own. If you have space in your living room and want to sneak in some Magic art, this is exactly the work to do it with. Also, you can see the lightning in the background super well when it's large. Fun!
Sidharth (Sid) Chaturvedi - Stadium Vendors print - 12x16" - $30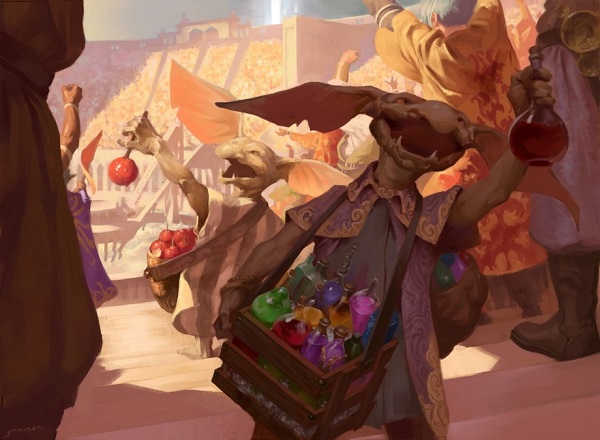 Look at these little nuggets, look at how happy they are trying to sell some trinkets. This is a print and one you should pick up for your bathroom. Like a kitchen, a bathroom you visit every day and these little goblins will give you joy every time you stop in. This improves your everyday experience to give you a smile. I'd consider it!
Seb McKinnon - Stasis print - 12x16" $20
For only twenty bucks, you can get some art for your baby or toddler daughter's room from Seb.
Various artists - Box Topper artist proofs - $50-200
Yes, this is the official confirmation. Box toppers will be given to artists as white-back artist proofs.
I listed the commander generals we know thus far, because you can contact artists and possibly buy your commander. I figure commanders are totally cool being white backed proofs, right? Then you can even commission them for around $50 for a sketch on the back? Now *that* is a holiday gift. You'd best reach out!
---
By no means is the end of this discussion. Hop on over to Twitter and give me a follow at @VorthosMike, I'll be doing a Twitter moment with every short term deal I see as well.
Support your artists and enjoy the holiday!
-Vorthos Mike