In between longer articles, I have come to realize that the majority of our Magic community may not know some artists all that well. Reasons vary, though being ultra busy and not attending a pile of Grand Prix events may have a role.
One such artist you should know more about is Ryan Pancoast.
Image by the artist
As I look through my notes from this year's Illuxcon, I noted that Ryan wasn't in attendance. From Rob Rey, his normal roommate there telling me, Ryan usually is painting during the weekend, ducking out to finish a Magic painting while others are enjoying the company over liquid bread. He's busy, that's his life. He has two little kids, and while that prevents him from traveling for us players, the least I can do is shed some light for you, the reader.
The interview is below. If you would like to hear from more artists, and more obscure or hard to find artists, please let me know about that too.
Who are you?
I am Ryan Pancoast, an illustrator and artist from New England, currently Rhode Island. I paint traditionally and work mostly in the fantasy genre, and mostly for Magic.
Ancestral Recall by Ryan Pancoast
Are you a full-time freelance artist?
Yes, I'm a full-time freelance artist. I have been since I graduated school in 2005, just before students started to aim at studio jobs at gaming companies. It was always assumed we would graduate and give freelance a shot.
Do you come from a family of artists?
To varying degrees. My whole family is creative in some way, and certainly supportive of the arts.
Where do you live and where are you from?
I live in Rhode Island, went to school in upstate New York and was born and raised in Connecticut
Who would you consider your art heroes, your idols or major influencers on your painting beyond the obvious Norman Rockwell?
My art heroes include the entire Brandywine school of artists  . . .  NC Wyeth, Andrew Wyeth, Howard Pyle  . . .  and other golden age illustrators like Mead Schaeffer.
The Nation Makers by Howard Pyle
1903, oil on canvas, Brandywine River Museum
Where are you finding ideas for your work these days?
My ideas in recent weeks have been all provided to me; I've been doing a lot of Magic work, executing other people's great ideas (and infusing my own)
How do you work?
I work in oils, on either canvas or board. I start with a thin layer of paint soaked in Turpentine, then work over that thin layer in successive thicker layers. Then I might glaze over dry areas to deepen or lighten colors until everything looks right.
How do you know when a work is finished?
Usually I know when a work is finished because it's due; I could work on things indefinitely, sometimes. Otherwise, I just study it and when it feels like it reads how I want it to, I stop.
How do you overcome creative blocks?
Time away from painting and being out in nature has always inspired ideas.
How has fatherhood changed your paintings? Or style or even workflow!
Slowly over time, I'm starting to work in a way that gets me to a finished painting faster. I'm still a slower painter than I'd like, but recently I've started to let texture and broken brushwork do the work for me. I'm less concerned how it looks from an inch away, and more concerned with how the painting looks from a distance.
Not everyone is looking for more hyper realism, good to know.
What's the most indispensable item in your studio? or What is your most important artist tool? Is there something you can't live without in your studio?
There's no one indispensable item, but I could make due with a canvas, medium size filbert brush, the primary colors, white and a cup of turpentine.
What's the last painting that surprised you? Why?
A couple of unreleased Magic paintings have surprised me this year, in that I changed up my workflow slightly and really liked the finish.
You integrate warm colors seemingly very easy in your Magic works, what draws you to pinks and purples in a sea of stark cool colors that are more common in Magic?
It's really all about personal quirks. I hate working with yellow for some reason, and choosing the right blue always confounds me. But I like mixing blue with red, so purplish things just kind of happen.
It's his one quirk.
What international art destination do you most want to visit?
I want to go to Prague, or wherever the Slav Epic is currently displayed.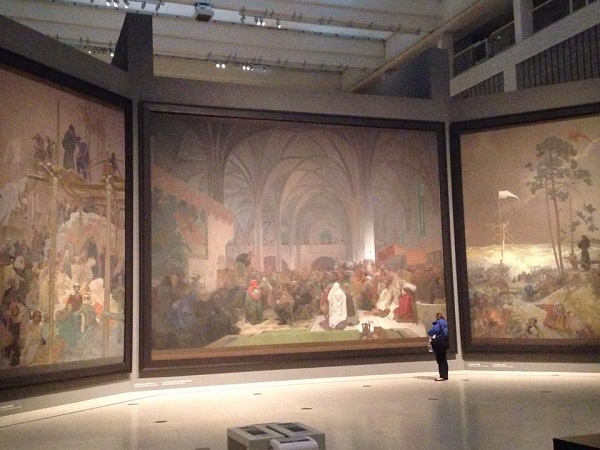 Image via Sidharth Chaturvedi visiting the Slav Epic in Prague
Are there any current or former Magic artists that inspire you and if so, why?
Karla Ortiz, Chris Rahn, and Tyler Jacobson are always producing work that makes me feel like a terrible artist, so that inspires me to get better, anyway.
That's a common statement, so artists tell me.
Is there a Magic artwork you are most proud of? Why?
I really like Kindly Stranger and Demon-Possessed Witch. I like the compositions, execution and storytelling
Conversely, are there any paintings your family or wife loves that people may not know about?
Inventor's Apprentice is probably not going anywhere, at least, not cheaply.
For those who don't know, Ryan used his wife as the reference for it for pose and lighting.
What is Frontier Fantasy and what's next for it?
Frontier Fantasy is the theme of my personal work. Imagine the American frontier in the time of Lewis & Clark, but with fantasy elements.
There are not fireballs and wizards, but it's more more low-key fantasy. I'm currently trying to complete a trilogy of Frontier Fantasy picture books. The first one, Common Ground, (shown below) is out, but I'm having a lot of trouble getting started on the second and third.
If someone wanted to commission you for an artwork or playmat, etc, can you or are you too booked to do so?
I'm usually really, really booked. Between illustrating and parenthood, there's not much room to breathe.
I definitely recommend checking out Ryan's YouTube page, where you can see time lapse videos of his process for painting Magic card art illustrations. When you see one you particularly would want to know more about, he has them for $5-10 on his gumroad page, a purchasable video directly from an artist that serves as "how to" instruction.
Any new Magic gumroads coming out soon?
Next video comes out in Rivals of Ixalan, but I could only do four videos this year. I think they are informative and fun, but they take a long time to produce and slow down my process a lot.
If you had to restart your life at age 17, how would you approach becoming an artist in this day and age? Would you build your portfolio differently? What schools or IMC or ateliers would you attend?
I would either go to a good art school and work toward becoming a studio artist, or go to a more affordable atelier and do what I'm doing now. The cost/reward ratio of art school is just too much for most people who want to freelance.
Thank you for taking the time Ryan. I hope our readers learned a few things today. You can find Ryan at the following places:
Website: www.ryanpancoast.com
Gumroad: https://gumroad.com/rpancoast
Instagram: @rpancoast_illustration
Twitter: @rpancoast_art
Facebook: PancoastIllustration
Email: On his website
Inprnt store: https://www.inprnt.com/gallery/rpancoast/
And for those of you who already know Ryan, you may not that I am helping him auction Ripjaw Raptor this week over at the Facebook group MTG Art Market. It ends Sunday. Should be fun to see a painting up for sale as it is his only dinosaur. It's also not small, a lovely addition to any collection of Magic art.
—Mike
---