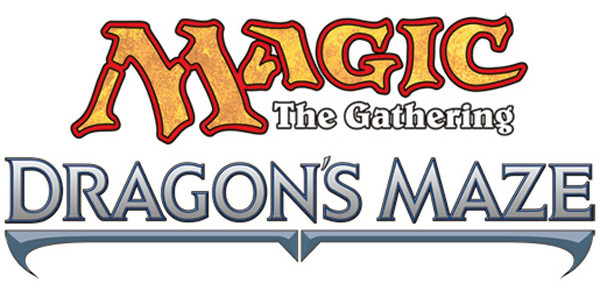 The third set in the Return to Ravnica block has been revealed! Dragon's Maze will finally all ten guilds and bring together Return to Ravnica and Gratecrash for draft!!
Set Name
Dragon's Maze
Block
Set 3 of 3 in the Return to Ravnica block
Number of Cards
156
Guilds
All 10
Prerelease Events
April 27-28, 2013
Release Date
May 3, 2013
Game Day
May 25-26, 2013
Pro Tour Dragon's Maze
May 17-19. 2013
Official Three-Letter Code
DGM
Twitter Hashtag
#MTGDGM
Design Team
Alexis Janson (lead)

Mark Rosewater

Erik Lauer

Aaron Forsythe

Shawn Main

Dan Emmons

Development Team
Zac Hill (lead)

Erik Lauer

Mark Globus

Mark Gottlieb

Masami Ibamoto

Sam Stoddard
Dragon's Maze will feature all ten of the guilds featured in the two previous sets:
| | |
| --- | --- |
| Return to Ravnica | Gatecrash |
Will you be ready to turn things to 10? We'll all find out this April. The official announcement can be found here.