We are right in the middle of Strixhaven preview season, the new set featuring Magic's take on a wizard school and all that comes along with it. However, in a lot of ways Strixhaven is almost two sets in one.
Why?
In a similar vein to how Time Spiral sets have had a "Timeshifted" sheet of supplemental cards, Strixhaven will have its own special slot in each pack for a "Mystical Archive" card. This slot will contain one of 63 reprint cards from over Magic's history in a special border. For paper Magic this is mostly just a cool extra promo in each pack, as these cards won't be legal in Standard or any format they aren't already legal in. However, on MTG Arena...
The Biggest Historic Shakeup Ever
Almost every Mystical Archive card will be legal in Historic, bringing 34 brand new and powerful cards into the format. With many of these cards being past or present Constructed staples, this represents the most important influx of cards into Historic in the history of the format! It's sort of like getting three Historic Anthologies all at once.
As such, today I'll be going over each and every card that's a new addition to Historic. I'll also be giving each card a letter grade for both its power level as well as it's coolness factor for what it brings to the Historic format. We'll be going in alphabetical order and hitting every single one of the 34 new cards to the format, so let's go!
Power Level: B-
Coolness Factor: B+
Wait Jim, I thought you said all of the Mystical Archives were reprints? Well leave it to the first alphabetical card to prove me wrong! Current word on the street is that Abundant Harvest is a pre-print from Modern Horizons 2, but no matter how it gets here it will be legal in Historic very soon.
What we have here is a very interesting Opt variant in Green. Very often with a cantrip you are looking for that second or third land in the early game or for gas in the mid to late game and Abundant Harvest accomplishes that goal while also helping trigger things like prowess and fill the graveyard like a normal cantrip.
Typically, this sort of effect is much more often seen in Blue or Red, but I think it's great that other colors are getting it to. What remains to be seen is what decks will actually want this effect. This card is probably better than Opt, but it's going to need a home. It's also the only new card on the list so it's especially tricky to evaluate without playing with. This one's a wait and see!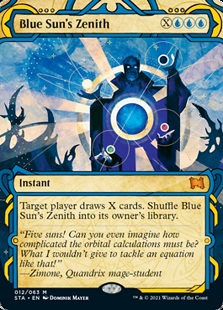 Power Level: D
Coolness Factor: C-
While Blue Sun's Zenith can draw a lot of cards, a fair Stroke of Genius with very little upside just isn't there on rate when it comes to Standard play, let alone Historic.
Typically, Blue Sun's Zenith sees play as a combo finisher for decks capable of making a ton of Blue mana and needing a way to win, but without High Tide or Cunning Wish available in Historic that's probably not happening any time soon. If you want this sort of effect, play Sphinx's Revelation instead.
Power Level: B+
Coolness Factor: A+
Oh boy.
At first glance, adding a card to Historic that would probably be banned in Legacy if it wasn't such an iconic card sounds like potential for disaster, but context here is extremely important. As anyone who's ever played Brainstorm in a Cube draft or in Pauper without a dozen fetchlands in their deck will attest to, Brainstorm is a medium, sometimes frustrating card without the ability to shuffle your deck repeatedly. You can often end up Brainstorm-locking yourself, with no reprieve in sight for a few turns.
Despite all this, the lack of competition means that Brainstorm will still likely be the most powerful cantrip in the format. It triggers prowess, finds combo pieces, gets cast of Dreadhorde Arcanist, and more, and that alone is worth a lot.
It's a very important addition to the format, but it will probably underperform your expectations.
Power Level: C-
Coolness Factor: B
Chaos Warp is a fun Commander card, that is notably one of the few Red cards that can remove an enchantment.
This effect is far too risky to just fire off as a normal removal spell, but it will serve a niche role as a catch-all sideboard answer to various threats. Maybe you're playing Rakdos Arcanist and want a card that can answer to Rest in Peace and Grafdigger's Cage, or maybe you're Mono-Red Aggro and want an answer to Authority of the Consuls and Baneslayer Angel.
It's not terribly efficient and the risk is significant, but if you need to kill something odd it does the job.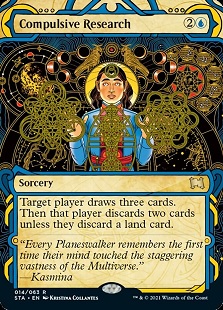 Power Level: C
Coolness Factor: C+
Compulsive Research was a major player in Standard the entire time it was legal, but a lot of that was predicated on the Signet and bounceland-heavy mana bases of that format. Playing an Azorius Signet on turn two, and then floating three mana on turn three, playing a Dimir Aqueduct to bounce a land, and then discarding that land to Compulsive Research was a mighty fine opening.
Historic neither has Signets or bouncelands, while also being a much more powerful and fast format overall. I could see slower midrange or control decks playing a few copies of these for some extra and easy to cast card advantage in the mid to late game, but on rate Compulsive Research just isn't that exciting.
Power Level: D+
Coolness Factor: B
Crux of Fate is a super cool and flavorful Magic card, while also being a decent five-mana sweeper. However, in a format that already has both Languish and Shadows' Verdict, it's hard to imagine you'd actually want Crux of Fate unless you were playing a dedicated Dragons deck. That's cool and all, but probably not making a huge dent in competitive play.
Power Level: C
Coolness Factor: D
Historic already has Wrath of God proper, so unless you need to mix things up for Meddling Mage or really need a 5th sweeper, Day of Judgment is going to spend most of its time riding the pine.
Power Level: C-
Coolness Factor: C
Now we can say "dies to Doom Blade!" in Historic too!
Realistically, Doom Blade is only as good as the format it is legal in. With Black being one of the most played colors in the format, as well as other options like Eliminate and Heartless Act in the equation, Doom Blade doesn't slot in particularly well. Still, as things shift there will likely be points over the next few years where it sees a little bit of play.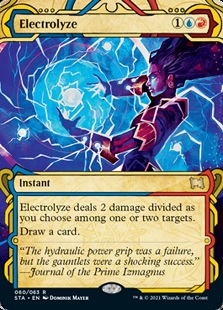 Power Level: B-
Coolness Factor: A-
One of my favorite cards from back in the day, Electrolyze hasn't aged super well due to the power creep on creatures and threats in general over the last decade. Creatures are bigger, faster, and getting on the board is more important, meaning some nickel and dime card advantage attached to a weak removal spell isn't what it once was.
Still, Electrolyze is often a clean, instant speed two for one, that will occasionally be the full three for one blowout that we all dream about. It's doubtful that any deck will be packing a full set of these, but for such a creature heavy format Electrolyze is a very worthy addition.
Power Level: B+
Coolness Factor: B
A very powerful Modern Horizons card that gets lost in the mix a bit, Ephemerate is actually quite the card on rate. A one-mana instant is as cheap as it gets, and mixed with various enters the battlefield effects Ephemerate can do double duty as both protection spell and card advantage. We've seen this in a few fringe Modern decks, but the reality is that those decks struggle against many of the linear decks in the format that don't care about someone flickering Eternal Witness a few times.
Ephemerate's usefulness directly coincides with the enters the battlefield effect that are legal in the format and could be a surprising sleeper for Historic. With many more Historic games decided by card advantage and removal, Ephemerate could find itself very well positioned. Being great with Skyclave Apparition isn't a bad place to be either.
This is one to watch.
Power Level: A+
Coolness Factor: A
Whoa boy. While Brainstorm should probably be banned in Legacy, Faithless Looting is actually banned in Modern, making it perhaps the most hotly debated Mystical Archive card of the entire set.
I must admit I am a little surprised to see Faithless Looting coming to Historic. Red is already one of the best colors in the format, with Rakdos graveyard stuff also being popular, and Faithless Looting (over something like Careful Study) is only going to kick that into super high gear.
However, I'm also of the belief that Faithless Looting should be legal in Modern because of what a great enabler it is for various decks that actually care about things, so count me in as excited. Faithless Looting enabled a dozen different decks in Modern when it was legal, which it will likely do for Historic as well, but Historic also has great safety valves in Rest in Peace, Tormod's Crypt, and Grafdigger's Cage and none of the truly broken cards like Manamorphose or Stinkweed Imp.
This is a really exciting one and will probably be the most impactful new card in Historic. Get your Arclight Phoenix while they're hot!
Power Level: D-
Coolness Factor: C+
Gift of Estates, and all the other odd "if you have less lands" cards like Weathered Wayfarer and Knight of the White Orchid are just so awkward. If you are perpetually unlucky and made some sort of deal with the devil that has you losing every die roll you have for the rest of your life, sure they line up pretty well, but a card like Gift of Estates actually doesn't do anything if you're on the play.
Without a strong reason to want to draw first or some sort of cheat like Fieldmist Borderpost to circumvent the drawback, Gift of Estates is a cute but profoundly unplayable Magic card.
Power Level: B
Coolness Factor: C+
Whoa wait what? Isn't "The Storm Scale" the mocking term for how to judge mechanics they'd never print again?
Seeing Storm in Historic is extremely jarring, but when it comes down to it there are almost none of the normal tools available. There are zero playable ritual effects in Historic, no Lotus Blooms or other absurdly fast mana, and frankly not a lot of ways to abuse Storm when you could just turn to some other win condition if you're already drawing cards and making mana.
Grapeshot in particular is one of the slower win conditions, requiring a full 19 spells cast before it to be lethal, but it does fall in the correct colors alongside cards like Runaway Steam-Kin and Birgi, God of Storytelling. It doesn't feel like there are enough tools available to make storm dangerous in Historic, but never count one of the most broken mechanics of all time out.
Power Level: C-
Coolness Factor: C+
Harmonize is very similar to Compulsive Research, in that it is a somewhat dated sorcery speed card draw spell entering a fast format that is very much about getting ahead. Tapping a bunch of lands on your main phase to not affect the board needs to have an extremely good payoff, and three cards for four mana isn't really that.
It could definitely see some play if there's a deck looking for the effect, but this is a mostly unexciting one.
Power Level: C-
Coolness Factor: B-
While Increasing Vengeance is technically an upgrade to something like Dual Strike, the differences really are fairly negligible. There may be some sort of combo deck that wants this effect, but it's nothing really that the format doesn't already have.
Power Level: A+
Coolness Factor: B-
One of the other bombshell cards alongside Faithless Looting and Brainstorm, Inquisition of Kozilek is another somewhat odd add to Historic. With Black already being one of the best colors and Thoughtseize one of the most played cards, giving Black yet another extremely powerful one-mana discard spell is perplexing.
Inquisition of Kozilek is certainly much more interesting than Thoughtseize because of the counterplay it provides, as it joins a wide variety of cards in the format that care about cards being cheap. Four- and five-mana spells get a natural huge boost in Historic because of how well they dodge these cards like Baffling End, Eliminate, Claim the Firstborn, Shadows' Verdict as well as Skyclave Apparition and Fatal Push respectively.
Regardless though, the various Black and Rakdos decks that were already crushing the format now get even more tools. While Faithless Looting may be more impactful to the format as a whole, Inquisition of Kozilek is likely to be the most played card from the Mystical Archives.
Power Level: D
Coolness Factor: C+
Krosan Grip is a card with a history of competitive play, but most of that was because of how well it lined up against Sensei's Diving Top and Counterbalance. Without this specific problem to answer, a three-mana Naturalize with little upside isn't doing much.
It's a cute tool to have access to but you need a real reason to put this card in your sideboard over other options.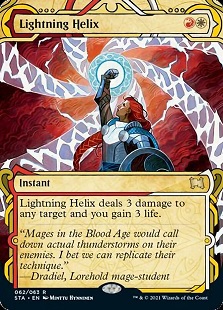 Power Level: A-
Coolness Factor: A
OHHHHH IT'S LIGHTNING HELIX! OH MY GOD!
An absolute classic Magic: The Gathering card, Lightning Helix immediately enters Historic as the best burn spell in the format. While it's overshadowed by Lightning Bolt proper in Modern, in Historic Red players have to slum around with the likes of Shock and Lightning Strike to get their burn on.
With so much of Historic being interactive, the lifegain on Lightning Helix is going to be extremely relevant. Whether is a Jeskai Control deck trying to stay alive or a Red deck trying to win a race, there are going to be a lot of Lightning Helixes floating around in any deck that can reasonably cast them.
I'm going to wear out my soundboard!
Power Level: C+
Coolness Factor: A+
The hits just keep on coming!
Historic is a fast format, and while it lacks the mana denial elements of other formats, Mana Tithe is a unique enough effect that it may be able to make an impact. There are a lot of big spells in Historic like Muxus, Goblin Grandee and Emergent Ultimatum, which puts a big premium on being able to interact with the stack. White doesn't have many great ways to do that, so Mana Tithe is a welcome addition.
Mana Tithe enters Historic as one of the biggest wild cards, but it could provide an element that the format was previously lacking.
Power Level: B+
Coolness Factor: B+
Speaking of good tempo counterspells, Memory Lapse is a very nice one.
While not as universally useful as something like Remand, this is likely a good thing as not every deck is going to want Memory Lapse. In a true control deck, delaying your opponent by a turn and denying them a draw step is only delaying the inevitable, but in a more aggressive deck or combo deck with a proactive plan, Memory Lapse can start looking a lot more like Time Walk.
It's cheap, it's splashable, and it's a very real maindeck answer to a wide variety of problems that Historic can throw at you. This is a really exciting one!
Power Level: C-
Coolness Factor: A
More Storm cards!?!
Mind's Desire is so powerful that it's banned in Legacy and restricted in Vintage, but that's more due to the high quality and density of mana accelerators than anything else. Without Lotus Petal, Dark Ritual, Rite of Flame, High Tide and friends, Mind's Desire is a very expensive spin of the roulette wheel. If you hit another Mind's Desire you're off to the races, but there are going to be a lot of misses if you can build up a sufficient storm count.
Of course, you could build your Mind's Desire deck as a non-storm deck and just try to hit one or two big spells like Ulamog, The Ceaseless Hunger, but that's also risky. Mind's Desire is super fun, but probably won't be too scary to start out. However, it will only get better as time goes on.
Power Level: B
Coolness Factor: B+
Essentially a Zombify for spells, Mizzix's Mastery enters a format with a significant number of very large and powerful sorceries as well as many great discard outlets. It's not going to be hard to cast a Genesis Ultimatum and friends off of this, and it will only get better as more cards are added to the format.
Overloading may look like a pipe dream, but this could be the end game of some sort of Storm deck. Don't forget, Mind's Desire is a sorcery too and you've already got two spells cast with this alone. Mizzix's Mastery could be a real sleeper as there's a lot of potential power here.
Power Level: C-
Coolness Factor: B
Primal Command is an odd one, as it enters the format without its best friend Primeval Titan.
Primal Command isn't really a bad card, but it needs a clear purpose. It's not particularly good at anything besides tutoring a creature and gaining you 7 life so you have time to cast it, which is a lot to as for five mana at sorcery speed.
There really aren't any creatures that win the game by themself in Historic and unless that changes Primal Command is pretty unimpressive.
Power Level: D+
Coolness Factor: D
I actually thought Putrefy was already legal in Historic.
With much better options like Maelstrom Pulse, Assassin's Trophy, and more, as well as a lack of dangerous artifacts, Putrefy is unlikely to be relevant.
Power Level: D+
Coolness Factor: B
Another card that was once banned and restricted in various formats more because of how good the other cards were than itself, Regrowth is a fairly underwhelming card. Nobody is playing this card straight up, with strictly relegates it to combo decks or recurring a broken card. There aren't any broken cards in Historic nor many combo decks, which leaves Regrowth on the bench.
Besides, you're probably playing Bala Ged Recovery anyway.
Power Level: D+
Coolness Factor: D
Another card I thought was already in Historic, Sign in Blood is a very medium Magic card. Two mana to draw two cards isn't what most decks want to be doing on turn two, while the life loss won't stack up well alongside Thoughtseize.
It's possible this could see play in some sort of Mono-Black Control deck or Death's Shadow deck, but it's pretty underwhelming.
Power Level: C+
Coolness Factor: B+
It's fun to see how Wizards of the Coast is going about distinguishing Historic from Standard.
We would never see a three-mana land destruction spell in Standard, but there are a whole bunch of them in Modern where they see mostly no play. Llanowar Elves is legal, meaning the dreaded turn two Stone Rain is now a viable play in Historic, but without another land destruction spell like Pillage or Molten Rain to back it up the consistency isn't there. Furthermore, Historic doesn't have decks like Tron or Valakut that the Ponza decks love to beat up on.
Trust me, I'll be trying to make a Stone Rain, Goblin Ruinblaster, Waking the Trolls deck work, but it's probably not going to be super competitive.
Power Level: B-
Coolness Factor: A
Tainted Pact is a wild one, a card usually only see in Legacy or in weird combo decks. Tainted Pact can be close to a Demonic Tutor if you build your deck correctly, but there is significant risk involved as combo decks usually only have a few win conditions and you risk exiling them.
Tainted Pact is another card that feels like it's more suited for Modern-style combo decks than anything currently in Historic, which means it's going to need to find that specific home to see any play. Still, if it does it could be a powerful tutoring effect.
Power Level: D
Coolness Factor: C
Teferi's Protection is a somewhat wild Commander card that seems difficult to abuse in Historic. If there were some sort of Restore Balance or Armageddon card in the format it could be a cute combo piece, but an expensive Heroic Intervention/Fog combination card just isn't very exciting.
Power Level: C-
Coolness Factor: B
Perhaps the most signature storm card of the bunch and the one that sees the most play in Eternal formats, Tendrils of Agony is actually far less interesting for Historic than Grapeshot or Mind's Desire. Without proper ritual effects like Dark Ritual or Cabal Ritual, Black doesn't seem to offer much to a storm deck in historic.
Power Level: D
Coolness Factor: B
And you get a Divination! And you get a Divination!
Tezzeret's Gambit is cute. It's a fun way to add counters to things and drawing two cards isn't bad either, but realistically It's hard to imagine a deck in the format that would want this card. There are just much better options to draw cards and if you're that desperate to proliferate there are cards like Contentious Plan available.
Power Level: B+
Coolness Factor: D
Oh great, more Time Walks.
As if Nexus of Fate wasn't enough, now we get Time Warp in Historic. Taking Turns decks are cute when they're meme decks, but if they're ever remotely playable they become extremely obnoxious very quickly. Time Warp doesn't have the more commonly seen exile text that we get on more modern Time Walk effects, which means that looping it with Regrowth or Tamiyo, Collector of Tales is a very real thing.
Ramp is real in Historic, which makes Time Warp a fairly unique threat.
Power Level: F
Coolness Factor: B
Sorry folks, it's not 2001.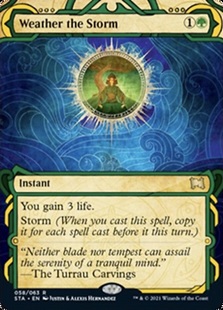 Power Level: C-
Coolness Factor: C
Weather the Storm is very good at what it does, which is gain a good chunk of life against an aggressive deck full of cheap spells. This plays super well in Modern, where Burn and Prowess are both playing cards like Lava Spike and trying to get you from 20 to 0 as fast as possible. A Weather the Storm for three or four copies can undo the work of three or four of your opponent's cards, which is huge.
However, Historic doesn't really have any sort of burn deck. Its aggressive decks tend to win by miles, not inches, so gaining twelve life isn't going to matter against Embercleave or a 18/20 Kor Spiritdancer.
There may come a point where Weather the Storm is an important sideboard in Historic, like it is in Modern, but that time is not here yet.
The Banned Cards
For completions sake these are the seven cards in the Mystical Archive that are going to be banned in historic, most for very obvious reasons. The remaining 22 cards are reprints of cards that are already legal and available in Historic.
An Historic Change
This is likely going to be a huge change to the texture of Historic, as aside from an entire new set in Strixhaven about 15-20 of these Mystical Archive cards stand to make a significant impact on the format. It's been a lot of fun seeing Wizards of the Coast flesh out their vision for Historic as a format and I think they've mostly hit their marks here.
There's a lot of exciting cards, but it's not super clear what we are to do with all of them. I for one can't wait to get started!