Don Quixote by Gustave Doré (1863), Karn's Temporal Sundering by Noah Bradley.
Every week I do my best to take a piece of classic art and mash it up with artwork from a Magic: The Gathering card. I've got over 20 years of experience with Photoshop and it's a fun and creative way to make something fresh and new to kick off each week's Commanderruminations column.
If I had training in painting I'd probably be taking thrift store paintings and adding monsters, spaceships and other weird stuff to them. Back in 2012, an article about the work of Chris McMahon and Thryza Segal showed some examples of artists doing just that. Check it out and you might get a better understanding of why I do what I do here at the top of every column.
Now that I've dived deep into the world of Magic: The Gathering, it's not surprising that I have a huge admiration for the work of artists who alter cards. I may not be a fan of proxies, but taking a Magic card and extending the artwork to cover the whole card or even changing the art to something new and different is the kind of thing I can really get behind.
For the past few years I've been getting more involved in the Commander community, writing a blog which turned into this column here on CoolStuffInc.com's Magic website, reading more online content about Magic and listening to more podcasts. I've even been thinking about becoming a patreon to some of the content creators I like the most, but I haven't yet taken that leap. One of the podcasts I've enjoyed a lot since its start in 2017 is Commander Cookout. It's a weekly Commander podcast out of Canada hosted by longtime Magic players Ryan Peneff and Brando Quiring. If it seems like I'm rambling, you're right, but I'm going somewhere with this.
A Sad, Sad Moon
I've got a few Blood Moons in my card collection. Some of them are in decks, but a few are in my binder. I'd tell you they're all near-mint, black bordered beauties, but one of them isn't quite right. In low light, or with bad eyesight you might think it was black bordered, but in fact it is a white-bordered Blood Moon that someone used a sharpie marker on to try to turn the border black.
For a while I didn't realize this Blood Moon had an issue. My eyes aren't quite what they used to be, and I'm pretty sure I must have picked the card up at a store where the light wasn't great. The long and the short of it is that once I realized I had a sharpie-marker masterpiece on my hands, it made me sad every time I looked at it. The black border wasn't quite black and in good light the card just looked like crap.
I recently saw that Ryan Peneff likes to alter cards and that he was in a position where he was looking for commissions to help bring in extra money. I quickly saw that this was an opportunity to help out a fellow Commander content creator. Ryan (and Brando) have been putting a lot of energy into doing a fundraiser for a Commander community member Anthony "Wedge" Daconto from The Mana Source.
I had a Blood Moon that desperately needed a some help. Ryan seems like a great guy who is quick to help out other members of the community, but who also happens to need some extra income and was looking for some alter work. I happen to have a weekly column where I write about Commander.
It didn't take a genius to realize that something good could be made of all of this.
Today's article is the story of how my Blood Moon went from an eyesore to a masterpiece, how I was introduced to another classic painter/illustrator, and how you can help out a great member of the Commander community and hopefully come away with your own altered Magic card to spice up your favorite Commander deck.
Meet Gustave Doré
I reached out to Ryan and proposed that I pay for an alter for my sad, sad Blood Moon. I would give him free rein creatively to do whatever he wanted. If he could take photos and give me a summary of the process I would wrap it up into an article to show off his talent. I'd pay fair market value for the alter and I even invited him to incorporate the CCO logo into the alter if he wanted.
As a content creator, I can tell you that we're always happy to hear from fans and he was no exception. He agreed and I mailed off my Blood Moon with a few ideas for what to do with it.
In mid-July I got word from Ryan that he was inspired by my mashups of classical art and MTG art and was doing an alter for my Blood Moon inspired by the work of Gustave Doré. In my limited time researching classical landscape artists, I had never heard of him. It turns out Gustave Doré is a french illustrator from the 1800s who had many talents but was very well known for his engravings.
The mashup at the top of this week's Commanderruminations is one of the 370 illustrations he did for a 1863 translation of Miguel de Cervantes' Don Quixote de la Mancha. You can take a look at part of the original engraving below.
I added the background colors, removed Don Quixote and added Karn, from Karn's Temporal Sundering by Noah Bradley. Doré's work is exquisite and the detail and depth he is able to get from a woodcut etching is definitely worth a look. Noah Bradley's artwork for Karn's Temporal Sundering is no less exquisite and is one of my favorite pieces of card art ever. It was not an easy choice to pluck Karn off of that masterpiece and put him onto the Gustav Doré illustration, but it's the kind of thing I do and I think it came out OK. I wasn't trying to make either one better, I was making something new and interesting.
The piece Ryan used as inspiration for my alter was not from Don Quixote. It was one of the engravings Doré did in 1870 for Thomas Coleridge's The Rime of the Ancient Mariner.
The Rime of the Ancient Mariner
Any fan of the heavy metal band Iron Maiden should be familiar with The Rime of the Ancient Mariner, but the 1798 poem by Thomas Coleridge is also worth a read. I'm not sure if Ryan is a fan of either Iron Maiden or Coleridge, but when you compare Blood Moon to the Doré engraving Ryan chose it's clear that it was a great pick.
I lack any formal training in how to paint or illustrate. I have dabbled in cartooning and airbrushing a little but really don't have any idea where I'd even start if I were to try to do an alter. Fortunately, my sad, sad Blood Moon was in good hands.
Making an Alter
Maybe someday I'll try to learn this stuff, but Ryan was good enough to provide some pretty clear commentary on the process he went through to take the card on the left and turn it into an alter inspired by the woodcut engraving on the right.
For supplies he used a paint pallet, water, paper towels and clean paper. Not pictured are his Golden Acrylics (light body, or "fluid") paints. Fledgling alterers should use light body paints, not the thicker stuff. Too much messing around with watering paints down to the right consistency can cause problems, so it's just easier to work with light body paints.
For the base coating, Ryan used a Staedtler permanent marker. I'd never have guessed the solution to fixing my sad sharpie Blood Moon would start with a permanent marker but Ryan has found that it works the best. On top of the black marker undercoating, Ryan then applied a base code of dark grey to make everything look smooth.
The next step involves transferring the image onto the card. With something as random as the icebergs in Doré's print, Ryan would usually just freehand sketch the shapes, but for this project he wanted to showcase a technique that you guys might be able to try out.
First Ryan took a printout of the source image, scaled to the size he wanted to use for the card. He flipped the paper over and filled in all of where the image would appear with a really soft pencil lead.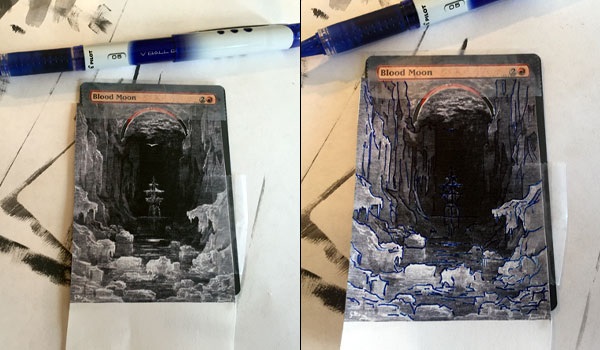 Then he cut the moon out of the overlay image so that he could use it as a guide to see where the overlay would be placed on top of the moon on the card. Once that was done, Ryan taped it down and traced all of the detail with a fine tip pen to transfer the lead onto the card.
Once every shape had been outlined and the soft lead had been transferred, the card was ready -- in the right light -- to be filled in.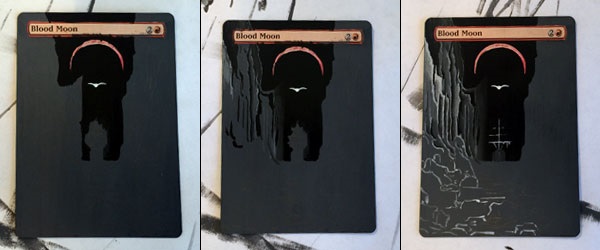 Generally you start at the back and work your way forwards, going from darkest colors to lightest. Ryan tends to do the left side of his cards and then the top and leaves the right hand side for last, as he's left-handed.
As he worked, Ryan made sure to clean up the edges of text boxes and name lines as he went to make sure he still had a good idea of where he needed to work. This was done by scraping paint off of the card with a toothpick. He had to scrape around the moon and re-do some of it along the way.
The finishing touch on this piece was to fancy up the name line with a super fine tip pen.
In Living Color
While I was grateful to Ryan for introducing me to a new classical artist and I look forward to using this Blood Moon in one of my EDH decks, it struck me that I'd hate for anyone to come away from this column thinking he's only capable of weird old black and white alters.
Here's a look at a few of the more colorful alters Ryan has done.
As you can see, Ryan is capable of working in color, doing fantastic border-cover alters and can probably meet any requirements you might have for custom alter work.
Contact Info
You can listen to Ryan Peneff and his fellow podcaster Brando Quiring on the Commander Cookout podcast. It's well worth a listen, though like any podcast there's never really any knowing if their personalities and content will work for you until you tune in for an episode or two. It's available on all major platforms, including iTunes and YouTube. You should be able to get their email, Twitter, Facebook and Patreon info through their website http://www.commandercookout.com/.
Ryan is currently open for commissions and does all kinds of work. You can Facebook message him or email him directly at commandercookout@gmail.com. He does lots of older cards that do not exist in foil, commanders, as well as cards that are too expensive to foil.
Final Thoughts
I'd like to thank Ryan for being willing to collaborate on this article. While I did all the writing and I did pay for my alter, he did all the alter work and provided the details and the photos to really make this possible.
I definitely look at the piles and piles of old cards and think about how easy it would be to pick up some paints and start making some bad alters. Don't get me wrong -- making bad alters wouldn't be the final goal, but I assume it would be a necessary step in the process of learning how to actually make good, or even passably decent alters.
Of course, that would also take time away from other things, and writing actually takes a lot of my time and effort. If I do wind up messing around with alters, I guarantee I'll share my experiments with you here.
I hope you've enjoyed this week's column. I like to explore new subjects and do more than just churn out decklists every week, and this week's topic was a real treat for me to write about.
If you'd like to follow how I've been doing in my games, both in casual play and in the Commander league I run, you can join me over on my old blog site. It's far from a play-by-play commentary, but it's the kind of thing I'd love to be able to read about Ryan Peneff, Mark Mahler (CommanderCast), Josh Lee Kwai (The Command Zone) or any of the many, many other folks I enjoy following in the Commander community. The least I can do is share my own stories.
That's all I've got for you today. Thanks for reading and I'll see you next week!
---