I'm not sure what's tougher — evaluating new cards that do something completely different or taking a first look at a card that does something incredibly familiar. In the first scenario, you can make broad claims and think about every other legal card for potential interactions. The latter, well, you not only have to weigh what it does against every other card in the metagame but also against other game piece with a similar function in the format.
So yeah, I am not sure which is tougher. For me writing about the familiar is comfortable but when the effect is so basic it has been done almost every set since the 1993, well, that's a daunting task.
There are spells that get printed every year. Magic needs these effects at a basic level to function — certain cards need answers and these standard effects do the work efficiently. Giant Growth isn't sexy but it has a role.
Every set, it seems, has a Naturalize effect. It makes sense. Artifacts and Enchantments are part of the game, and when they appear so to must answers. It can be awfully hard to find new implementations of these cards since Naturalize is rather elegant. Of course that does not mean we never see a Nantuko Vigilante, a Deglamer, or a Root Out, just that the set will need a good reason to iterate upon the established.
Kaladesh, being a world that prominently features Artifacts, may call for innovation on this front. On our previous metal world — New Phyrexia née Mirrodin — we have many different ways to take out metallic wonders. Crush and Revoke Existence pushed the effect hard in its other colors. While Red still has trouble dealing with Enchantments, White was at one point the undisputed master of handling constructs both physical and ephemeral. Disenchant was the standard bearer before Green gobbled up that slice of color pie. In Kaladesh, it seems, White makes a serious comeback.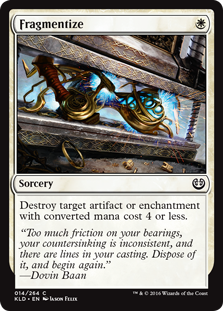 Fragmentize is quite the tool. It isn't flashy or cool, it doesn't do anything unique. It has a narrow scope, but it is a scalpel and it will see play. Looking outside Pauper for a few minutes here are some important things it kills in other formats:
So we have the makings of a cross format all-star. Make no mistake— this card is a sorcery so it is slower than other options. A versatile answer that asks only 1 mana is fantastic and commands attention. It is clear it will almost always have a target and should absolutely see play.
In Pauper? In Pauper this card is an absolute wrecking ball. It comes from a robust lineage of single mana flexible answers. It presents immediate competition for:
Well, maybe not that last one. But it is sure to shine in the same matchups as the Mox Monkey.
One of the largest risks in playing Affinity is how vulnerable your lands are and now White will have a turn one answer to Great Furnace. Fragmentize can also help to stall one of the better Affinity openings with Frogmite. While Myr Enforcer and Carapace Forger are larger one of the most dangerous cards in Affinity is Frogmite because it helps to accelerate the machine toward Thoughtcast and Enforcer. Being able to answer a turn two Frogmite for a single mana while also committing a potential threat to the board is noteworthy. White lacked good cheap answers for Affinity but when Kaladesh rolls around that will no longer be the case. Fragmentize handles every Artifact in the deck save Myr Enforcer and will help White decks stabilize against Affinity and other decks that lean on Artifacts.
What about Enchantments? Thankfully Fragmentize handles every one of those that sees play as well. Curse of the Pierced Heart and Curse of the Bloody Tome? Consider them lifted. Oblivion Ring, Oubliette, and Journey to Nowhere? Your session in exile is over. While slow Fragmentize also handles every killer in Hexproof so it can handle an Ancestral Mask or Ethereal Armor in a pinch (although hitting Utopia Sprawl is probably better).
Fragmentize could even see play against Stompy. Currently versions of the deck run both Vault Skirge and Bonesplitter. If a player Shocks themselves for a 1/1 only for you to mimic Swords to Plowshares, I think that would qualify as a good trade.
The Disenchant variant does miss some key cards. As mentioned it cannot hit Myr Enforcer and it also fails the Spire Golem test. Razor Golem and Oxidda Golem both dodge Fragmentize and if Slash Panther ever sees play it'll be too large for the sorcery.
So where does Fragmentize stack up? Natural State and Caustic Caterpillar both see play. The Caterpillar is slower but can hit more targets while Natural State has been popping up more often in recent weeks. In White it has to compete with Disenchant and Kor Sanctifiers. Given everything I have this card higher than Disenchant simply because it hits so much and costs only a single mana. Kor Sanctifiers is a great card — good enough to see main deck play — but it is at its best in a deck with Kor Skyfisher. More White decks these days are eschewing Skyfisher for a leaner mana curve. If that trend persists then I have no doubt Fragmentize will get the nod. In fact while Kor Skyfisher decks may become more popular with the advent of Fabricate I can just as easily see low to the ground White decks with an emphasis on 1-drops making a splash, complete with Fragmentize i n the sideboard.
Not every innovation needs to take the world by storm. Fragmentize does nothing special. But it does its job incredibly well and for a bargain basement price. It has the potential to be a low key star.
And sometimes that's just what we need.
---