Update, December 19, 2017: Today, Wizards of the Coast CEO Chris Cocks released an article about an initiative that the company would be engaging in as a response to recent incidents of harassment. New guidelines will be displayed at Local Game Stores and other play spaces. The effort seems geared towards empowering players to report harassing behavior. Cocks also promised that they are not done addressing this issue.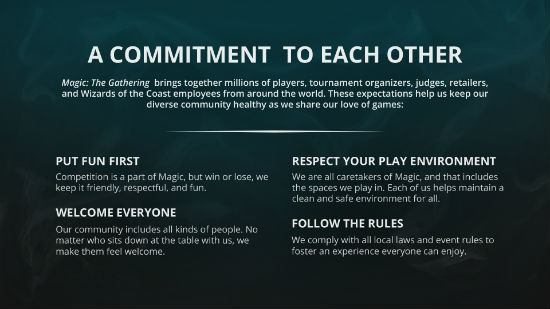 ---
Update, December 8, 2017: Last night Elaine Chase issued another announcement as a follow up to the issue of harassment. Titled "A First Step" it said that action had been taken against players who were found to have violated the Code of Conduct (which prohibits bullying and harassment). No names were listed in the announcement. However the list of players banned by the DCI was updated.
Jeremy Hambly, the creator behind MTGHeadquarters and Unsleeved Media has received a lifetime ban from the DCI and has had his Magic Online account disabled. Travis Woo, moderator of a Facebook group that engaged in harassing behavior received a one year ban. Other members of the group received bans as well.
In a separate incident, Chris Lansdell had his Level 3 Judge status revoked in light of claims of sexual harassment. The Judge Conduct Committee has certified Lansdell. He may attempt to reenter the program as a Level 1 at the discretion of the Judge Conduct Committee and only if the group "believes sufficient time has elapsed and Chris has shown appropriate positive change." This has no bearing on Lansdell's ability to participate in sanctioned events.
---
Last weekend, the popular Magic cosplayer Christine Sprankle announced that she would be retiring from Magic and the Magic cosplay community. Sprankle cited the main source of her harassment as the MTGHeadquarters/Unsleeved Media YouTube channels and surrounding community. The announcement was made during the American holiday of Thanksgiving, which made the Wizards response slow to arrive.
Wizards released a statement on their Twitter a day after Sprankle's original tweet.
We're saddened by what happened in the Magic community this weekend. Cyber bullying and harassment are unacceptable, and we support those who come forward with their experiences. No one should be made to feel unsafe or unwelcome. We're working to be a part of the solution.

— Magic: The Gathering (@wizards_magic) November 26, 2017
A statement followed on the main Magic website on November 28. The statement from Elaine Chase did not mention any specifics from this incident but instead discussed actions that players could take if they felt harassed and a pledge to revise the company's Code of Conduct. The community has responded with a bevy articles around this subject including ones from Brian DeMars, Brian Braun-Duin, Regional Coordinator Judge Steven Briggs, and a joint letter from a community of Professional Players. There has been significant discussion on social media and a thorough video from The Professor of Tolarian Community College about the nature of this, and other incidences. The story has reached outside the Magic sphere and Polygon published a detailed story regarding the events.
This will be an ongoing story until a resolution is found. Regardless it appears that change will be coming at some point and it will impact the community.
---