Hello, boys and girls. I'm back!
You don't remember me? Odd . . .
I've done a little over half a dozen one-of's on various topics for Gathering Magic over the past two years, but you might know me better as the voice behind Issar Roon. That's a topic for another day, however, as today is all about the new set upon us: Avacyn Restored!
Let's jump right in.
The Plot
Over the course of Innistrad and Dark Ascension, we coasted on vague background stories, but that all changes with Avacyn Restored. Sure, some planeswalkers were skulking around, doing stuff; Liliana had some beef with an old lover, Garruk was stalking her after she left him hanging, and Sorin was looking for his old flame, Avacyn, who was scorning him after his elongated absence. Then, there was the "main plot" of monsters attacking poor, hapless villagers and innocent religious figureheads. Now, don't get me wrong; the stories were well done and felt natural, but that was part of the–

Ooh! A Werewolf! Don't cast any spells!

Ahem . . . As I was saying. The main story was fine and dandy, but honestly, we all just wanted to play with Werewolves, Vampires, and Zombies . . . and Jeff Goldblum. Avacyn Restored loses a good bite (yes, I am that low), and replaces them with Angels, Demons, and storylines. Oh, my!

So, what's the big deal? Vorthos likes more story, right?

Yes . . . But the focus has shifted mid-block, and it's jarring. Let's compare this to the only other time a block has done the big-little-big format: Rise of the Eldrazi:

Zendikar – Cool! Adventure Land!

Worldwake – Woah! The land is pissed, and these explorers are in deep s***!

Rise of the Eldrazi Dude! These guys are huge!

Now, here's Innistrad block:

Innistrad – Sweet! Monsters!

Dark Ascension – Moar monsters!

Avacyn Restored – Aww . . . All we get are Angels?

Okay, maybe my oversimplification is a little extreme, but my point stands. In Rise of the Eldrazi, the story flowed from one set into the other, and the peak of excitement came in the final set. Innistrad has reversed that. People were so happy with Innistrad (the set) that not even an incredibly popular creature type can satisfy some customers upon Avacyn's release.

Now, this really isn't anyone's fault, and honestly, I like how the storylines have played out over the entire block, but having the story thrown in our communal face like a pie while we were looking the other way is a bit shocking.
Planeswalkers
Did you know this is the first set to contain more than one planeswalker without one of them as a repeat character since Lorwyn? You don't care? Oh.
Not only have both planeswalkers never before been seen, but neither of them has much of a background story yet. I trust Creative—and honestly, I'm really excited to hear what else Tamiyo has been up to since ascending and who's going to stop Tibalt—but I find it a little strange to be hit with two unknown planeswalkers for the first time since Lorwyn. I guess Design has to win occasionally when it comes to making new planeswalkers. We'll give you this one, Melvin.
One detail that has bothered me a bit are the comments on Tamiyo's footwear. The "sandals" and "socks" Tamiyo is wearing are called zori. I may be only one man, but I will fight to spread this knowledge!
Art
Wow! The work Jeremy Jarvis and the rest of Creative have done with the artwork for Avacyn Restored is spectacular. Not only is it great stuff, but the variety is mind-blowing.
That's the first three pieces of art in the visual spoiler on the mothership (at the time of this writing), and while they are all the same subject, they'd have a hard time passing as sisters, much less relatives.
Let's break it down. First are the similarities:
They're all angels. (Duh!)

The sun and its rays can be seen in all of them. It's even placed in roughly the same position (upper-right corner) on each piece.

Focus. Your eye is drawn from the upper right to the lower left on each. Okay, Angel of Glory's Rise goes about halfway before jerking you in a circle. More on that below.

These are all subtle connectors. They create unconscious (okay, not the first point) similarities that get your mind to recognize them as analogous.
Now the differences:
Color. They become increasingly darker, changing the mood of each.

Character. The first is weaponless, has her hands open in a gesture of peace, and is showing off her chest—a sexy, but also motherly and comforting, trait. The second holds a sword and shield, but she seems bent on reflection rather than violence. The third is all action, pointing her weapon forward, and in turn, making it larger and more prominent in our view.

Shape. The first is almost all circles thanks to the floating feathers. The second is linear, from upper right to lower left, with soft shapes filling in the other two corners. The third is filled with hard lines and sharp edges, reduced only by Avacyn's split skirt (dress?).

This is fantastic work by Creative in living up to their goal of making the artwork for each set more varied. It is also great work at picking artists. I haven't paid much attention to James Ryman until now, but Terese Nielsen and Jason Chan delivered yet again in their respective styles.
All right; enough praise. It's time to nitpick a little.
What's with Liliana (in the art of Killing Wave) and Tamiyo, the Moon Sage? Why are they floating a foot off the ground?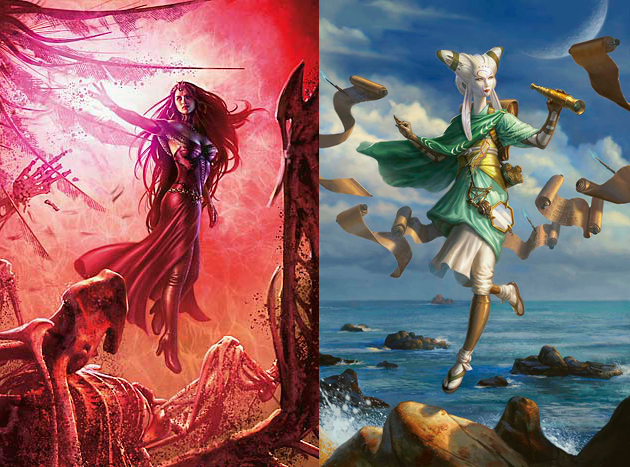 I get it; levitation gives off the image of power. Superheroes do it and bad dudes with power do it, but do we really want planeswalkers floating around the multiverse? And yes, I know Soratami fly, but Creative has kept modern 'walkers fairly low on the obvious power levels. Why change that now?
It's possible that Liliana is just taking on angels in their own environment and Tamiyo is doing what Soratami do. I'm not about to say the sky is falling, but I do hope this isn't the beginning of a trend.
Now for some quick hits.
Was anyone else confused by Joint Assault's art the first day of Avacyn Restored previews? Luckily, we didn't have to wait too long.
What's a giant birdman doing on Innistrad!? I'm not serious, but I hope this looks better in person than on my laptop screen. The combination of this guy's hat, nose, and mustache make things fairly confusing on such a small scale.
From Terese Nielsen's website
Descendants' Path's art may just be my favorite Magic art in years. Terese Nielsen has created a beautiful image that could easily be used in the real world, and yet it resonates with Magic just as well.
Finally, I leave you with yet another well-laid piece of Avacyn Restored. As they say, the details tell the story.

Oh, and nice trick on avoiding Garruk double-faced cards in the future, Creative. I tip my hat to you.