I read this article by the Goldman Sachs Elevator Twitter guy, and while my wife and I argued about some of the points, a lot of it rang true as we discussed our 2013 and how 2014 will be shaping up. I think it's a guide for wealthy, often douchey men, electric razors are stupid, and I feel I must always "measure yourself only against your previous self."
I had a pretty terrible 2013. I was officially out of a job for eight long months and consumed literal gallons of coffee connecting while making unsuccessful attempts to be patient. Things worked out in the end, but the stress was crushing. (Why we decided to get two more dachshunds in 2013 is still a mystery.) I was only able to react last year and often chose poorly. I look forward to 2014 in a variety of ways—most notably to be more mindful of what I'm doing and strategize my life a lot better. Relevant to my column here, a weekly jaunt into the other parts of Magic: The Gathering was a seminal quote in that article:
When you admire the work of artists or writers, tell them. ?And spend money to acquire their work.
It warmed my heart to at least know I was doing something right but I have much to do. Here are ten things I'm planning on doing in 2014. Hope you can join me in some of them. If so, let me know on the Twitters. We'll compare progress.
1 – Write More Often
I have an invitation to write for Art PACT, the Professional Artist Client Toolkit, and I plan on doing so in 2014. There is a lot from my days as an art director that I can offer but haven't quite yet. Magic artists are pretty lucky it appears, but once you make it past the façade of "making it," things could dramatically improve with such minor changes in contracts to say the least. Artists rarely have time to write about their own works on their blogs, save Steve Belledin's blog, which is awesome.
I could always help a community member out, writing a little something at originalmagicart.com or comment on things at my neglected Tumblr, but per always, we'll see how things shake out. Writing for free has been hammered into my mind as an "immediately avoid" whenever possible, but in-kind trades are ever appreciated. I just don't know the conversation of time to dollars to rupees to paintings.
Copyright Wizards of the Coast, Inc.
2 – Frame All My Damn Art
On that note, I still have Donato Giancola's Archivist original art waiting to be framed. I gave my wife our office, so my art is in flux for where it'll be in our house. Really, I relinquished all my piles of Magic and art on the wall. A little change never hurt anything. I also needed room for a giant card catalog that I have on reserve from my rural village anyway, so it'll work out.
I also have a few original pop-art prints that I need to be professionally framed as well. My boy Dan at DVG Fine Arts knows I have some things coming; I just need to recover from the holiday purchasing season to get on it. No reason to do bulk with a local framer—it's the same price.
By forcing myself to wait, it'll slow my art purchasing and really make me mindful of acquiring great, major works. It's really easy to buy three to four minor works on an eBay whim that are 8" × 10" and in actually pretty rough shape. That happens a lot when you feel that adrenaline to just pick up a piece. I'm done with that entirely.
3 – Pare Down Other Collections of Strategic Card Games
I have literal tons of other board games and strategic card games such as Pokémon. I will start trading it for Magic or consolidating. GenCon might be a good place to make it happen if I've dragged my feet from January to August. It's too much of a liability to have that much paper in our house. I'm terrified of house fires; it's why I added an insurance rider for art with our homeowner's policy.
I've been trying to get my entire tradable Magic collection able to fit into two three-inch binders with a varying level of success. If I can get said other card games into Magic, moving Magic into Magic art isn't that far of a jump via Pucatrade or eBay. It's time.
4 – Commission another Artist
I commissioned Sidharth (Sid) Chaturvedi for a portrait in 2013, and it's time I received a new one for 2014. He'll be in Dungeons & Dragons; Magic is right around the corner for him. I need another up-and-comer for a portrait. I figure since we have to have portraits for our social media, well, life, I might as well pick up some art at the same time. Vanity aside, it's a fun activity to better meet an artist and forge a new relationship. I should get serious business images of my dachshunds, too, as my wife isn't interested in one at all. I figure the wiener dogs would be flattered.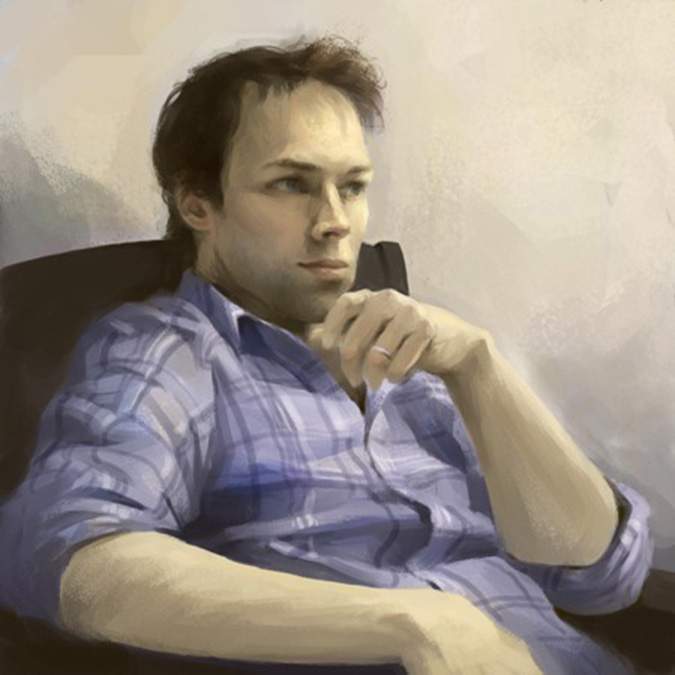 Copyright Sidharth Chaturvedi, 2013
5 – Create a Creative Business for Projects
I come across a ton of good ideas that need some structure to be successful. Maybe it's working with art and creative stuff that naturally has a ton of ideas, but there are very little deliverable goods on the other end.
Whether it's a board-game project that needs someone to act as a fiscal sponsor, an Etsy artist wishing to work a grant into his or her fold, or a Kickstarter that I could help out with, I feel I should be fostering creativity without having to be personally involved constantly. Ignoring folks is getting to me. My brother does this with a musical company shell, and I figure, well, it would be a great addition to our community. If nothing else, it's a personal way for me to conduct art exhibitions on Magic. At worst, it's a hobby. At best, well, Evan Erwin Magical Christmas Land.
I've been talking to some really innovative lawyers at Friedman Iverson about this and just need to pull the trigger.
6 – Propose an Arcana Segment at DailyMTG
Our own Natasha and I were talking the other day about our own personal colors, and I argued how I used to be incredibly Jund, and since college, I've moved into Naya, most notably via community work. Via one of my ongoing projects, I should propose something a little more formal with DailyMTG itself in the Arcana area. Let's be honest: Arcana is the catch-all, and Vorthos content shines there from sketches to background stories. I think a really strong proposal for a community project, such as a crowd-funded art book, showing updates or a major art exhibition, like the Alpha Original Art Project, could be really great concise mini articles.
I have sent in an art exhibition on making "alt art" of Alpha show and was quickly declined. If you've seen Light Grey Art Lab's Pokémon Battle Royale show, where they assigned artists to take one depiction each, it would've been something along those lines. I thought of it wrong—it should've been a community-driven project on Tumblr, not a formal art show. Hindsight is ever 20/20.
7 – Connect to the Vorthos Community on Tumblr
I pop my head into Tumblr when PolishTamales or Heather posts things, but that's about it. They have a really different perspective on Magic and often take a Vorthos stance on many, many things due to the visual medium. I've never really been into Internet culture all that much. I mean, I pay attention to Magic and my Gophersports, but that's about it. All the different gender-bending Rule 63 and all the rules that pop in there show up constantly on Tumblr, and often, I'm just confused what the hell they're talking about. It's time I work on that. I can't just have thisisnthappiness.com or pushthemovement.tumblr.com as my go-to places.
I'll never be a super-huge anime fan, but being unaware of visual references bugs me something fierce. This year, I'll be slowly working on that. So share posts with me and tweet cool content at me!
8 – Work with the Gathering Magic Forum Users a Lot More
I won't lie; I neglect those cats so much. They're honestly good people and always loved to be pinged on cool ideas. Often, they're quite friendly, but all of us writers suck at being in touch. Of anything, I should be more available, but at the same time, keeping our egos in check as writers, we have to be fully engaged and forums have been replaced by Twitter. Twitter is where things happen in 2014. It's hard to add another medium to pay attention to daily. It's why I can't add web comics to my bookmarks despite loving it when I do. I've totally disengaged with the Wizards art and artist page on their community site as well as Phyrexia.com because it's just stupidly hard covering all the bases.
I used to pop in during contests on Gathering Magic's main page or when I needed an idea fleshed out. They were rather helpful when I wrote for a full year. I took a year off and haven't felt that I've gotten back into a groove with the folks that are well, here. Frankly, I haven't seen that they've cared either. During the ManaNation/Gathering Magic merger, we had a lot more interaction. Let's get back to that. I think we can easily help each other out—we as writers just don't know how you'd like to interact, and, well, I'm going to learn.
In any case, e-mail me anytime and tweet at me when I'm missing in action. I have to walk my dachshunds and be at a lot of Broadway shows for work.
9 – Find Magic Artists Who Have Gone Missing
There are a ton of artists who, despite it being 2013, are impossible to track down. Many of the one-hit wonders have been found but a lot of the late 1990s and early 2000s artists—ahem, nearly all of Portal Three Kingdoms, are just missing in action. I'd like to think StarCityGames Opens and such would churn up some of those Seventh Edition folks, but it's usually just RK Post and Steve Argyle with a few other artists on rotation. I don't fault tournament organizers for choosing stellar artists who hustle the whole damn weekend signing, altering, and being jovial, but throwing in a wild card every now and then brings in a lot of nonplayers for autographs alone. For example, let's discuss Zina Saunders.
She still has her original artworks and is a rather friendly woman. She'd be perfect.
10 – Play Vintage
I finally have a Vintage deck. My Modern infect deck can be scaled up pretty easily with only a few additions that I have lying around. Most tournaments in Minnesota have the fifteen-proxy rule, allowing me to easily play about once a month at Dreamers Games, but a new place also has them that I've yet to try. Unlimited proxy events are just silly to not attend if there isn't a Grand Prix or a work event that I have to attend. I think it'll be a place I can sit in, like Commander, without much change. Standard never has been for me.
I have a go-to guy finally. Jason Alt featured him in August; it's Nat Moes or GrandpaBelcher on Twitter. He and Heather finally convinced me to try it out, and after a test or two, I think I'm going to love the format. I just need to buy more permanent markers.
Attributed to http://imgur.com/FE49m2D
Best of luck to everyone in 2014,
- Mike
---