Happy 2012, everyone! Now that the December craziness has subsided and we're getting back into our routines, I figure it's a good time to revive the old review series I used to produce for my previous employer. Mainly due to the high volume of images, my monthly alter reviews were easily the most successful articles I wrote, so continuing the series here at GM was never in question.
If there's one thing I've learned while writing articles for StarCityGames, it's that the monthly review is simply too much for me to handle in the format I presented it in. My original goal was to try to showcase one alter per day of the month, while sometimes sliding in a second on the day if the artwork simply demanded it. As you could imagine, mining for thirty or so images, cropping and resizing them all to fit the article template, then writing a paragraph for each resulted in an article I was spending eight or so hours producing, which my current life-load had issues handling.
I had also decided early on that just displaying the individual pieces in an article was severely lacking, making some sort of commentary mandatory. Readers have to take away something besides the occasional, "Ooh, pretty!" so I set about being some sort of art critic. This was, and is, a particularly difficult position to put myself in given my lack of artistic education. Acting as though I knew what I was talking about was somehow empowering, though, and it actually led me to further educate myself on art principles, famous artists, and various mediums.
Brainstorming for ways to continue presenting the best of the best to you led me to the tried and true Top 10 list. Yes, this will limit the amount of artist exposure, generally cutting out the relatively new alterists, and allowing the truly elite to shine. I will, however, be only showcasing a single piece from any given artist per month. I'd also like to point out that the alters I discuss will be in no particular order. Selecting ten amazing alters per month is enough of a hurdle, but giving them a rated order seems silly to me—opinions on art will vary wildly from one viewer to the next.
Preface aside; it's time for my ten favorite alters from December 2011!
Foregoing my usual haunt, the MTGSalvation.com alter thread, I decided to mine only Facebook for alters to change it up a bit.
---
First up is an alter from a man who really likes two explore outside of the box: BigUp. He is always coming up with new styles and ideas that drive the community forward, from the tentacle-like alters to his many applications of foils. This time, he's taken Olivia off the card entirely and replaced her with the classic innocent, creepy girl. The thing that makes this alter stick out the most to me, though, is the border styling that he's applied. The gold filigree looks as though it could be a legitimate border treatment, especially down the left-hand side where it's practically perfect.
---
The next alter is from BlackWingStudios, which has been on my radar for quite some time, but due to the studio's lack of posting in the Salvation forums, I always seemed to neglect including them. Many have done Elspeth in the past, and the card will be altered countless times in the future, but this one stands out to me. The night sky in the background is a really nice touch that—when coupled with her foreboding expression—makes it seem that wherever she's headed, she's aware she may not return. The wings are done very well, with the added shadow being a nice touch.
---
Probably the longest-serving card alterists are the couple from Vancouver who form CardKitty. Eva and Dereck have been altering Magic cards of the highest quality from the very beginning, and their cards are always recognizable by the soft color transitions (and paw, of course). My favorite of their December alters was this Serra Angel. Again, we've seen Serra done a million times, but this dark, Innistradesque approach is quite refreshing. The pen work on her shoulder fluff is a little much for my liking, as it tends to draw the eye, but besides that, I love this piece.
---
Demonium easily has the most recognizable style in the community, due to his use of bright colors and amazing, original artwork. He has never produced a work that I wouldn't be thrilled to own, and this Mind's Eye is no exception. The eye he's painted here is absolutely beautiful, but it doesn't stop there. Look closely around the eye, and you'll spot tiny people playing on a beach! This piece is jaw-droppingly good when you take into account the size of his canvas. This man is a master.
---
I'm sure you've all seen this image floating around the internets by now. The Escher Maze of Ith from Eric Klug really made some waves in the altering ocean last month, resulting in what I'd imagine is the highest price ever paid for a non-Magic artist alter ever. Three days after I tweeted my Dr. Seuss Maze, Eric stomps me with this piece and then puts it up for auction. At the end of the auction, this piece netted $625! The image is certainly fitting of the card and, like all of Eric's work, extremely well executed. Now, if you could just turn back time and not do that phallic Sliver Queen . . .
---
This two-piece alter from Marta Molina is just one such alter in an amazing host of breathtaking multi-card alters she has produced. Again, she has not posted in the forums from what I can recall; therefore, this is the first time I've showcased her work. She has been someone I have followed for over a year, though, as I have yet to see someone complete multi-card landscapes anywhere close to the level she does.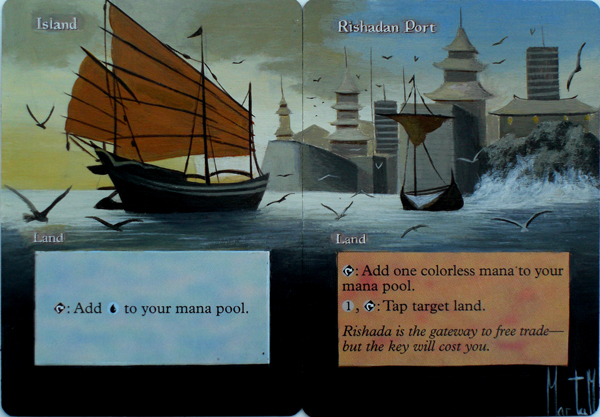 ---
Sandreline is another artist who always makes my monthly lists, as all of her work is fantastic. This month's Dakkon Blackblade was my favorite of her pieces. Everything she's added to this card is awesome. Clouds are an absolute pain for me to paint, but she makes it look easy here. The thought of Blackblade the pirate climbing out of the sea is a really cool idea; I just wish there were some sort of pirate ship away in the distance.
---
This piece from TomcatMu makes me laugh every time I see it. Even though the children's faces are the same as the original, they really stick out in his version. In the original, the goal is obviously to draw your attention to Wort herself, but having the bodies added on really drives the viewer to the children, which is awesome. It really makes Wort seem less evil, doesn't it?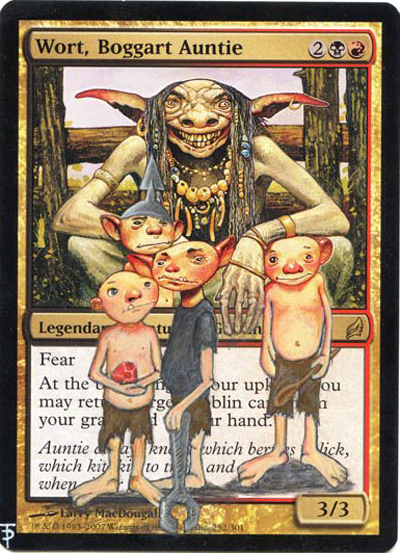 ---
A set of four always seems to make it into my review, as it's kind of like a mini collection with pieces all meant to be viewed together, which I love. No exception here, as Tony Micol depicts four of our favorite fishfolk on some basic Islands, which no doubt will be used in his (or a commissioner's) Merfolk deck. It would be amazing to see all of the basic Islands in the deck done with different iconic Merfolk! If you ever get around to it, Tony, let me know!
---
The last piece that I'll display today is this Loam Lion painted by Yurius. I love Loam Lion, so it wouldn't have taken much for me to showcase one, but the job Yurius did on this made me do a double-take—I thought it was just a transferred picture at first. The shadowing work is exceptional, really lending to the realism of the piece. Fantastic work, and I hope to see more of your stuff in the future!
---
That concludes the December alter review; I hope everyone still enjoys this shorter iteration of the review. Leave comments below regardless, and I'll try to adjust to the community's suggestions in future installments.
If you're looking for any of these alterists, the best place to start is on the Alter Club's Facebook page. If you're having issues finding someone in particular, send me a message, and I'll try to hook you up.
Cheers,
Jeremy
jfroggatt at persona dot ca