Let's meet Sidharth, Magic's newest artist. He received his first commision with Long Road Home, a functionally identical card to Otherworldly Journey, other than the lack of arcane.
I have a history with Sid, and his breaking into Magic is a long time coming. Frankly, I wasn't surprised
He's not a new artist. You just don't know the squad he surrounded himself with to push to new levels yet. Friends of his include contemporaries like Emerson Tung, who did concept work for the new DOOM and Andrew Mar, who won a silver award a few years ago in the unpublished section of Spectrum, the category that you go up against living masters like Donato Giancola who submit personal works. To say his study at the Academy of Art University in San Francisco was just classroom assignments is misleading. He found a community and they pushed each other, a lot. That's also how I found him.
The Beginning
When I first encountered Sid I was running a challenge on Jon Schindehette's ArtOrder community, helping to get a cover image for John Dale Beety's novel, the Bone Whistle Corpsman. While Sid and fellow Magic artist Lake Hurwitz did not win the challenge, I was blown away by both of their storytelling abilities.
The Bone Whistle Corpsman. Done for the ArtOrder challenge.
Working as an art director at the time, I immediately tested Sid out with a variety of commissions for trading card games, role playing books, and board games. I wouldn't say I was malicious, but when I found difficult commissions, I knew he could figure them out. He went from digital to oil and we worked between them depending on the brand and the needs of the depiction.
You can see a few examples below.
When you follow Sid on Facebook, you'll notice his highly personal works express a passion for process, composition and the painterly surface. His digital painting is what gets him constant work. His goal now is to get his oil painting to a similar level. He's very close.
Then, he got another nudge. You'll read about that below. Check out his personal work. Yes, if you want to commission a token feeling reminiscent of Innistrad, he can do anything.
Then, he leveled up and the Wizards art directors took note. Check out his Mephisto work below. It's just beautiful with such a limited palette.
Mephisto, 2014
His work for Dungeons and Dragons felt so fitting yet so personal to him. He loves movement with animals in massive battle scenes.
Art directed by Kate Irwin and Jon Schindehette
You can see his movement even at ink and sketch stage.
Seeing that Sid made it into Magic, I absolutely had to catch him for a mini interview, especially as new artists should always be interviewed when they break in.
I do have to make one point before the interview. Sid isn't new to the art community. He's been around for years. When Filip Burburan and Milivoj ?eran, the Balkans, invaded Illuxcon 2013, trading art with honestly living masters, impressing everyone with their skill, Sid was there. Aaron Miller was also there. Most traditional painters you see entering Magic, were already there. The art collectors of Magic already know the people and are building relationships to buy future art. It's a funny interaction of investing, sort of.
When you go visit a Spectrum or Illuxcon or any art show, you'll see the Magic artists, sure, and then you'll see a contingent of younger artists. THAT group are the portfolios you want to look at because those artists will be the mainstays of the industry in short order.
The infamous Croatian Illuxcon
Interview
I caught up with Sid right before he left for India to see his family. That interview is below.
Sidharth? Can we call you Sid? Is that cool?
Yup, Sid!
So, what was the factor, you think, that pushed you over the edge of getting into Magic's ranks? Was it the "innistrad pieces" you did a year ish ago?
I actually caught Mark Winters' attention with a stray comment on Facebook about how I really ought to put a Magic portfolio together a few years back. He contacted me and said to send a few pieces in, and I sent some of the oil work I'd been hammering out for IlluxCon. Quality wasn't quite there at that point, but he said it was close and invited me to a small workshop he was doing online to push some of us over that edge into getting MtG work. So I had about a year of getting older Innistrad prompts in that forum (Which are shown above), and his feedback on what they're looking for in their card art, what kind of finish I should be pushing for. The two final Innistrad pieces, I think the ones you're referring to, are the ones that led to my first job. Mark worked me pretty hard with that feedback.
They're stunning, showing us a very gritty realism like John Stanko, yet alluding to the French Revolution. Impressive.
Where do you work now?
I work at Deep Silver in Munich, one of the bigger gaming publishers in Europe.
Hermann the German by Sidharth Chaturvedi
Art director: Nikolay Stoyanov
My other work's been all over the map for the last few years. I did some pieces in oils for D&D some time back. That was a looser look than what I'm doing for Magic now. And in videogames, which is most of what I've been doing for the last few years, I'm all the way on the other end with very rendered, sometimes photo-based art. I haven't done all that much TCG art since working with you at Fantasy Flight actually.
I create lots of stuff that looks like entirely different people did them 😛
Let's pivot to Long Road Home in particular, do you have any reference images of it? (You dressed up with like a broom?)
I'm looking for them but I think I may have cleared those out already. I had a few shots of me hunched over and looking grumpy.
Long Road Home by Sidharth Chaturvedi
Art directed by Cynthia Sheppard
Is the character someone you know?
The character's not based on anyone in particular. I tend to make my own life difficult by frankensteining reference instead of just tracking down or photographing exactly what I need. All the things I was told not to do in school. In my defense, the frankensteining isn't great for illustrations, but it's a lifesaver in videogames.
That's part of it! Let's talk about upcoming art, if you have anything coming, even a "yup, it's coming?"
Yup, it's coming! They've kept me busy over the last year, so more pieces should be coming out with Kaladesh.
That begs the question . . . the indian guy they ask to make art . . . on an Indian inspired set?
I had a good laugh when I got the style guide too 😉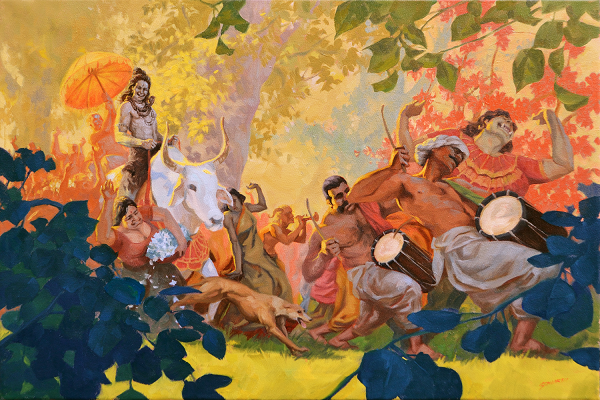 Groom's party by Sidharth Chaturbedi, oil, 40x60cm
Seems like a slam dunk for you. I'm quite excited to see more. Will you be making original oils in the future? Or will you be sticking to digital for now?
I'm hoping to start doing Magic art in oils as soon as humanly possible! I'm still at a point where my traditional and digital work don't always look like they were done by the same person, so I need to close that gap before I can start jumping between the two. No rude surprises for your AD. Also, painting spell effects in oils is a nightmare.
You mentioned you're in Munich, Germany. Say once Kaladesh comes out that you have a few cards by then. Would you be interested in being invited to stores in germany to sign cards and such? Or Grand Prix?
Signing at shops in Germany would be fun. I've not spent a lot of time in those stores here, mostly dropping in now and then to look at comics. Most of my exposure to the game has been through the very pretty art
Noted, we'll let the German community know that you're available for a drink and a card signing. You do visit other places too, though, like San Francisco to perhaps visit family? Are they all still in San Francisco?
Most of my family's back in Delhi, so I visit there a couple times a year now. It's been a while since I was in San Francisco.
Image via Sid's Facebook, Sid with his mother Kanchan
Where do you post the most? Where can people find out more about your art online?
I post almost everything on Facebook, and a little bit on Instagram, mostly sketches. Sometimes I remember that I have a website and a DeviantArt account. I still haven't figured Twitter out.
I need to keep up with things . . . like Twitter. It would also help me with being concise, probably
His Facebook Page
His Deviant Profile
His Twitter @SChaturvedi
I'd like to thank Sid for taking some time out of his day to tell us a little more about himself and for all you Magic art fans. Kaladesh has an Indian artist on board. I can't make up hype better than that.
Welcome to the ranks of Magic!
-Mike
---