Welcome, Allen Douglas.
You are new to the Magic community of artists, art enthusiasts, and players, and we need to reintroduce you in case they haven't met you.
I know Allen from Illuxcon, as an artist who focuses on Imaginative Realism, the fancy word that means Fantasy art but doesn't mean bikinis, chain armor, and dragons. It's a realistic painting style with something fantastic, something that does not exist. Magic sits in this niche of the art world of illustration and it's the dead center of Allen's interest.
Let's dive in.
First of all, who is Allen?
Illustrator, painter, educator, family guy, hiker, owner of a new puppy... not sure what else to say. I am someone who needs a haircut due to the pandemic.
Don't we all. I have a full head of lettuce like I'm a winger of a rural high school. Speaking of school, Allen, did you go to art school?
I earned a BFA in illustration from Syracuse University, but I definitely feel like I have never stopped learning. I think Syracuse gave me the foundation to set off on my career but the nuts and bolts of painting I've learned mainly by doing with some help along the way after I graduated from Donato Giancola. He graduated from Syracuse the year before I did and was very generous with his time showing me his process back in the mid 1990s while I was living in New York.
Very cool. That upstate life, which...you live near now? Did you grow up there?
Yes, I've lived in Rochester, NY most of my life, except for an eight year stint when I lived in NYC after graduating college. I worked part time at the Society of Illustrators while I worked on building up my freelance career.
That gets us to the next point: Can you explain your medium, or media, of choice?
Actually almost all of my commercial illustration work is digital. I reserve the physical paint for my independent work and now Magic card work. Even with the traditional paint, I usually use acrylics for most of my process and then often switch to oils toward the completion of the painting. This reduces exposure to the oil painting materials by limiting the number of oil painting sessions with each painting. Sometimes I'll just stick with the acrylics until the painting is done. You can see me show how to make oil paint a glow effect below. It's a quick watch on how to make something pop, as it were:
You teach at RIT. What do you teach?
I teach a variety of illustration classes at all levels. One of the things I enjoy most about teaching is seeing how the students approach their work in new and unexpected ways. Sometimes they solve problems in ways I would never had thought of, but are just as successful!
Can you walk through your own process?
For the digital commercial work, I used to use Corel Painter on my desktop but have switched to using Procreate on my iPad in recent years. For my traditional work it can vary. I sometimes sketch with pencil on paper, sometimes digitally. Sometimes I will create a digital underpainting and mount an archival print to panel and paint on top of it. Sometimes I will draw straight on a gessoed panel using a digital color comp as a guide, followed by an acrylic underpainting, more layers of acrylics, and finally usually at least a few layers of oils.
What is Cryptid Visions and where did that name come from?
I have started working in recent years on a body of work featuring unusual wildlife artwork.
The term "cryptid" refers to a creature that is thought to exist but has not been scientifically documented. This seemed appropriate for the world I am exploring through this independent work because it gives me latitude to create new animals, change or mutate existing ones, or simply distort size relationships or their environments to make paintings that have a bit of a "ring of truth" but also feel like another world at the same time.
Knotted Sawbill
Oil on panel, 16" x 12"
In order to be able to break the mold on creatures, you need to paint from life and know anatomy. Allen is humble there but his ability to show that is phenomenal. His work on Knotted Sawbill is utterly outstanding.
On your personal work. We should assume to see more on Patreon, right? What happens over there?
I share a more in depth look into my process for each painting I create, more than I can on other social media platforms. It's not the commercial illustration work but my independent CRYPTID VISIONS artwork.
Admittedly, with my family, teaching, illustration, and designing for the US Mint commitments, my Patreon is not as active as I wish. I think it's a platform that would prove to be more successful if you are able to fully commit to it.
And yes, I did want to ask about the Mint but there's nothing you're able to share yet. Soon I hope!
Your personal work - can you share a few of your favorites in the past year?
This past year was filled largely with digital illustration work but I would say my "Bayou Bogger" and "Midnight's Apparition" paintings. The latter is not a fantasy work, but a large wildlife painting based on a barred owl sighting I had a couple summers back.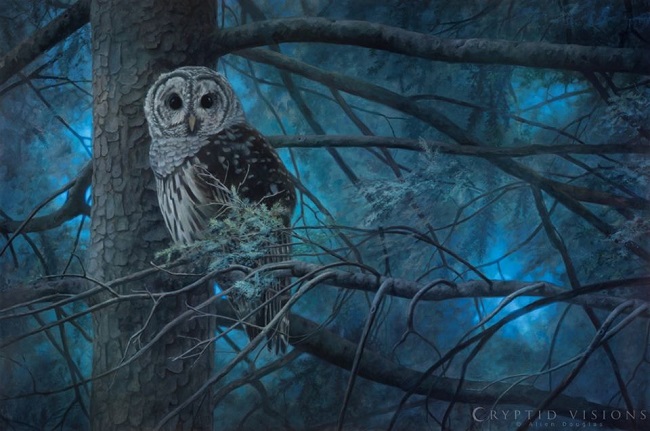 Midnight's Apparition by Allen Douglas
Oil on panel, 36" x 24"
Bayou Bogger by Allen Douglas
Oil on panel, 24" x 14"
Very cool. And I saw Bayou Bogger made it into Spectrum 27 coming out later this fall and "Infected By Art" Volume 8. Congrats again.
Those were critically acclaimed, so I have to ask: what do you like to paint?
I have been lucky to paint for some very popular intellectual properties, but the paintings I usually have a better chance of me personally liking are the paintings I create that are not art directed, the ones I can really throw myself into and not be under deadline. I don't really have specific favorites though, the next one is hopefully going to be the best.
Oh of course.
What do you feel is your strong spot for art?
I definitely love creating animal themed works.
I am not so much interested in creature design as most usually think of it, but rather I want to create paintings that look at first glance like the wildlife art we all know, but with a moment of further scrutiny, you realize things are just not quite what you would expect in some way or another.
oil on panel, 16" x 12" (30.5cm x 40.6cm)
Yeah, that makes total sense.
What conventions do you usually go to?
Generally I only show at IX Arts in Reading, PA. (Illuxcon) I did go to GenCon a few years back and had a fun time but I found it to be a show that you need a very different mindset for, aiming to sell a quantity of prints instead of original paintings. My commitments have not really allowed me to travel very much so I have never fully done the convention scene.
What does it mean to join Magic's rank as an artist?
I realize working for Magic is highly sought after by a lot of fantasy illustrators so I certainly didn't take this assignment lightly and I hope I did the subject matter justice! This particular project of painting birds in a similar style to John James Audubon's was definitely right up my alley.
oil on panel, 16" x 12" (30.5cm x 40.6cm)
What's it like...to other new artists breaking in, to experience the onslaught of messages asking if you work traditionally, and if they can buy your painting?
This is certainly a new experience for me!
I have had sales as soon as I have posted new paintings before, but working for Magic has opened my eyes to just how passionate the fans are to collecting the original works. I knew this when I took the assignment from some of my artist friends so I made sure to paint them traditionally, even though it was a rush project and time was tight.
And finally, do you make prints/lithographs of your art?
I do offer prints for sale of selected works on my site... cryptidvisions.com I do plan on eventually getting my Magic prints and proofs up in the shop as well.
Thanks for making the time today Allen, we look forward to more cryptids in the future from you!
-Vorthos Mike