I love nostalgia.
As I fully believe the best art drives an emotional response from the viewer, nostalgia inherently has a positive memory that should be utilized more often. It's the affection for the past.
Players choose art on their Magic cards because they like it.
There is a point in time when they go from being new, to creating a deck and making the choices of cards. Which art to play and border choice is critically important. Those first choices, that first deck, makes an imprint on a player. It creates their first play memories - first counterspell, first combat trick, and so on.
What happens when they put down the game for a while then pick it up?
The Magic player base has plenty of older players, alumni players rejoining all the time. Their perspectives, especially on art has a rosy retrospection that is repeated over and over again. Rosy retrospection refers to the psychological phenomenon of people sometimes judging the past disproportionately more positively than they judge the present. I touched on this in my Why You Think All Magic Art Looks the Same.
Wizards has realized this and are now fully aware of bringing back former, alumni artists. Richard Kane Ferguson had a full ten year gap between Eventide and his Blackblade Reforged, now receiving new card commissions in Double Masters too! People are happy, overjoyed even to see their favorites when they started playing, joining again. We saw Bud Cook return as well not long ago. This article is to give some insight into four returning artists in Double Masters:
Jim Pavelec, Tom Baxa, Dan Dos Santos, RK Post
Jim Pavelec
Hello Jim. Let us give our readers a reintroduction.
I am originally from St. Louis, Missouri. At the age of five I started drawing and knew that was how I wanted to make a living. I feel fortunate that I knew from a young age what I wanted to do in life. Around the age of 12 I stumbled across some Conan novels in a local bookstore and fell in love with the art of Frank Frazetta and Boris Vallejo. That jump started my love of fantasy, sci-fi, horror, and comics.
I attended Washington University in St. Louis for fine art with a focus on illustration. The fine art program at the time was taught by a lot of abstract expressionists, though, so I didn't get a very good education in fundamentals. I pretty much had to educate myself. Early in my career I moved to San Diego for a few years with my lovely wife Aimee, and attended the Watts Atelier. That experience really showed me how much I didn't know, and exposed me to excellent resources to fix my bad drawing habits. Currently we live in Portland, Oregon.
To the point, Magic fans may not recognize this style as the Pavelec they remember. What stylistic shift are we seeing? What caused you to change? What urged you to reinvent yourself?
I had been freelancing for over a decade, and felt stagnant. My work had flatlined. The amount of illustrations I needed to produce per month to pay the bills was just too high to allow me to focus on improving my skills. I knew I wanted my work to look a certain way, but I couldn't see a way to get there in that hectic situation. So, I decided to take a break from freelance, get a regular part time job, and concentrate on improving my skills. I knew I needed to work on my drawing skills first. At the time my work was very line oriented and executed on white paper. I shifted to working tonally on gray paper. Doing so, I was able to work out light and shadow and represent volume more confidently.
Once my drawing improved, I focused more on my painting. I experimented with various media, and with moving back and forth between traditional media and digital. This was a lot of fun and lead to a creative explosion for me.
What does your personal art look and feel like these days? Is that more fulfilling? If so how?
Some artists feel shackled by a particular media that they are associated with. I look at someone like Scott Fischer, who is constantly experimenting with different techniques, and get excited about that. So, I just went for it. Currently I work in a traditional/digital hybrid style that I am very happy with. It allows me freedom to try just about anything.
Of your two new cards, let's talk about Oubliette.
How did this all happen? Did you get a call? Did you resubmit to the art drop? How did you get *back* in?
I was pretty burnt out on illustration when I took my hiatus to focus on my skills. After a few years of developing my new personal style I decided it would be good to dip my toes back in the water.
A bunch of friends in an online crit group I belong to work on Magic, and I was a little jealous of all the fun they were having working on the game. I sent samples of my new work back in to the various ADs, and eventually they decided to give me another shot, which I am very grateful for.
Can you walk us through was going on in your head about Oubliette? Was it exactly as the description said? Did you make a lot of sketches? Did they choose the sketch you thought they would?
I knew this was a big deal, and worked on a ton of different thumbnails for Tom Jenkott, the AD for Double Masters.
Tom was awesome to work for. We agreed on one thumbnail, and I began working it up to completion. Halfway through it, I was not feeling it. Something was just off. I whipped up some examples of a new direction that I liked much more and sent them in to Tom. This was weeks into the project, mind you. Tom was super cool and said, "Go for it." I think in the end I wound up sending in 7 different ideas for Oubliette.
Thanks Jim. Welcome back and we are happy you've rejoined us.
Tom Baxa
Tom! TOM IS BACK! But let's ask first. Who is Tom? What's he all about?
First of all, I would just like to say how moved I am at the wonderful response to my new Magic card paintings. People in our community have said so many kind things, and I'm feeling very grateful at the outpouring of support and generosity.
You know I've been a pro illustrator for a long time over 30 years. I grew up in the suburbs of Chicago, where I was fortunate enough to go to a high school with a very robust art program, followed by college at Northern Illinois University to get a degree in illustration. Shortly after graduating, I did some black-and-white illustrations for Dragon magazine (and I was also working in indie comics as an inker). Very quickly, my love for fantasy art prompted me to look for work more and more in the RPG and CCG game industries. I've worked as a cover and interior illustrator, and concept artist, for Dungeons and Dragons, Magic the Gathering, World of Warcraft tcg, Shadowrun, Vampire: the Masquerade, and many more for print, online, movies, and video games.
Tom, you're rejoining us with over 100 Magic card illustrations under your belt, but you were busy with other things for a stint. What have you been up to?
One of the reasons I haven't been in Magic as much in recent years is that I've been redirecting my energies to focus on personal work, and developing ideas of my own. I still describe my work as dark fantasy, but I'm pushing into more of a horror flavor and leaning toward a more expressive use of paint then I commonly use when doing illustration work.
As a creative person, I'm often inspired to try many different things. I still do some illustration work and attend several Grand Prix events every year. In addition to that, I've been writing.
I've written two non-fiction books: Get Work as a Fantasy Artist, and Copyright Basics for Artists, and released an artbook Blood Rituals: the Art of Tom Baxa. I'm very excited about my current passion project Zombie Coven. It's a full-blown horror novel that will be filled with artwork throughout. I have a Patreon that's focused on it, and I do 1-2 paintings, and one chapter every month, so I've been making more personal art than I ever have in the past, which is very exciting. I've been connecting with the dark art community here in Los Angeles and shown in some dark art galleries, including a featured show of Zombie Coven art.
Let's talk about Phyrexian Metamorph, Sword, and Wrath. How did this all happen?
I got a call out of the blue from an art director I hadn't worked with yet named Tom Jenkot. I was very excited at the prospect of having new work in the game and to show at the Grand Prix's. It's been fun making prints and playmats of some of my past classics, so I'm looking forward to doing that with these pieces.
Since all three of these cards were re-imaginings, I was given reference of the previous versions, and was given an art description. Most often we are asked to stick pretty close to the suggestions, but given lots of flexibility to add some design elements and compositional elements.
And your process, your sketches, since we last saw you, has anything on how you create art change?
My process really hasn't changed much - it's not like I went on a walkabout with a backpack and sandals for eight years. I've still been applying the same process to illustration work and my own work, but hopefully I continue to grow and refine my craft.
I don't do a lot of sketches for a job, unless I really feel the need. I usually give it some thought and then start drawing, and turn in one well-thought-out sketch which is what I did for Metamorph and Sword of F&F. On wrath of God, they wanted the eyes of God in the clouds, so I did a couple of smaller sketches first. Thankfully they decided to let me do the painting with just the clouds, I think it's stronger that way.
With my personal work, I'm trying to expand my boundaries and experiment a bit more. I started working larger there, I did these Magic cards 18" x 24", whereas in the past, I did them less than half that size.
Thanks to everyone for continuing to support my work, and please check out www.BaxaArt.com for all things Baxa.
Thanks Tom.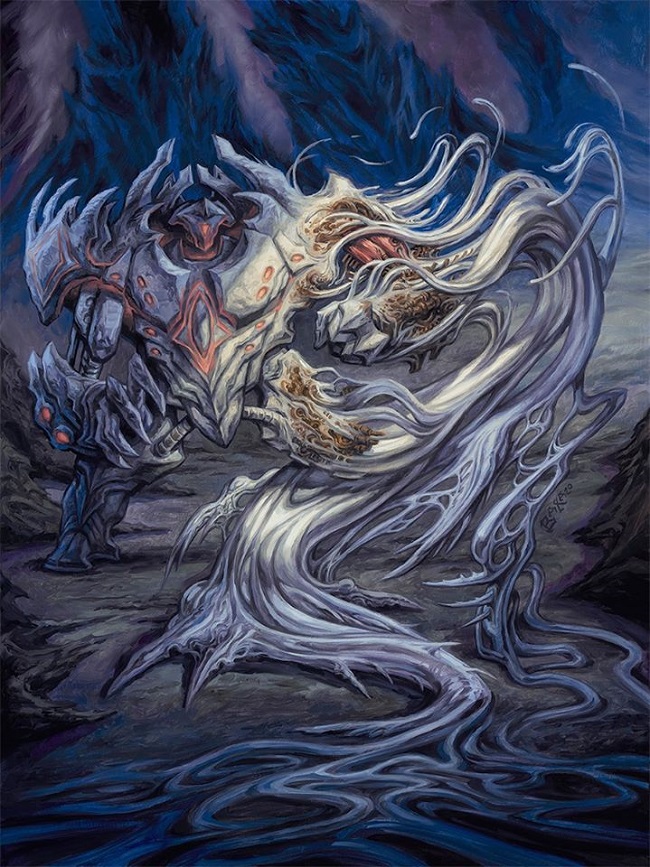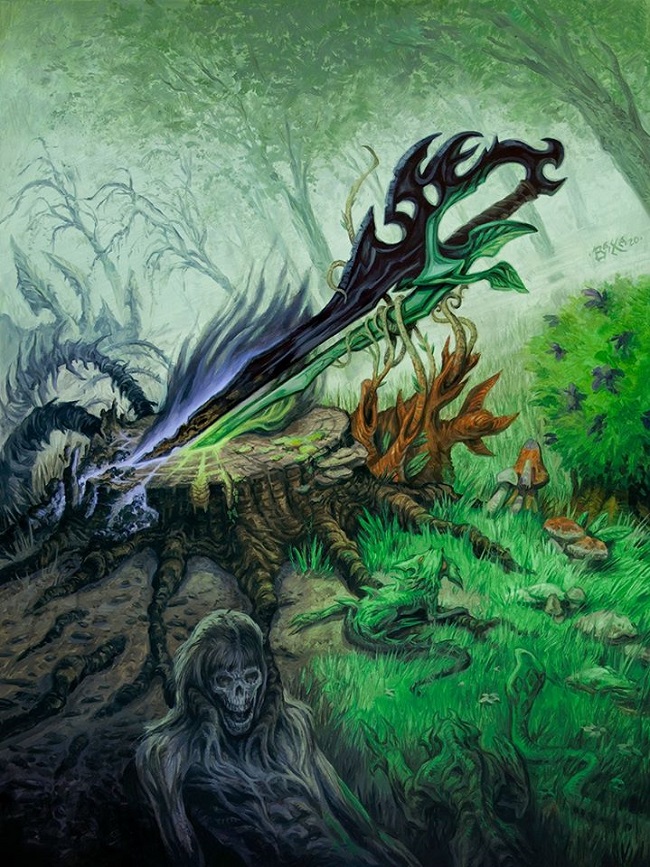 Dan dos Santos
Hello Dan. Welcome back. For folks who may not have met you yet, can you please give us all a little background?
I'm Dan dos Santos, and I'm a SFF (Science-Fiction and Fantasy) illustrator. I'm originally from Connecticut, but relocated to North Carolina a few years ago for the nice weather and to be closer to family.
I also oversee Muddy Colors, a free art education website geared toward aspiring artists who want to work professionally in the imaginative arts. Every single day, we post a new article from a highly-esteemed professional, offering insight to their process. We've been doing this for 9 years now, and have literally THOUSANDS of tutorials and articles about being a professional artist!
For folks that don't know, Dan creates a ton of covers. Hundreds. A quick search will find tons of strong women on covers and if you look at a bookstore, you'll find his work.
That's an easy question. Let's ask the hard. What does your personal art look and feel like these days? Do you have time for any?
I seldom get time for personal work. In fact, I went nearly a decade without doing a single personal piece. But I've recently made a promise to myself to be better about that. So, in my spare time, I've been picking away at some fantasy-themed portraits of my children as famous literary heroes. Unfortunately, neither of them are far enough along to share quite yet.
Good for you. It's healthy to make are you for!
I have been asking everyone, as this is a Magic art column, what have you been up to since the last time you were in Magic?
I have been swamped with my usual day to day work, which primarily consists of book covers. But I did just start a new project for a comic company that is offering me a chance to experiment quite a bit, and play with some more imaginative styles that I've been really wanting to try out. I can't say much more than that though!
Let's hope you can soon!
Let's talk about Stoneforge Mystic.
How did this all happen? This is a highly played card, quite literally high expectations too! Did you get a call? Did you resubmit to the art drop? How did you get back in? Can you walk us through was going on in your head about getting this utter gem? Was it exactly as the description said? Did you make a lot of sketches? Did they choose the sketch you thought they would? Did you reference anything you saw or knew of from style guides from the past?
Wizards of the Coast is an amazing company, and one of the best aspects of working for them is that most of the Art Directors are artists too. Which means they are not only perfectly suited for their job, but that they are intimately ingrained in the community as well. This means most of them are personal friends, who aren't afraid to reach out when they think they have a project that's a good fit for me, even if it's been years since we chatted. After a long hiatus, Art Director Cynthia Sheppard lured me back into MtG with Savvy Hunter. Knowing I was again interested in doing work for them, Tom Jenkot later reached out to me about doing work for the Double Masters set. It was obviously an offer I couldn't pass up.
The project was admittedly tough. There has been SO much good art in previous sets that it's really daunting to try to come up with something new. Typically, I will draw dozens upon dozens of sketches until I find an idea that I like, and that I think is an innovative concept. But 'Stoneforge Mystic' was different! I tried to place myself into the scenario, and think of how a Kor Mystic would actually forge swords out of the minerals in their environment. The scene unfolded sort of like an animation in my mind's eye, and came together quite quickly, and fully. So, I drew up a single sketch, and fell in love with it right away. I knew it was the one! Usually, I give my client about 3 different options to select from, but in this case, I sent just the single sketch to Tom, who loved it as well. With his approval, I got started on the final painting right away, and the rest is history!
Single sketch, approval to final? That's great to hear.
That begs the question, how has your processed honed or changed?
My process has actually changed surprisingly little over the years. I still use the same surface and mediums I used in college. The only real difference is now I do my sketching digitally, so that I can "paint" my concepts, rather than "draw" them. This lets me think in terms of color and shape, rather than line, which is really helpful for my style of work.
Even expert painters use digital tools. All tools help. Thanks for making the time Dan!
RK Post
We have to get this out of the way, RK? Randy?
Heh...Randy is me. If you call me that, I will wonder how you know me and be very confused. Cuz I'm old.
All right, let's talk art then Randy. How did you get your start?
I learned as a kid like most (most that live pretty isolated). I live north of Seattle and love it here.
We definitely know you, or so we think we do. We as a community sees you at events and know your speed in being able to get commissions and playmat sketches out.
But what does your personal art look and feel like these days? Don't you have little kids? Do you even have time?
Never have time for personal art, but I do small commissions when time allows and they are mostly pen and ink. You can see a fair amount of it on my twitter and insta.
Also - what have you been up to between your last card for Magic, BESIDES making tokens and products at GPs.
Makings tokens, filling site orders (rkpost.net), and fulfilling my patreon (www.patreon.com/rkpost) take up a ton of time. Then throw in little random tasks and it's a full time job... that's where getting to commissions is pretty tough.
Let's talk about Batterskull.
So. Phyrexian equipment. How did this all shake out for you? Receive a phone call?
WotC hasn't called in years. What does that mean? Used the phone... hahahahha!
It's mostly email, and I got one of those!
I have a feeling, and no direct knowledge, that Double Masters was a way to bring back some old favorites and give players a taste of nostalgia. I'm all for that.
The description was mostly about the creature over the setting. It described what we essentially know as Batterskull. Time was a little tight on my end so I noodled over it in my head a little bit and did a series of sketches that are built up on tracing paper or vellum. I submitted one cleaned up sketch and that worked with a few notes on what to focus on. I referenced the two previous arts with mine.
And the sketch - have you always had them, or do you use mixed media?
For better or worse, when I painted in the past I found a way that worked for me. It's not the best or most efficient, but does what I need it to. It's a digital underpainting printed onto paper that's mounted to board with acrylic medium. Then I work up the painting like a jigsaw puzzle in oils.
Thanks for the time Randy, we all appreciate it.
A huge thanks to Randy, Tom, Dan and Jim. Welcome back!
-Vorthos Mike