It's time to spread the joy of Magic, either by preaching to the choir or playing Serra Evangelist and converting the nonbelievers. I've scoured the Multiverse and picked some of my favorite Vorthos swag that might do for your gifting, self-gifting, and re-gifting needs. In the interest of full disclosure, it might be impossible to have some of these gifts (especially the more artisanal ones) arrive by the 25th, but I am a proponent of delayed gratification. So, go nuts, and share the MTG love—it's the thought that counts, but it's the follow-through that creates inhabitable sandcastles in the sky.
P.S. I give you full permission to also get yourself "somethin' really nice . . . " from this list. Cheers.
Custom Flavored Deck Boxes – $50
Leifkicker has amazing custom deck boxes. Someone rightly pointed out I left these off my holiday guide last year. It takes five to seven days to produce one of these bad boys, so your gift might not make it by Christmas, but it certainly will make an impression when it arrives. All the deck boxes look sweet, but the Koth, Izzet, and skull (Golgari/Rakdos) ones are my favorites.
Geek-Chic Magic Pins – $24
If you're looking for cute, you can't get much swaggier than these adorbs crafty fabric buttons by DaleksTeahouse. Split the set of five between the mages of your hipster of the coast clique, or gift 'em all to your one special buddy in your Commander knitting circle. Even pin them on strategically for the Grand Prix—around the plunging neckline of your deep-V-neck tee—to put your opponent on tilt! Whether highlighting a hairy chest or bosoms or both, these pins give you the kawaii edge.
The Shirt Off Momir's Back – $17 to $23
 . . . Or off Niv-Mizzet's, or whoever runs the Dimir . . . whatever. From Cellar Door Oddities, we have these gorgeous, throwback, color-saturated t-shirts and hoodies in designs inspired by our favorite guilds. These are really artfully done and reasonably priced—I mean, the hoodie is less than $23! That's just unheard of. One reason I do this gift guide is to support small businesses—look at the awesomeness being produced by independent artists who love Magic. Hire these folks, promote their stuff, buy their ideas, source small, Wizards! It's sooo much cooler.
Be a Flag Bearer – $20
The landscape of the MTG community is changing, and I love that Wizards gives a nod to diversity and an inclusive attitude with this clever shirt—though I'm not sure who in their right minds want to coexist with Phyrexia. It's fun to see the set symbols in a different context, and since this is just one of those shirts you'll wear over and over, it's a lot of bang for your buck.
Fblthp – $25 for set
Everyone's most beloved MTG mascot is now featured in his own line of accessories! Have Fblthp close at hand for when you totally lost your keys or for when it's just one of dem days that a wizard goes through and you need a hug, alone in your hotel room, at the Pro Tour.
Kamigawa Nativity – $60 per piece
Be That Guy or That Girl with the really obscure swank in your MTG stash. Specifically, grab up one or all of these inspiring resin statues and mix a little Magic in with Rudolph and the baby Jesus on your fireplace mantle. I own Ink-Eyes and Eight-and-a-Half-Tails, and I can vouch for the wow factor. I've heard Kiki is no schlub, himself—but Kodama is tops on my lust list.
For the Planeswalker Who Has Everything – $10 to $XXX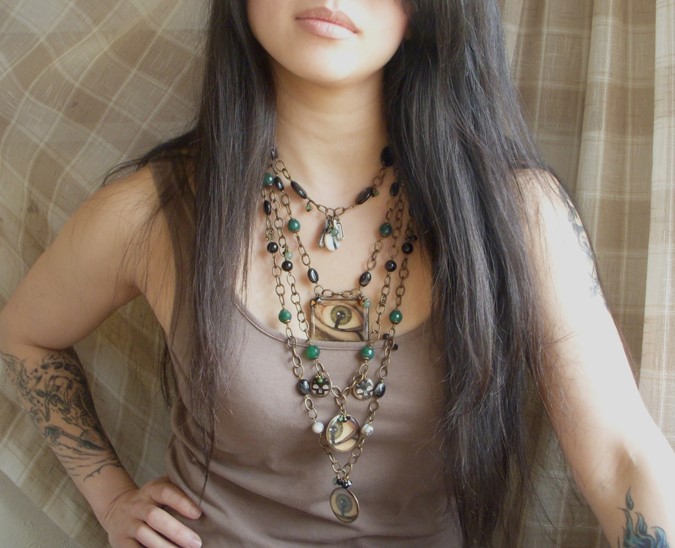 Paragone Jewelry designer Shannon Vinecke's stuff is the real deal. Some of you might remember the custom Deathmark necklace she did for me. While it's too late to have that kind of work done by Xmas, it's the right time to get a start on Valentine's Day! Shannon's also done a lot of work for bridal parties, creating custom cufflinks and gifts. There's nothing quite like giving jewelry—it's the most elegant wearable art and often passes down through generations. Theros translates beautifully into baubles. Or get meta and have Shannon fabricate Crosis's Charm or Traveler's Amulet into an IRL version. Possibilities abound. If you need a ready-to-wear gift now, I suggest a snap-buy on the Armageddon Clock or Descendant's Path necklaces on her site.
Magical Inspirations – $1 to $15
I am not a religious person, but I know there are many of you in the community who are, and I respect that and love inspirational art. And many of us probably have loved ones who might appreciate such a gift. In that vein, it's fortunate that beloved MTG Angel-meister Howard Lyon has expanded his repertoire to include fine art that is inspired by Christian narrative but that can also be appreciated without that context. The very affordable pieces come with the added benefit of being able to say, "Yeah, so this is done by a Magic artist . . . " and spread the gospel of MTG to Mom or your neighbor or Uncle Petra or your accountant friends or missionary in-laws or whoever. Above are featured Lyon's creations Mary Kept All These Things (left) and Living Water.
Battlefields Worth Fighting On – $12 to $15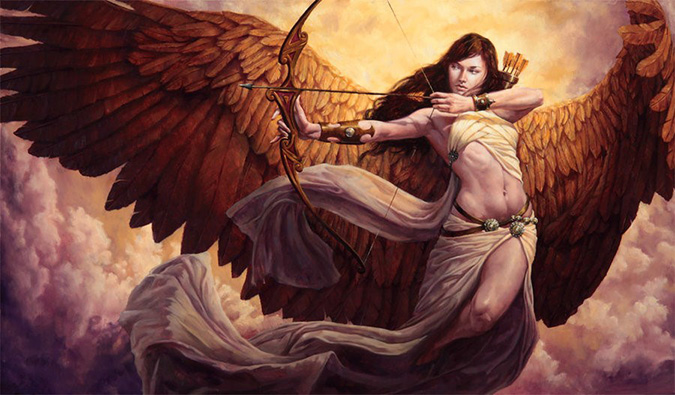 So, at the time of writing this, StarCityGames and CSI have some kind of play mat sale going on, and that has dropped the prices on some to under $12. My absolute favorite is the Artemis by Michael C. Hayes featured above—old-school classic aesthetic with a definite sexiness that isn't tacky and is refreshingly real. There's also Golden Helm by Brom, Deirdre: The Jewel of Dakkadia by Nene Thomas, and, if you're in the mood for an epic sausagefest of elves rather than angelic ladies, you can't deny that Donato Giancola's Faramir at Osgiliath (below) is pretty fudging amazing. Most of this artist series of mats is available at both retailers, so check to see what's in stock that you can add to your card orders.
Wear Your Heart on Your Sleeves
Add some class to your game with Rarity's stunning sleeves—you can't ignore that her color scheme and Scarlett O'Hara gaze just pop from the back of your cards in a way that the other ponies' designs do not. And sure, everyone hates Stannis, but remember, King "Bow You S@#$%ts" Robert was Baratheon, too, and reindeer are so in season.
Holidays mean learning new and unpleasant details about your family, giving to those in need when you can, and destressing with Pack Wars. Watch National Lampoon's Christmas Vacation and The Three Amigos. Drink a beer with a festive label. And try to keep in mind that the magic is in slogging the snow-covered trail ahead.
Till next time, may Magic be your weatherproof Snuggie.
-MJ
---